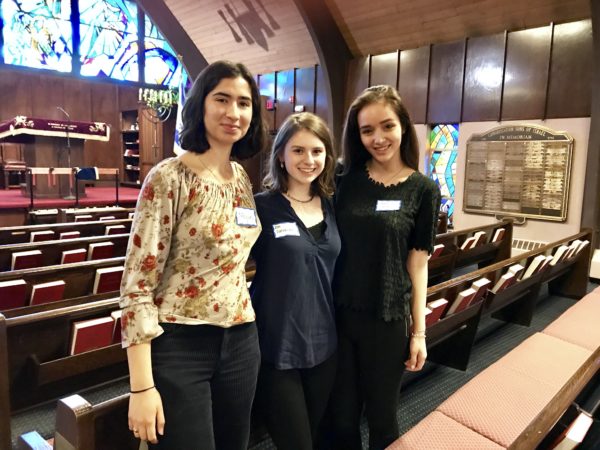 by Sara Weiss
On Friday, April 20, more than 110 clergy and members of all faiths gathered for the second annual Interfaith Dinner hosted by Congregation Sons of Israel. This year, guests dined together, enjoying a Syrian meal, and learned more about an organization that helps refugees. The synagogue invited the Mid-Hudson Refugee Solidarity Alliance, a volunteer group in Poughkeepsie, to talk about their work towards making the community welcoming and safe.
"Our personal stories and collective narratives make us want to change the world–-to make it a better place with less hate, bigotry, and fear," said Rabbi Ariel Russo of Congregation Sons of Israel (CSI). The goal of the dinner was not only to deepen relationships with the interfaith community, but to rally together to support area refugees. Guests donated gift cards for refugee families to purchase items like diapers, which are typically not covered through government programs.
Currently, there are more than 65 million forcibly displaced persons in the world, the largest displacement of people since the Second World War. Four of the Vassar students involved in Vassar Refugee Solidarity (VRS) presented an overview of the organization's work, including support for Syrian and Rohingya refugee families in upstate New York.
Mojan Farid, a sophomore at Vassar, spoke about how her mother inspired her to get involved. "She worked as an interpreter in her hometown, translating Farsi and Dari. She did not have a college degree or much work experience, but she had a cultural and linguistic background she could offer," Farid said. "That showed me that you don't have to travel or hold an executive position to help people. There's so much work to do locally."
VRS programs include fundraising, a tutoring program that pairs Vassar students with displaced populations throughout New York, and an oral history team that reaches out to refugees, community organizations, and local residents to gather personal stories.
The Syrian menu was chosen to "show solidarity with the Syrian people and to express our gratitude for harmonious community bonds," Chef Tamara Duker Freuman said. "The war in Syria and the humanitarian plight of its people remain front of mind for us in the American Jewish community."
Leaders from each of the participating houses of worship greeted the guests and talked about all they had in common, despite their different backgrounds. "Tonight, it's clear that all of us might be different," said Reverend Everett Newton. "But our language is the same. Love. We want our county to be rid of bigotry, racism, culturalism, and disrespect of those who call themselves LGBTQ."
Reverend Owen C. Thompson is proud of the work that Grace Episcopal Church has been doing to support Syrian and Rohingya refugees and sanctuary spaces for immigrants. "Our faith is about radical hospitality," he said. "Welcoming the stranger, caring for the afflicted and the oppressed." He believes that too often we become isolated within our own traditions, and that events such as these remind us of our common goal. "And that is to make the world a better place."
A highlight of the evening was 19-year-old Fatima Farooq's recitation of her poem "Refuge," which captures the loneliness and pain of being displaced:
"I want to go home but/home isn't there anymore so I go back to bed and/lay there until sleep finds me because I don't know if peace ever will."
The crowd held their breath until Farooq's last word, and then rose for a standing ovation.
Sara Weiss's writing has been published in Bustle, Brain Child, Literary Mama, Sammiches and Psych Meds, Underwater New York, Outbreathe, The Hook Magazine and on her blog www.shmooples.com. She has an MFA in writing from Sarah Lawrence College. She teaches yoga and Creative Writing and lives in Nyack with her husband and two beautiful girls.