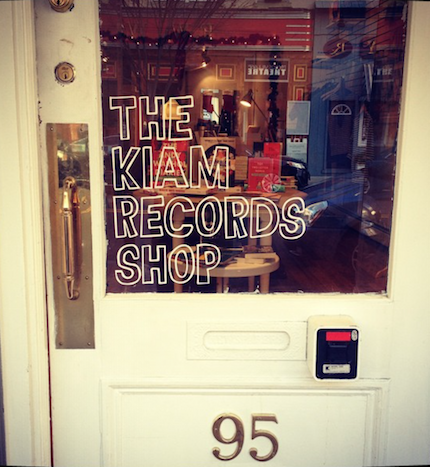 Vinyl is forever, but Kiam Record Shop is no more. This week, Jennifer O'Connor and Amy Bezunartea's Main St-located record shop announced a name change. It will now be called Main Street Beat.
The name change was made with the intention of dispelling confusion. O'Connor and Bezunartea also helm a music label called Kiam Records. "We've come to realize that our initial intent to join the shop and the Kiam record label has been a little confusing and we also wanted to choose a name that better encompasses all that our shop has to offer," Bezunartea wrote on Facebook. "The label remains Kiam Records and the store is now called Main Street Beat. Our goal remains to be a fun and friendly place to shop for records, clothing, books & gifts at every price range."
Kiam Record Shop was opened at the end of 2014, and it quickly became a neighborhood staple. "People like to go to a store instead of shopping online," O'Connor told Nyack News & Views in 2017. "It's more social, or at least a different kind of social than what we're used to nowadays."
You can read the full announcement, originally posted to the store's Facebook page, below.
We have a new name….  And it is Main Street Beat. We just celebrated our 4th Record Store Day here on Main Street and we are so grateful to be part of this community. The little shop we opened over 3 years ago has grown so much more than we could have ever imagined. What a great village!
We've come to realize that our initial intent to join the shop and the Kiam record label has been a little confusing and we also wanted to choose a name that better encompasses all that our shop has to offer. The label remains Kiam Records and the store is now called Main Street Beat.
Our goal remains to be a fun and friendly place to shop for records, clothing, books & gifts at every price range. Come find your favorite dress, 80s hair metal record, new Migos vinyl LP, used Mariah Carey cd, hot new essay collection, pin to cheer up a friend, bday card, etc – we're here for you!
WE LOVE OUR CUSTOMERS! Thanks to each and every one of you for all your support!
Regulars with loyalty cards- we should have new ones by this weekend.
Storefront signage in the works.
Mainstreetbeat.com will go live soon and our all social media will change later today!
Same staff, same owners. Everything is the same but the name.
Love,
Amy & Jennifer