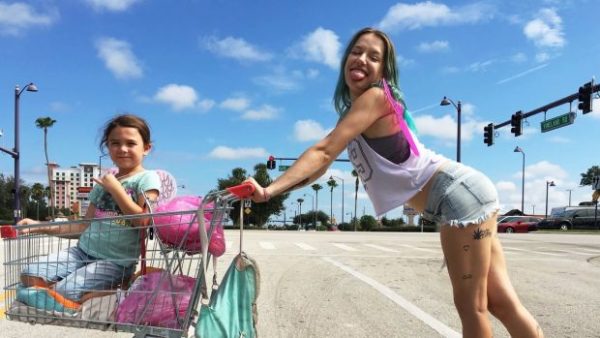 In anticipation of Rivertown's screening of The Florida Project, Chris Stanton writes about what makes the film special
In making his latest film, 2017's The Florida Project, director Sean Baker said he aimed to highlight America's "hidden homeless," a sizable, low-visibility population scraping by on week-to-week payments at low-rent motels across the country. Characters on society's fringes represent something of a recurring theme for the indie filmmaker, whose previous credits include 2015's excellent trans sex worker drama Tangerine, which made headlines for being shot entirely on iPhones.
With its significantly larger budget, 35mm composition and dose of star wattage in the form of Willem Dafoe, The Florida Project presents a more traditional canvas than Tangerine for Baker and his team to paint on. The film feels new, though, both in its choice of protagonist and in its neorealist setting: the post-recession, dilapidated towns orbiting Walt Disney World, a commercial vision of happiness if there ever was one.
For the bulk of the film, the camera follows six-year-old Moonee (Brooklynn Kimberly Prince), the ringleader of a Little Rascals-inspired crew of kids growing up in the Magic Kingdom, a low-budget motel outside Orlando. Coated in a brilliantly fluorescent shade of purple paint, the Magic Kingdom and its surrounding properties–-a cone-shaped ice cream parlor, other candy-colored motels with pseudo-Disney names like "Futureland"–-provide the kids with ample opportunities for hi-jinks. From Moonee's perspective, this constellation of neon playgrounds seems less like the harsh underbelly of Disney World than a distorted mirror image of the theme park itself.
The adults in Moonee's orbit largely work to maintain this fiction, even as the truths of their world loom heavily on the periphery of her adventures. Moonee's mother Halley (Bria Vinaite), in particular, walks a thin line as she alternately protects Moonee from her world and exposes her to its worst elements. As a beleaguered motel manager, Dafoe plays pleasantly against type as the most unambiguously "good" force in the film, doing his best to intercede where possible to protect Moonee. It's a terrifically understated performance from the only household name in a film full of promising first-time actors (Prince landed her role through an open-casting call, while Baker found Vinaite on Instagram).
Crucially, the camera often films at eye-level and in close-up on its young protagonist, inviting the audience into Moonee's world rather than leaving them to gawk at it. It's an empathetic approach to storytelling, sure. But it also makes way for Prince's revelatory performance, which secures The Florida Project's ranking among the very best films of 2017.
Rivertown Film will screen The Florida Project at the Nyack Center on Wednesday April 11th at 8:00 p.m.