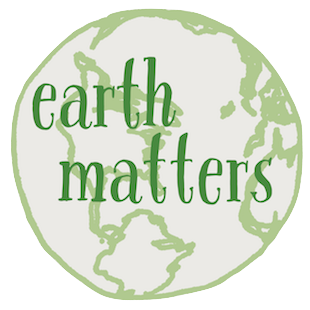 Earth Matters focuses on conservation, sustainability, recycling and healthy living. This weekly series is brought to you by Maria Luisa Boutique, Strawtown Studio and Summer Play Camp at Blue Rock School. 
If Earth Matters to you, sign up for our mailing list and get the next installment delivered right to your inbox.
by Susan Hellauer
Last month, Governor Andrew Cuomo laughed off a gubernatorial primary challenge from actress Cynthia Nixon, calling it part of the "political silly season."  But, smirks and lame jokes notwithstanding, the "unqualified lesbian" (as Cuomo ally and former New York City Council President Christine Quinn referred to Nixon) is deep under Cuomo's skin, and dragging him leftward. Recently, Nixon has taken double-barreled aim at state house corruption and climate hypocrisy surrounding a new fracked-gas power plant in nearby Orange County.
The former "Sex in the City" actor spent Earth Day at the Valley Energy Center in Wawayanda, where she met with aggrieved local residents, and joined with protesters and activists from grassroots group Protect Orange County (POC). Together, they chanted "Shut It Down!" in front of the massive plant's towering smoke stacks.
Valley Energy has begun testing with diesel fuel during construction of an eight-mile pipeline spur (called the Valley Lateral Project) off the 220-mile Millennium Pipeline, carrying fracked gas from Pennsylvania's Marcellus Shale Fields. New York State Department of Environmental Conservation (DEC) denied the project's water permits (it crosses 13 waterways in all), citing an incomplete downstream greenhouse gas impact study from the Federal Energy Regulatory Commission (FERC). But FERC, which has jurisdiction over interstate gas pipelines, overruled the DEC, and made it stick through challenges in state courts.
"They forgot my family . . . "
The outsized, 680-megawatt power plant has been built in "a quiet historic agricultural district interspersed with commuter developments," according to a statement from POC chair Pramilla Malick.
Malick stood by as Nixon heard from families who described breathing difficulties that sickened their children, pets and even farm animals, and who were kept awake at night by the "jet engine" sounds of the plant's turbines. "The pollution coming from the compressor station and from the plant's use of diesel is already destroying peoples lives," said Nixon at the protest rally. "Imagine what it will be like once its running on fracked gas."
The area is also home to many of NYC's first-responder families, including Robyn Freund, who lost her firefighter husband on 9/11. She lives near the Minisink pipeline compressor station, and within the "impact radius" of the power plant. Freund welcomed Nixon's interest in their plight: "They say 'Never forget' but they do forget. They forgot my family. I feel I have been terrorized by my own government. But I am so grateful to Cynthia because I think she understands our predicament and I hope she will tell our story and not let anyone forget what Cuomo and CPV have done to us."
Investing in new fracked gas infrastructure locks us into decades more emissions we cannot afford, and poses serious health risks for surrounding communities. We must immediately end investment in any new fossil fuel plants and pipelines and refocus efforts and funding toward renewable energy.  — An Agenda for a Clean Energy Economy and Climate Justice, Cynthia for NY
The "Cuomo Swamp"
CPV—Competitive Power Ventures, a subsidiary of Global Infrastructure Partners—built and operates the Wawayanda electric-generating plant. The company's close ties to Governor Cuomo have drawn the wrath of local grassroots activists and the rest of New York's environmental community. The company has made donations to Cuomo's political coffers, and even provided a private jet for the governor's 2010 re-election campaign. And then there's the recent conviction of Cuomo's former executive deputy secretary and confidential aide Joseph Percoco (whom Cuomo has referred to as "a brother") for soliciting and accepting bribes and a low-show job for his wife from a CPV executive, in return for facilitating Valley Energy Center's state permits and approvals.
A report by the Public Accountability Initiative published last week points out a sharp uptick in lobbying activity by CPV just after Percoco was indicted in 2016. And the public relations firms hired to do that lobbying in Albany apparently had numerous prior entanglements with Cuomo and his former campaigns—a "Cuomo swamp," as the report puts it.
A push to the green side
"This is a monstrosity . . .  It should never have been built. It was pushed through with bribes," Nixon said at Sunday's rally. Bribery and corruption notwithstanding, however, with its pipeline approval and all other permits in place, the Valley Energy Center is ready to come on line as soon as the fracked gas is flowing. But, in light of the corrupt process used to obtain them, opponents hope that the NY State Attorney General, and others, will initiate lawsuits to get those permits rescinded.
How does candidate Cynthia Nixon fit into all this? Without pressure brought by press coverage and public attention, there's little hope of getting Cuomo to derail his deep-pocketed donor's lucrative project. Nixon had barely put one high-heel onto the campaign trail when she accused Cuomo of secretly keeping Republicans in power. Then, suddenly and inexplicably, Cuomo was able to end the shared-rule alliance of the Independent Democratic Conference (including Rockland's David Carlucci) with Republicans in the NY State Senate, an arrangement that had liberal Democrats foaming at the mouth for seven years. Can some Cynthia Nixon daylight and a similar leftward nudge rally support for CPV opponents?
There are signs that things are moving that way. Despite the governor's much ballyhooed program to move the state to 50% clean renewable energy by 2030, the decades-long life span of the fossil-fuel Valley Energy Center (and another, even larger, fracked gas plant—Cricket Valley Energy Center—under construction in Dover, N.Y.) belie Cuomo's climate-friendly talk. Dozens of organizations, including Riverkeeper, are starting to call on Governor Cuomo to "walk the talk" and forego fossil fuel projects in favor of the clean energy he talks so much about.
How far to the green side will Cuomo go? Looks like Cynthia Nixon aims to find out.
Although he remains mum on the new fracked-gas infrastructure crisscrossing New York State, Governor Cuomo continues to make frequent climate-friendly announcements about, among other topics, his
offshore wind initiatives
and, just this week, long-awaited support for a state bill to
ban single-use plastic bags
.
Learn more:
Email Earth Matters