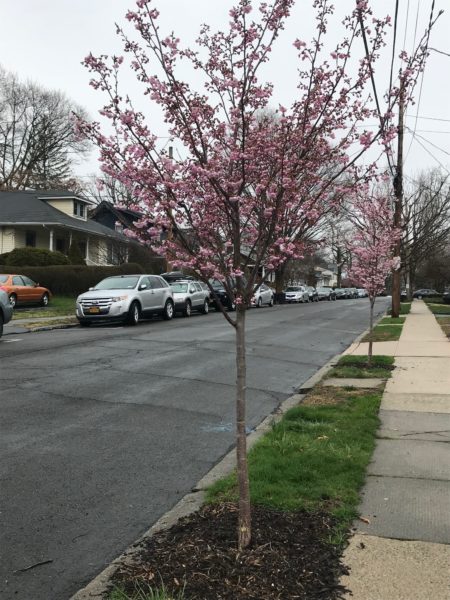 by Marcy Denker
As the Chinese proverb says: The best time to plant a tree was 20 years ago. The second-best time is now.
Join friends and neighbors on the last Friday and Saturday of April to celebrate Arbor Day, help plant trees, and honor a special family in the Nyack business community.
We'll start on the afternoon of April 27th by planting trees as a tribute to West Gate Inn founder Masis Parseghian and his family. This is all thanks to a donation from Village Trustee Marie Lorenzini. The West Gate has been in Nyack for 53 years. The family will be there to accept the honor, help us out with the planting, and share some of Lisa's famous cheesecake.
On Saturday morning April 28th, we'll continue until we've finished planting 24 trees, with a break or two for bagels, coffee and cocoa along the way. All ages are welcome, and students can receive community service credit.
How it works: You bring a few tools if you have them. (If not, it's no problem.) We work together and have fun. We'll be planting 10-foot-tall trees that you can pick up one-handed (almost).
The trees are shipped bare root.  Because there is no soil on the roots, they are light and very easy for volunteers to handle.
This is the third year of the Nyack Community Tree Project and we'll plant our seventy-fifth tree this spring.
The Tree Project is a partnership among a growing group of community volunteers, the Village of Nyack, the Nyack Tree Committee, Rockland B.O.C.E.S. and the Nyack Park Conservancy to fund, plan, plant and maintain a beautiful village forest and spread awareness of the amazing benefits of healthy trees.
EVENTS
Friday April 27th Arbor Day
2:30-4:30 Planting volunteers will gather at 157 High Avenue, Nyack.
3:00 p.m., 224 High Avenue: Celebration honoring West Gate proprietors Masis Parseghian and the Parseghian family.
Saturday April 28th
8:30 a.m.-11:30 a.m.
157 High Avenue, Nyack
RAINDATE Sunday April 29th, same time and place
What to bring: Gloves, shovel, broom watering can (if you have them). Limited supplies will otherwise be available.
Please email us (nyacktreeproject@gmail.com) and get on the list so that can keep you updated and know who's coming. Follow up on Facebook and Instagram too.