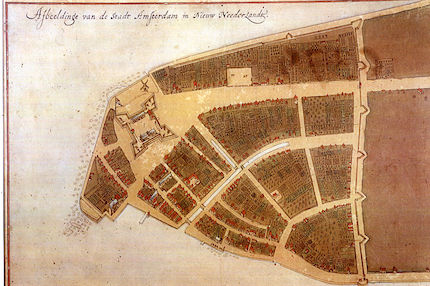 by Robert Tompkins
The French Huguenot, a member of the Old Dutch Church on Broad Street, in Old New York lost his property due to a conspiracy that provoked a crisis, eventually convicting 114 people, with 30 death sentences carried out in public. This began in January 1741 in the midst of a war between the Kingdom of England and the two Monarchies of France and Spain. English soldiers had been transported to the Caribbean, leaving this British colony of 10,000 people, what would become United States of America weaken and defenseless.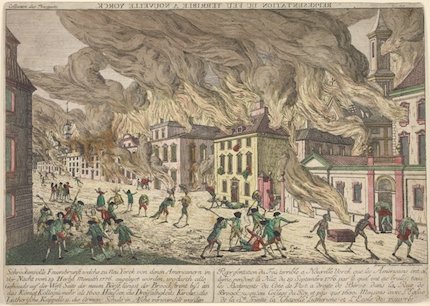 A rash of fires destroyed ten buildings over several months. Residents organized themselves to carry water to put out the fires. After several fires people suspected arson. There were those who feared Roman Catholics were behind it, furthering the interests of France and Spain against the Protestant English. The law was clear, Roman Catholics were not to step foot onto Manhattan Island, and if caught would be punished by death.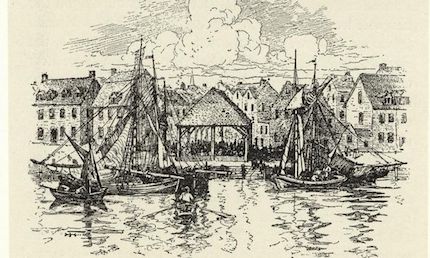 There were 2,000 enslaved African people in Old New York and based on investigation it appeared the suspected arson was not due to war, but as a conspiracy to take over the colony, and free the enslaved. Over many months about two hundred people, including poor free Europeans, were investigated in a discovery that spread like wildfire. Those seeking justice today would be astonished by the standard practice of the era. People deemed guilty and sentenced to be set afire at the stake could have their sentence reduced if they confessed and identified co-conspirators. In most cases doing so, they are hung to death, thus saving themselves from a horrific death, yet likely condemning innocent people.
One of those found guilty was an enslaved person named Worcester, whose punishment was being transported to a Caribbean island. Enslaved by a French Huguenot, working in a butcher shop, sent away to likely be enslaved by an English master on a plantation, with his life spared and Old New York thought to be a little safer. The French Huguenot lost his property, and possibly was harmed more, likely not being compensated for the loss. Yet I feel no sympathy for the butcher, Isaac Varyan, my direct ancestor of seven generations ago.
As a teenager I was upset reading the family genealogy book about Issac Varyan, slaveholder. His DNA comes to me though my mother's paternal grandmother. Yet knowing his son, Issac, became a minister of the Dutch Church gave me comfort. It seemed the Christian thing to do after such a sinful activity of the father. Karmic penance passed on to the following generations.
However as an adult that comfort dissipated. According to traditional Christianity being a slaveholder was not a sin. That floored me. However that changed in the late twentieth century uniting all of Christianity with the same theology, it is sinful to enslave a person and the master is destined to Hell.
But that is another story.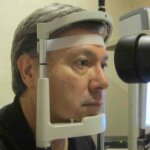 Robert Tompkins is an Orangetown resident who volunteers with non-profits and local governments. A long time student of history who appreciates current events better though the lens of the past.
Words and Images is a column that features the work of students from Bill Batson's sketch logging class at the Learning Collaborative.  
Thanks to Editorial Assistance Bonnie Timm.