Despite two nor'easters, we spring ahead this weekend with exhibitions, music and good food.  Explore over 200 restaurants during Hudson Valley Restaurant Week. Get wet outside with a warm feeling inside while taking a Penguin Plunge to benefit two local kids. Want to Listen to music?  DeCoster is back, performing with The Serpentones at Olive's.
Friday
Opening of Sean Scully's No Words where his abstract art is derived from the natural world serving as a metaphor that relates to things outside his paintings.  12-5p, Edward Hopper House, 82 N Broadway, Nyack. Exhibit runs through May 27.
Elmwood Playhouse presents Stick Fly. An African-American family gathers on Martha's Vineyard for the weekend. While the brothers bring their new girlfriends to meet their parents for the first time, tensions reach the boiling point when long-hidden secrets emerge. 8p, 10 Park St, Nyack. Play runs through April 7.
Support your local firefighters. The Rockland County Firefighters Emerald Society is holding their first Fundraiser and St Patrick's Season Kick-Off Party. The Rockland County Firefighters Pipes and Drums will perform and prizes will be available. 9-11p, Halligans, 32 S Liberty Dr, Stony Point.
Saturday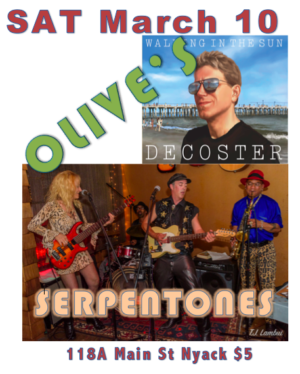 Brooklyn acoustic pop act, influenced by Sting, DECOSTER will be joined by The Serpentones, a rockabilly sensation. DeCoster features Paul DeCoster on vocals and guitar and Rich Kulsar bringing the thunder on percussion.  The Serpentones feature Sean Kershaw on lead vocals and guitar, Kentucky Parkis on bass, Dave Dawson on drums and Steve Greenfield on sax. $5 cover charge at the door. 10p, Olive´s, 118 Main St, Nyack.
Celebrate the yearly St. Patrick's Parade of Green in Beacon, right down Main Street. Music, marching band, food, family-friendly floats & more. Don't forget to wear your green. 11a, Main St, Beacon.
Don't miss the exhibit of Paul Peabody, Nyack's legendary puppeteer (1931-2002). On display are his marionettes, other handmade objects, photographs, and sketches. The Historical Society of the Nyacks, 1-4p, Depew House, 50 Piermont Ave, Nyack. Exhibit runs through May 26.
Join Dean Friedman for an evening of powerful, poignant, hilarious songs about the ordinary and extraordinary lives we share. Known for chart-topping hits like Ariel, Lucky Stars and Woman of Mine, he performs songs from his four-decade career. $15 tickets available online. 8p, RoCA, 27-29 S Greenbush Rd, West Nyack. Please note: Due to a power outage this concert may be cancelled or rescheduled.
Please call (845) 358-0877 for updates.
Sunday
It's spring ahead, so don't forget to set your clocks ahead one hour before you go to sleep! Daylight savings time begins at 2a on Sunday!
Bill Batson, Nyack Sketch Log creator and curator of Spoken History, and Katie Elevitch, owner of 95 1/2 Main invite you to a lively panel discussion on "Making History Public" with special guests. Arrive early and stay late for an intimate guided tour of Bill Batson's Spoken History Exhibition A $5 suggested donation supports the programs and exhibitions of 95 1/2 Main, 2p, 95-1/2 Main St, Nyack.
Next Week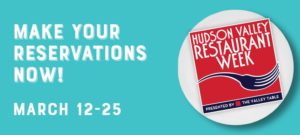 Go on a culinary journey as Hudson Valley Restaurant Week returns March 12-25. Over 200 restaurants throughout the Hudson Valley offer special, three-course dinner menus for $32.95. Many also offer 3-course lunches for $22.95. Nyack restaurants participating in Restaurant Week include The Hudson House, 8 North Broadway, BV's Grill at The Time Hotel, Broadway Bistro, Communal Kitchen, Sixty 5 on Main, Sour Kraut, Two Spear Street, Velo, and Wasabi. For a full list of participants, please visit www.valleytable.com
Wednesday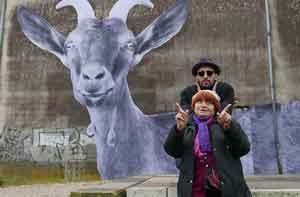 Rivertown Film screens Faces Places, a documentary that finds Ms. Varda in the company of a younger comrade, the 34-year-old French photographer and environmental artist known as JR. Together they set out on a series of meandering road trips through agricultural and industrial towns, talking to people and taking their pictures. 8p, Nyack Center, 58 Depew Ave, Nyack.
To get the Nyack Weekender delivered to your mailbox auto-magically every Friday morning, add your name to our mail list. Visit our
online sign-up sheet
to subscribe.