S'now what? You deserve some fun this weekend after the fourth nor'easter this month. See the Save The Planet exhibits at RoCA, gamble at a Casino Night to support Nyack's public schools, catch the new show at Antrim Playhouse or hear live music at Maureen's, RCC and Garner Arts Center.
Friday
The Antrim Playhouse presents: Breaking Legs. Lou, successful mobster and his daughter, Angela own and manage an Italian restaurant. When Angie's former college professor, Terrence, arrives to ask for financial backing for a play he's written, the fun begins. Three Mafiosi are intrigued with the idea of producing it. Murder and menace are served up with plenty of pasta and laughter. 8p, 15 Spook Rock Rd, Wesley Hills. Show runs through April 8.
Saturday
Bobby Deitch Band is playing songs from their "Grateful" album, a few new originals and some fresh takes. 7p, Rockland Community College Cultural Arts Center, 145 College Rd, Suffern.
Inspire Nyack´s 11th annual Casino Night to fund innovative science, technology, engineering, art & math (STEAM) related programs in the Nyack Public School System for students K-12. 7:30p, The Nyack Seaport for Cultural Events, 21 Burd St, Nyack.
FYRN is a bowed guitar ensemble that performs ambient compositions. Be part of their unique set up –  a large circle around the audience. 7:30p, Garner Arts Center, 55 West Railroad Ave, Garnerville.
Candice Guardino's Italian Bred is comedy based on true life events and told through the eyes of a little girl growing up Italian on Staten Island. Tarrytown Music Hall, 8p, 13 Main St, Tarrytown.
Sunday
RoCA presents three new exhibits that address climate change and explore the relationship between nature and humanity. The Tipping Point, Aqueous Remains and Quotidian Metamorphosis capture the environmental impacts of human resources. Opening receptions are from 1-4p, Rockland Center for the Arts, 27 S Greenbush Rd, West Nyack. Exhibits run through May 25.
Join The THE BAND Band's 50th anniversary of their debut album. 4p, The Turning Point Cafe, 468 Piermont Ave, Piermont.
Teen Open Mic Speak Out! Bring your poems, songs, stories and share them with the audience. 6p, 95 1/2 Main, 95 1/2 Main St, Nyack.
Wednesday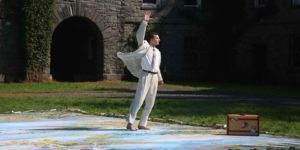 Rivertown Film presents an evening of Short Films by Award Winning Rockland Filmmakers. Films by 5 women whose work is seen in theaters, international festivals, featured star actors, and won awards. Meet Deborah Kampmeier (Peel), Susanna Styron (House of Teeth), Suzanne Mitchell (Ed), Gabrielle Lansner (The Birch Grove), & Jen Fineran (The Invisible World). 8p, Nyack Center, 58 Depew Ave, Nyack.
To get the Nyack Weekender delivered to your mailbox auto-magically every Friday morning, add your name to our mail list. Visit our
online sign-up sheet
to subscribe.