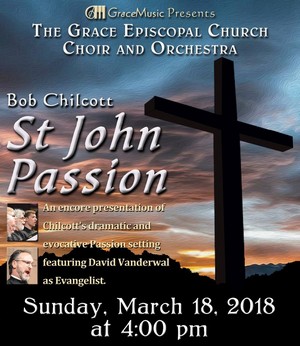 On Sunday, March 18 at 4p, GraceMusic will presents Bob Chilcott's St. John Passion. Brandon Beachamp conducts the Grace Church Choir, orchestra, organ and soloists in this contemporary yet classical setting of the Passion story.
Originally written for the Choir of Wells Cathedral (UK), Chilcott's Passion is modeled after the great settings by J. S. Bach. The hour-long performance features David Vanderwal (Trinity Church, Wall St, NYC) as Evangelist and Peter Walker (St. Luke in the Fields, NYC) as Jesus.
As in Bach's Passions, the role of the choir is to play the part of the crowd, or a group of soldiers within the narrative. The choir also sings four meditations that offer reflection throughout the Passion. In the way that Bach used chorales to include his listening audience in the performance, Chilcott wrote five original hymns to familiar texts.
Written and first performed in 2013, Chilcott's Passion made its U.S. debut in 2015 but remains a relatively underperformed work. Chilcott tells the drama and richness of the Passion story in a direct yet sensitive manner. His use of English poetry from the 13th to early 17th centuries in the choral meditations express deeply human responses to death, life, and our relationship to the world and with God.
Chilcott, who began composing in 1997, is currently principal guest conductor of the BBC Singers and a prolific composer. He previously sang in the choir of King's College, Cambridge both as a  boy and as a university student, and was a member of the King's Singers for 12 years. He was also conductor of the chorus at the Royal College of Music in London for seven years. His work  in various genres has been commissioned and performed worldwide; he often conducts his own premiers.
Tickets to the St. John Passion are available online (http://www.gracemusicnyack.com/tickets.html) and at the door: $20 adults, $15 seniors, $5 students;  children 12 and under are free.