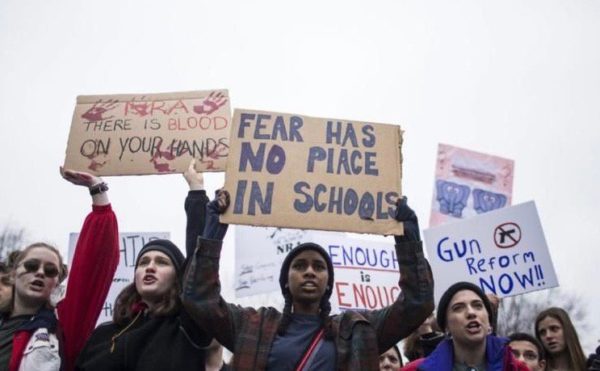 New City, NY – On Saturday, March 24, thousands of students from Rockland County school districts, community leaders, families and members of faith groups will come together at the Rockland County Courthouse for a "sibling rally" as part of the March For Our Lives movement. The rally is one of hundreds of events planned by students and survivors of gun violence in all 50 states. The national day of action will honor the students and staff slain in Parkland, FL and other victims. It will also be a call for lawmakers to make students' lives and safety a priority and for them to pass common-sense gun safety legislation.
The student-led rally begins at 10a on the front lawn of the Rockland County Courthouse at 1 South Main Street in New City. Students will speak about their involvement. There will be a moment of silence in memory of the victims at Marjory Stoneman Douglas High School. As a tribute to the victims, 17 black chairs will line the courthouse steps.  Each victim's name will be read, a bell rung, and a white dove-shaped balloon bearing their name will be released.
Student leaders and other speakers plan to share their feelings and thoughts."After the Parkland tragedy, I decided that I wasn't going to sit back and hope that politicians would make change, so I got involved with different types of political activism," said Logan Meda, a junior at Clarkstown North High School. "I founded the Youth Against Gun Violence organization, and after hearing that there was to be a March For Our Lives in Rockland, I chose to get involved to speak my mind on the gun violence issues at hand today."
Tappan Zee High School sophomore Lucy Barsanti said, "The victims shown in the media are interchangeable with figures in my life and even with myself. I cannot sit back and watch more students get slaughtered; our right to live should be valued more than an assault rifle."
Nicole Kissik of New City organized the rally with fellow New City residents Shari Maurer, who is the local group leader for Moms Demand Action Rockland County, and community leader Steve Gold. They coordinated with 18 student leaders from Rockland high schools. "I organized this March in Rockland so our entire community–adults, parents, grandparents, students, and children could come together to demand common-sense gun legislation that protects us all," stated Kissik. "Thoughts and prayers are not enough anymore. It's time for action, and that time is right now!"
Information for voter registration and other organizations will be available at the event. Attendees are asked to carpool and park in the lot behind the adjacent Rockland County Office Building, which has direct access to the courthouse. The March For Our Lives rally in Rockland County has been funded by a $5,000 grant from Everytown For Gun Safety.
Sign up to participate and/or volunteer:  http://act.everytown.org/event/march-our-lives-events_attend/8955 ; Learn more: www.MarchforOurLives.com/events