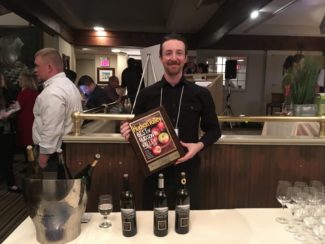 Hudson Valley Restaurant Week commenced on Tuesday night at Restaurant X, the Congers outpost of renowned local chef Peter Kelly. From March 12-March 25, nearly 200 participating restaurants throughout the region will offer a three-course, prix-fixe lunch ($22.95) and dinner, highlighting some of their best dishes at an appealing, affordable price ($32.95) for diners.
by Nate McCarthy
Hudson Valley Restaurant Week was launched 12 years ago when Janet Crawshaw and Jerry Novesky of the Valley Table, a quarterly magazine that focuses on food and agriculture in the Hudson Valley, made it their goal to amplify the voices of local producers and restaurants.
"There is a food revolution that's happened in the last twenty years in the Hudson Valley," Crawshaw said. The rich history of farming in the region, its proximity to New York City, and the coming of the Culinary Institute, are just some of the forces that have propelled this revolution.
By allowing local residents to enjoy three course meals at a special price, Hudson Valley Restaurant Week aims to encourage diners to get out and explore beyond their local communities. Hudson Valley Restaurant Week, according to Crawshaw, was intended to be a "celebration of the entire region, which spans 115 miles up and down the river," making it one of the largest Restaurant Weeks in the country.
"Unlike most restaurant weeks across the country, we wanted ours to not only promote the restaurants but to feature Hudson Valley products," Crawshaw explained. The majority of participating chefs and restaurateurs source their ingredients from local farms, winemakers, distillers, artisanal producers and purveyors.
Many of these artisan producers were present at the kickoff event on Tuesday, including Irving Farm Coffee Roasters, Captain Lawrence Brewery, Maya's Jams, Hudson Whiskey, Keegan Ales, and Whitecliff Vineyard.
"It's an uphill battle for New York wines," said Tristan Migliore, whose family founded the Whitecliff Vineyard in 1979. "People in the wine world and just people in general have a lot of biases when thinking about wine."
Despite these challenges, Whitecliff is the recipient of international awards as well as local and regional honors for their wines. Beyond producing award winning wines, Migliore also emphasized the importance of sustainability and Whitecliff's goal of minimal environmental impact. "We use geothermal heating, we don't add pesticides," said Migliore.
Sustainability was a recurrent theme of the night. Hudson Whiskey, New York's first farm distillery whiskey tasting room since the Prohibition Era, sources their grain from local farms. The company emphasized the importance of a small environmental footprint.
Rockland County Executive Ed Day had to contend with restoring power for Tuesday's event. Beyond the lights being on, he was excited about the county hosting the kickoff event for the first time, and for all the new restaurants that signed up.
"Rockland County now is becoming a centerpoint, it's becoming a focal point for the entire Hudson Valley," Day said. "It's a hidden secret, there are tremendous opportunities to do so many things here, and refreshing the palette is clearly one of them."
Nyack restaurants participating in this year's Restaurant Week include The Hudson House, 8 North Broadway, BV's Grill at The Time Hotel, Broadway Bistro, Communal Kitchen, Sixty 5 on Main, Sour Kraut, Two Spear Street, Velo, and Wasabi. For a full list of participants, please visit www.valleytable.com.
Nyack High School alum Nate McCarthy is the lead singer/rhythm guitarist for local alternative-rock band Regret the Hour.