by Barbara Noyes
The 2018 Penguin Plunge was held in the "calm between the storms" on Sun March 11. An enthusiastic and committed crowd "chilled" in the Hudson River on a beautiful day on behalf of two great local kids with serious illnesses. We had a great turnout, despite the fact that we had to postpone our originally schedule plunge on March 4 due to dangerous river conditions caused by the first of two March Nor'easters.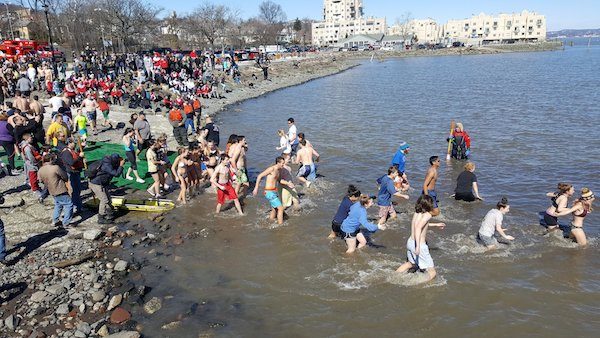 TeamS from the Tappan Zee Lacrosse Team, the Clarkstown South Vikings, the Rockland County Police Academy, the LIU Graduate School ar RCC and the 50th Birthday Party Plunge for Brad all plunged for this great cause.  There was also a challenge between Team Harold Straut and Team Tracey taking Harold Down. Close to 100 hardy penguins charged down the ramp after being entertained by our great DJ, the voice of the Penguin Plunge, Jimmy Schutz and fed with all the delicious food provided by Nyack  Hot Bagels, Strawberry Place, Rockland Bakery, Freihoffers, Brooklyn Bread, ShopRite, Chili by Harold Straut and Mike Conklin, and even as far away as the Beer Spot in Fort Lee, NJ!
We want to thank the Rockland County Sheriff's Dept., the South Nyack Police Dept, the Nyack Fire Dept, the Piermont Fire Dept and the Villages of Nyack and South Nyack for their support!
We are so grateful for the love and support shown to our recipients this year:  Sebastian Scully and Elle Fishman.  Though the weather was challenging and frustraing, it was nothing compared to the difficulties that these families go through because of their children's medical conditions.  We appreciate the dedication that our sponsors, supporters and the plungers have shown to provide these families with not only some financial relief from the exorbitant medical costs that are being incurred but also with giving them some wonderful memories.
South Nyack-Grand View Police Officer Barbara Noyes and Pearl River resident Mike Lynch created the Nyack Penguin Plunge. The organization has raised more than $350,000 over the past 11 years. For more information, visit PenguinPlungeNY.com. Donations can also be made by sending a check payable to the Penguin Plunge, Inc., to Penguin Plunge Inc., 150 Hoover St., Blauvelt, N.Y. 10913. You can also reach Barbara at 917-846-6763 or email her at b.noyes@gmail.com.