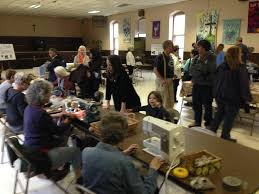 Former President John F. Kennedy once said, "The time to repair the roof is when the sun is shining." At the Nyack Center this spring, the time to repair everything will be when the sun is (ideally) shining. On May 6, the Nyack Center will host its 2018 Repair Café, a community event where people can bring broken household items to be repaired for free by volunteer Repair Coaches.
The event, coordinated by the County of Rockland, the Rockland County Youth Bureau and Rockland County Solid Waste Management Authority, will feature several repair stations, including for computers and electronics, lighting, furniture, clothing, toys, small appliances, and jewelry. (Okay, so not everything.)
"This is just another example of how Rockland is doing things a little differently; thinking outside the box to improve the lives of all our residents," said County Executive Day. "I ask that you join me in this important initiative because only by working together can we complete the renaissance that we have begun in this county."
In the lead-up to 2018 Repair Café, the Nyack Center is seeking out Repair Coaches–social people at least 18 years old with high level repair experience in trades or crafts. Examples of skillsets needed are in small appliances, woodworking/carpentry, computers and electronics, sewing and knitting, and jewelry.
Volunteers will be needed from 9a until 2p at Nyack Center (58 Depew Avenue, Nyack NY 10960). Repair Coaches will collaborate heavily with the public, with other repair people, and with students looking to learn more about trades.
And the event is not just about saving a few bucks and community involvement. The aim is to keep household items out of the waste.
Interested in helping? Please contact Kathy Galione, Volunteer Coordinator for Repair Café at 845-364-2932 or by e-mailing rcsc@co.rockland.ny.us by April 13th, 2018.