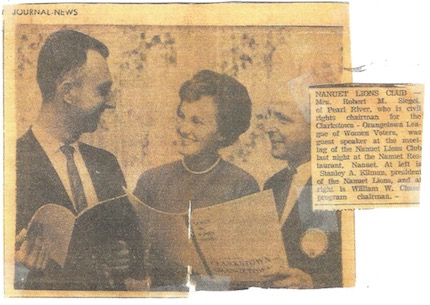 by Diana Siegel
When I ran for the Pearl River School Board in 1968 there was a telephone campaign against me, "Don't vote for that pinko commie Jew." As early opponents of the Vietnam War, my husband and I were vilified as unpatriotic communist sympathizers. We spoke out against the war, marched, demonstrated and wrote many letters to various officials throughout the Johnson and Nixon administrations. I can still feel the horror over the Kent State killings and the sight of coffins coming off of airplanes. The picture of the naked running Vietnamese girl engulfed with napalm still sears my mind.

One particular occasion stands out. In 1969, the principal of Nyack High School refused to give Pete Seeger, an enormously popular folk singer who had recently served jail time for his opposition to the war, permission to perform in Nyack High School. In response to local outrage, the mayor opened up Nyack Memorial Park to Seeger and other anti-war, social justice musicians, including Don McClean of "American Pie" fame. The park was packed with a joyous, enthusiastic crowd of people singing, bouncing, waving, cheering; filled with emotion to end the war and the killing and "bring the boys back home." I was there with my three sons, aged two, nine and eleven. The adrenaline ran high but the war went on.
In the '80s I twice boarded a bus for Washington D.C. to fight for safe and legal abortions. I joined the protesters in Zuccotti Park near Wall Street in November 2011 to oppose financial abuse and I still have a "We are the 99%" bumper sticker next to my "War is not the answer" on the back of my Hyundai Sonata.
In the early 1960's I ventured into voter registration in black communities in Rockland County. My civil rights activities were limited but as Civil Rights Chairman of the League of Woman Voters, I delivered a speech to the Nanuet Lion's Club.
---
Diana is an activist of lost causes.
Words and Images is a column that features the work of students from Bill Batson's sketch logging class at the Learning Collaborative.  
Thanks to Editorial Assistance Bonnie Timm.