This weekend kicks off Black History Month and a First Friday Nyack Art Collective themed art show, an artist of the month, an opening reception, a panel discussion and a celebration.  There's family fun with an outdoor scavenger hunt and a mystery to be solved.  Jazz fans won't be disappointed with two offerings.
Friday
On the First Friday of each month, local businesses host art and music events.

The Nyack Art Collective artists honor Black History Month with a themed art show. The musical guest is the very lovely Kimberly Hawkey. 8p, Casa del Sol, 104 Main St, Nyack.

Nyack News and Views sketch artist and columnist Bill Batson is the First Friday Artist of the Month. There's a reception and a gallery "talk" from 6-7p. From 7-8p, poet and musician Marcus John and the Edward Hopper House Nighthawks will perform their poetry. Edward Hopper House, 82 N Broadway, Nyack.
Opening reception for Spoken History, a spoken word and oral history interactive experience and installation created by guest curator, artist, writer, activist and community organizer Bill Batson based on oral histories recently collected as part of the Nyack Record Shop Project. 8-10p, 95 1/2 Main, 95 1/2 Main St, Nyack. Exhibit will be on view for the month of February.
Escape the cold weather and get ready to move your hips at Latin Night with DJ Tito Luv. Enjoy the spectacular waterfront views and finger lickin'  good food. 9p, Billy Joe´s Ribworks, 26 Front St, Newburgh.
Saturday
Don't let winter keep you inside. Take a hike to the riverfront settlement known in the nineteenth century as Closter Landing. Eric Nelson leads a history hike of Old Closter Dock Road, a moderate hike of three miles. 10a, Palisades Interstate Park Headquarters, Exit 2 of the Palisades Interstate Parkway, Alpine, NJ.
Try a new hobby at a Wire Sculpture Workshop. Learn the basics of working with wire to create small free-standing sculptures as well as kinetic, ceiling-mounted mobiles. 10a-1p, Garner Arts Center, 55 W Railroad Ave, Garnerville.
Have some family fun at a Seasonal Scavenger Hunt at the Outdoor Discovery Center at the Hudson Highlands Nature Museum. You'll receive a set of clues to solve nature riddles along the Outdoor Discovery Center trails. 10a, Muser Drive, Cornwall.
Nyack Center's Black History Celebration, Telling Our Stories, honors those contributing to the lives of African Americans in the community. Celebrate with dance, song and the Martin Luther King oratory contest. Free and open to all. 7p, 58 Depew Ave, Nyack.
The Freddie Jacobs Quartet featuring Mike Holober, Richie Morales and Ratso Edwards take the stage at Maureen's Jazz Cellar. 8 & 9:30p, 2 N Broadway, Nyack.
Sunday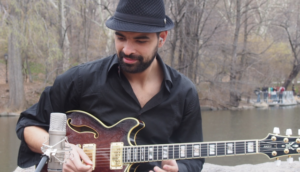 Calling all young detectives. Come to Union Arts Center to help solve a mystery with Detective Lingo and the Case of the Missing Mona Lisa. Help Detective Lingo find the clues he needs to solve "le mystere" in what may be his most challenging case yet.  4-5p, 2 Union Ave, Sparkill.
Rather hear great music than watch the big game? Head to the Jazz Forum for the unique sounds of the Wesley Amorim Quartet. 4 & 6p, 1 Dixon Lane, Tarrytown.
To get the Nyack Weekender delivered to your mailbox auto-magically every Friday morning, add your name to our mail list. Visit our
online sign-up sheet
to subscribe.