This week in the villages:  Attention parents: It's time to sign up your kids for the Winter Recreation programs. Attention aspiring gardeners: The Nyack Community Garden is accepting applications until February 23. Attention Orangetown residents: Six months in the making, the Orangetown Bicycle Study holds an information session with analysis and recommendations on Thursday night.
Village of Nyack
FREE Flu Shots
Be Flu Free: Get A Shot on Tues. Nyack Hospital will open two free flu shot clinics on Tuesday, Feb 6 in the Village of Nyack. Both clinics are open to all residents of Rockland County, ages 9 and older. No appointment is necessary.
Nyack Center, 58 Depew Ave from 10a-12p
Waldron Terrace Community Room, 15 Highview Ct from 1-2:30p
Also, remember what mother said: wash your hands. Health experts say it can make all the difference.
Winter 2018 Recreation Programs
Registration is now open for the Winter 2018 Recreation Programs, including Mini Dragons Kung Fu, Kung Fu Leaders, Teen Aerial Yoga and Ukulele with Rivertown Music.
Nyack Community Garden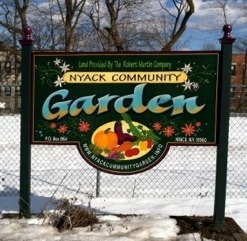 The Nyack Community Garden is a community based, nonprofit organization that provides residents of the Nyack School District with an opportunity to grow vegetables and flowers in a safe, friendly environment. It is accepting applications for new gardeners until February 23, 2018. New gardeners are encouraged to mail in completed applications as soon as possible, as priority on the waiting list for plots is determined by the dates of postmarks on the completed applications. After the February 23 deadline, potential new members can send in applications to join the waiting list. For an application you can email nyackcommunitygarden@gmail.com, or for more information you can call John Dunnigan at 845-358-9126.
2018 Road Maintenance Program
Information about the Village of Nyack 2018 Road Maintenace program can be found on nyack-ny.gov.
Village of Upper Nyack
March 20, 2018 Village Election
There are two trustee (two years) offices which will be vacant at the end of the current official year. They are to be filled at the village election on Tuesday, March 20, 2018.
Town of Orangetown
Orangetown Bike Study
There will be a Community Information Session at 7p on Thursday, February 8, 2018 at Town Hall. Parks and Trails NY will present an analysis of the data collected through the community survey and bike counts conducted in September, and will present a preliminary draft of its report and recommendations. The Orangetown Bike Study aims to create a shared, community vision for the local cycling network. Input from community residents, business owners, neighborhood associations, and other stakeholders will ensure that this vision is inclusive and accessible to all.
New York State Thruway Authority Cashless Tolling Amnesty Program
The Thruway Authority is offering this amnesty program to Tolls By Mail customers with passenger vehicles who have open violations issued between April 24, 2016 through Jan 31, 2018. These customers include those who were already referred to a collection agency or have had their registration suspended. Customers must pay their entire outstanding toll balance by Feb 26, 2018 in order to receive amnesty on open violations.
---
Here are the municipal events in Upper, South and the Village of Nyack and the Nyack Public School Meetings for the week of 2/5.
Village of Nyack
Mon 2/5, 7p: Planning Board Meeting
9a: 'Downtown' Meeting
5p: Justice Court
9:30a: Justice Court
4:30p: Board of Water Commissioners
6:30p: Village Board Pre-meeting Workshop
7:30p: Village Board Meeting
Nyack Village Hall is located at 9 N. Broadway.
Village of South Nyack
Mon 2/5, 5:30p: Justice Court
Fri 2/9, 7:30a: Comprehensive Planning Board
South Nyack Village Hall is located at 282 S Broadway.
Village of Upper Nyack
Thurs 2/8, 7p: Board of Trustees Workshop
Upper Nyack Village Hall is located at 328 N Broadway.
Nyack Public Schools
Tue 2/6, 7:30p: School Board Meeting
The Nyack School Board Meeting will be held at the Central Administration Building, 13A Dickinson Ave, Nyack.