This week in the villages
: The mayors have spoken. Nyack Mayor Don Hammond has an update on Nyack projects and village board plans for 2018. South Nyack Mayor Bonnie Christian asks if the village's annual election should be changed to coincide with the November General Election Day. Applications are now being accepted for 1) the Rockland Youth Bureau's Summer 2018 Conservation Corps Program, 2) the ML by Maria Luisa Scholarship, and 3) The 2018 Nyack Community Garden.
Village of Nyack
Mayor Don Hammond's Board Update for January
As many of you know, I ran for mayor with the clear vision that we would focus on priorities we've identified for improvement throughout our village and finish the truly impactful projects that have already begun. In my first month back in Village Hall we've dug pretty deeply into those priorities, focusing on communication, village infrastructure, parking and innovative new partnerships with an eye towards finishing critical village projects like paving, streetscape improvements, business development, and more. And in both cases we're working with intention to broaden our reach into the community, with expanded health, education, and anti-bias programs. Each board member and our amazing village staff have been working diligently on these issues.
At our organizational meeting in January, Louise Parker was appointed as Deputy Mayor and Trustees Marie Lorenzini and Elijah Reichlin-Melnick were sworn in for their two-year term of office, joining Donna Lightfoot Cooper to fill out our board. Read more at Nyack Village Board Update for January 2018.
Winter 2018 Recreation Programs
Registration is now open for the Winter 2018 Recreation Programs, including Mini Dragons Kung Fu, Kung Fu Leaders, Teen Aerial Yoga and Ukulele with Rivertown Music.
Nyack Community Garden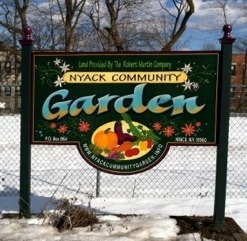 The Nyack Community Garden is a community based, nonprofit organization that provides residents of the Nyack School District with an opportunity to grow vegetables and flowers in a safe, friendly environment. It is accepting applications for new gardeners until Feb 23, 2018. New gardeners are encouraged to mail in completed applications as soon as possible, as priority on the waiting list for plots is determined by the dates of postmarks on the completed applications. After the 2/23 deadline, new members can send in applications to join the waiting list. Email nyackcommunitygarden@gmail.com to request an application, or call John Dunnigan at 845-358-9126 for more information.
Village of South Nyack
March 20, 2018 Village Election and Special Ballot Question
Voting will take place at the South Nyack Village Hall between the hours of noon and 9p on March 20, 2018. All registered voters are encouraged to come out and cast their vote.
This year the ballot will include a referendum ballot question which will ask voters if the village's March annual election can be changed to the General Election Day in November. A November election would be in line with the majority of municipalities in the county. Nyack and Piermont were among the villages that recently moved their election from March to November.
Please consider supporting this referendum. The Rockland County Board of Elections would run the election and maintain the election documents; therefore eliminating that financial burden from the village. Currently the Village of South Nyack incurs the costs of paying election inspectors as well as the village clerk's time required to handle election procedures.
Historically only 10% of South Nyack residents who vote in the November election come out to vote in March for the village election. If the election were moved to the General Election Day in November, South Nyack voters would also benefit by having the longer 6a – 9p polling hours. It is thought that between the longer polling hours and the convenience of voting for South Nyack officials while also casting votes for county, state and national officials, a larger number of residents will come out to make their voices heard.
Village of Upper Nyack
March 20, 2018 Village Election
There are two trustee (two years) offices which will be vacant at the end of the current official year. Both spots are to be filled at the village election on Tuesday, March 20, 2018.
ML by Maria Luisa Scholarship
The
application
for the 2018 ML by Maria Luisa Scholarship program is now available to graduating female students in Rockland County. The ML by Maria Luisa Scholarship recognizes Rockland County high school female seniors who,
through their actions or beliefs, embrace the principals of ML by Maria Luisa: civic and community involvement, commitment to social justice, social equality, and environment/eco-friendly lifestyles.
This year, two $1000 scholarships will be awarded: one to a promising woman who is a senior attending a private or public Rockland County high school (must be a Rockland County resident), and one to a promising woman who is a senior attending Nyack High School, to assist with costs in attending a college of their choice.
Rockland County
Rockland Youth Bureau's Summer 2018 Conservation Corps Program
The Rockland County Youth Bureau is accepting applications for the 2018 Rockland Conservation & Service Corps (RCSC). Conservation Corps members will perform a variety of outdoor, environmental community service projects throughout Rockland. Responsibilities include educating the public about ecological conservation and environmental health issues, conducting field research, building and maintaining nature trails, teaching environmental education, planting gardens, patrolling streams, facilitating clean ups and implementing recycling programs.
To be considered, students must be at least 18. Members are required to serve 350 hours between May 29 and August 10 at local sites including the Rockland County Division of Environmental Resources, the Clarkstown Planning Department, the Town of Ramapo, the Rockland County Drainage Agency, Rockland County Solid Waste Management Authority and Cornell Cooperative Extension, among others. Applications are accepted until positions are filled. The program begins on May 29, 2018 with most of the service taking place June through August. Candidates can request an application by phone (845) 364-2932 or by e-mail at rcsc@co.rockland.ny.us.
New York State Thruway Authority Cashless Tolling Amnesty Program
The Thruway Authority is offering this amnesty program to Tolls By Mail customers with passenger vehicles who have open violations issued between April 24, 2016 through Jan 31, 2018. These customers include those who were already referred to a collection agency or have had their registration suspended. Customers must pay their entire outstanding toll balance by Feb 26, 2018 in order to receive amnesty on open violations.
---
Here are the municipal events in Upper, South and the Village of Nyack for the week of 2/12.
Village of Nyack
Tue 2/13, 5p: Justice Court
Thurs 2/15, 9:30a: Justice Court
Nyack Village Hall is located at 9 N. Broadway.
Village of South Nyack
Mon 2/12, 5:30p: Justice Court
6p: Board of Trustees Workshop – Fees
7:30p: Public Hearing CDBG
7:45p: Board of Trustees Regular Meeting
South Nyack Village Hall is located at 282 S Broadway.
Village of Upper Nyack
Mon 2/12, 6p: Architectural Review Board
Thurs 2/15, 7p: Board of Trustees Meeting
Upper Nyack Village Hall is located at 328 N Broadway.