This week in the villages: If you live in South Nyack, you won't have to remember when the village election is after this year. The South Nyack Board of Trustees recently voted to move the village election day to coincide with the general election beginning in 2019. The Town of Orangetown has been taking steps in response to complaints about offensive odors from the Aluf Plastics facility. And if you're eager to do some swimming, you won't have to wait until summer; you can take a dip in the frigid Hudson to benefit two local children at the annual Nyack Penguin Plunge.
Village of South Nyack
Village Election Date Change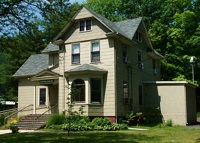 At the February 13th Board of Trustees meeting, with the guidance of legal counsel, the board voted and passed by majority vote the following two resolutions:
Resolved, that Village of South Nyack elections shall henceforth be conducted by the Rockland County Board of Elections.
Resolved, that beginning in the calendar year 2019, except for special elections that might be scheduled on varying dates, all elections for the Village of South Nyack shall henceforth be held on the day of the general election in November.
If you have any questions, email Mayor Bonnie Christian at bonnie.christian@southnyack.ny.gov.  The election date for the 2018 village elections will be March 20, 2018.
Town of Orangetown
Aluf Plastics
In response to complaints about offensive odors received from residents and in accordance with the agreed to compliance process, the town requested access to Aluf's facility so inspectors could test its ventilation stacks in hopes of further identifying the source of the ambient smells being reported in the area. However, Aluf denied access to the inspectors and contracted testing company.
In response to this failure, the Town has referred Aluf back to the ZBA (Zoning Board of Appeals) for violation of the performance standards. The ZBA will meet on this issue at its next hearing scheduled on March 21 and has the authority to potentially cease operations of certain equipment that Aluf had previously began operating without a certificate of occupancy which were covered by the current process. Since that time, Aluf has verbally committed to allow access to the inspectors. There will be no pause in enforcement until access is physically granted and testing is complete to the town's satisfaction.
Additionally, a series of new violations have been issued on Aluf for a variety of issues discovered on their property, and that standard will continue to apply to all such situations. In the past, violations were allowed to be adjudicated before follow up fines were issued even if the violator did nothing to correct them whatsoever, slowing the process and reducing the financial pressure on violators to comply. That will no longer be the case, whether it is Aluf or anyone else – if a violation remains outstanding, fines will continue to accumulate on a weekly basis.
The Town of Orangetown and the New York State Department of Environmental Conservation (NYSDEC) will be working together to better coordinate efforts between our organizations to both influence the manufacturer's compliance with state law and local codes and communicate with the public. The town board also passed a resolution for the creation and appointment of an Air Quality Review Committee, comprised of both employee and resident experts that will study air quality, hear odor or airborne particulate related complaints from the public, and advise the town board on policies, plans and strategies to improve the air quality in Orangetown. It will improve levels of communication with the public and will also improve the town's understanding of the environmental concerns at hand. Likewise, work is continuing on revising the town code with regards to odor and particulate matter, which is sorely outdated, in order to make it more scientific and easily enforced. The first of our public hearings on the proposal was held and it will be continued until April in order to take into account feedback that had been issued on the subject from the public.
The town will work to streamline the reporting of all air quality complaints and direct them to the proper officials, authorities at state and local agencies and Air Quality Review Committee members through the implementation of a web-based complaint form that will be available on the Town of Orangetown's website. Through this simplified reporting process, residents will have the ability to lodge a single complaint via the website that will automatically be disseminated to the right people, and the form will make mapping and tracking such complaints substantially more efficient, aiding in potential enforcement actions. The new complaint feature is expected to launch within the next two weeks, with further details available at that time.
Town of Clarkstown
Application Deadline for Tax Exemption for Cold War Veterans is March 1
The Clarkstown Town Council is extending the property tax exemption for veterans who served during the Cold War. The initial Cold War Veteran tax exemption law contained a ten year sunset provision, which was about to expire. A new state law empowered municipalities to extend the tax exemption indefinitely.
All active duty Cold War Veterans will now receive a permanent property tax reduction. To qualify, a veteran must have served on active duty for a minimum of 365 days between September 2, 1945 and December 26, 1991 and have been honorably discharged. For more information or to obtain an application, veterans can contact Clarktown's Assessor's Office at 845-639-2031. The deadline to submit applications for tax exemptions is March 1.
2018 Nyack Penguin Plunge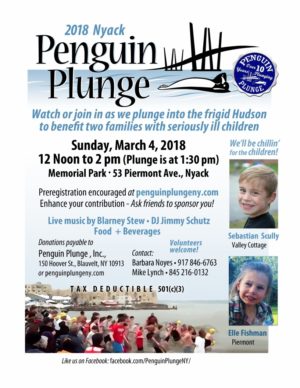 Take a frosty plunge into the Hudson River in beautiful Memorial Park on Sunday, March 4 at 1:30p with festivities from 12-2p. The plunge is free, but a $20 donation gets you a unique t-shirt and the chance to directly help two local families that have children with serious needs. This year's plunge benefits Sebastian Scully of Valley Cottage and Elle Fishman of Piermont. Not brave enough to take the plunge? Go and enjoy live music by Blarney Stew with DJ Jimmy Schutz spinning tunes. Food and beverages will be available. Preregister or donate at penguinplungeny.com.
ML by Maria Luisa Scholarship
The application for the 2018 ML by Maria Luisa Scholarship program is now available to graduating female students in Rockland County. The ML by Maria Luisa Scholarship recognizes Rockland County high school female seniors who, through their actions or beliefs, embrace the principals of ML by Maria Luisa: civic and community involvement, commitment to social justice, social equality, and environment/eco-friendly lifestyles.
This year, two $1,000 scholarships will be awarded: one to a promising woman who is a senior attending a private or public Rockland County high school (must be a Rockland County resident), and one to a promising woman who is a senior attending Nyack High School. The scholarship will assist with costs in attending a college of the students' choice.
New York State Thruway Authority Cashless Tolling Amnesty Program ends February 26.
The Thruway Authority is offering this amnesty program to Tolls By Mail customers with passenger vehicles who have open violations issued between April 24, 2016 through January 31, 2018. These customers include those who were already referred to a collection agency or have had their registration suspended. Customers must pay their entire outstanding toll balance by February 26, 2018 in order to receive amnesty on open violations.
Movers and Shakers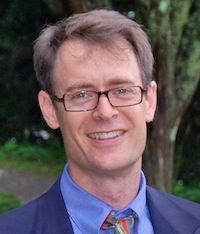 Andy Stewart, who led the Town of Orangetown as Town Supervisor from 2012-2017, has joined Hudson Valley Pattern for Progress as a Senior Vice President for Research & Analysis. Pattern for Progress is a regional planning, policy and advocacy non-profit organization that brings together business, nonprofit, academic and government leaders from across the Hudson Valley to collaborate on regional approaches to common challenges, such as housing, government efficiency, high taxes, infrastructure and economic development. Stewart joins Nyack Trustee Elijah Reichlin-Melnick, who has worked at Patterns for Progress since 2016 as a Senior Research Planner.
---
Here are the municipal events in South Nyack and the Village of Nyack for the week of 2/26. There are no meetings scheduled in Upper Nyack this week.
Village of Nyack
Mon 2/26, 7p: Zoning Board of Appeals
5p: Justice Court
6:30p: Nyack Housing Authority
7p: Nyack NAACP Meeting
7p: Parks Commission Meeting
Thurs 3/1, 9:30a: Justice Court
Nyack Village Hall is located at 9 N. Broadway.
Village of South Nyack
6:45p: Police Board Meeting
7:30p: Board of Trustees Regular Meeting
Wed 2/28, 7:30p: Planning Board Meeting
South Nyack Village Hall is located at 282 S Broadway.