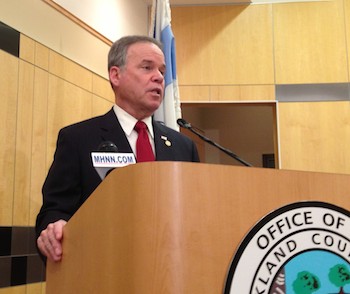 Last month Standard and Poor's Global Ratings has raised  Rockland County's bond rating to A- this year, up from the county's previous BBB+ rating. The rating upgrade is the county's sixth consecutive since 2014; at that time, Rockland's bonds were rated just above junk and the county had a $138 million deficit.
So what does the rating upgrade mean for the county?
"This upgrade means that we can borrow money as we do regularly to fund capital projects at a lower cost," said Rockland County Executive Ed Day.
Though the county remains under state oversight related to the issuance of the deficit bonds, the upgrade should help lift some of the county's fiscal burden off of Rockland taxpayers. Since 2014, Rockland has saved between $3 to $5 million in debt service because of ratings upgrades. "That is equivalent to a 3 to 5 percent property tax increase that did not happen due to our fiscal responsibility," Day said.
Rockland also earned $11 million in premiums from its $96 million deficit reduction bond sale and $20 million in total premiums on all bond sales since 2014.
The Village of Nyack has been ahead of the Rockland curve when it comes to bond ratings. S&P upgraded Nyack to an A rating in 2013.