The Orangetown Bike Study, a five month effort which included input from more than 500 residents, will present preliminary findings and recommendations on Thurs at 7p in Orangetown Town Hall. Bike study consultants Parks & Trails NY (PTNY) will detail a proposed bicycle network that connects schools, parks, village centers and neighboring communities via a mix of protected, striped and shared cycling facilities.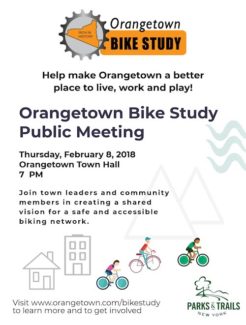 "I encourage all who are interested in bike transportation within the town to continue that pattern and attend this public meeting," said Orangetown Supervisor Chris Day. "Listen to what has been found thus far, and offer your thoughts and suggestions as to what the town could or should do to facilitate better and safer options for residents."
Cyclists, both long- and short-range, already form an important constituency in Orangetown. Bicycle infrastructure increases health, property values, tourism, local business opportunity and economic development while decreasing air pollution and automobile traffic.
PTNY will recommend enhancements to the existing multi-use trail system including extending the JB Clarke Trail and improving parts of the Esposito Trail to provide a better connection between Sparkill and Piermont. A network of "Neighborhood Bikeways" – primarily residential streets that can be signed and marked, with some additional volume and speed management techniques implemented — will be presented for consideration by the community.
Although most of the study focused on making it easier for Orangetown residents to get around Orangetown, PTNY also looked at way to reduce conflict and better manage large cycling groups who pass through the town with the goal of fostering understanding and respect between motorists and cyclists.

At 7p on Thursday, the public will have an opportunity to take a closer look at the proposed network and speak with representatives from PTNY about its features. A formal presentation begins at 7:30, when Orangetown's bicycle consultants will present recommendations for a network of new cycling facilities and connections that will make Orangetown a more bikeable community.
The Orangetown Bike Study is a collaborative community planning process for Orangetown's cycling network, lead by the Town of Orangetown and
Parks & Trails New York (PTNY),
a non-profit park and trail advocate. It's funded by the
New NY Bridge Community Benefits Fund
.
Since September 2017, PTNY and Orangetown have conducted a wide-reaching community engagement process to establish a better understanding of where residents' and visitors' priorities are as they relate to the future development of a more bike-friendly Orangetown. A large share of the almost 500 people who completed surveys said improved connections between the hamlets and villages and enhancements to the JB Clarke and Esposito Rail Trails were important.
The next steps for the project are to collect feedback on the network, prioritize and create an implementation plan.