by Mia Leo, GraceMusic
Collective Brass is a high-energy chamber group that performs a broad range of exciting and virtuoso music, ranging from traditional to contemporary. Their 4p Sun Feb 18 program at Grace Church includes pieces by Monteverdi, Mozart, Debussy, and some up-tempo surprises.  This concert is a benefit for disaster relief in Puerto Rico.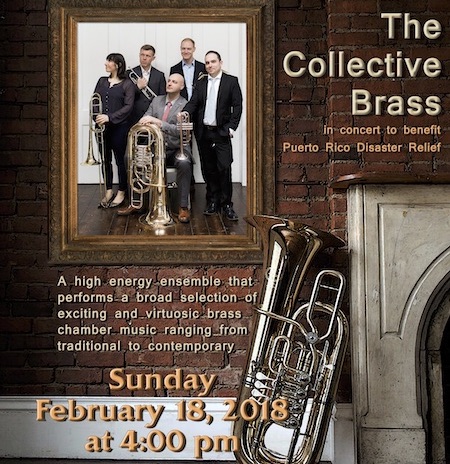 Given that valves are fairly modern inventions, there is not a large body of chamber music specifically for brass instruments. So early chamber music has been adapted as necessary –- a common practice in the post-valve era. After the invention of valves in the early 19th century, brass quintets began to establish themselves as serious chamber ensembles.
All members of Collective Brass play with the United Sates Military Academy Band at West Point and all hold positions in major performing groups in New York. They have completed music degrees at Juilliard, Indiana U, Mannes, Manhattan, and Yale. Four are our neighbors here in the Hudson Valley.
After college, Nyacker Carl Stanley (trumpet) toured throughout the country as a member of the U.S. Air Force Heritage of America Band. Deployed to the Middle East, he performed in an outreach band using music to better U.S. relations in war-torn countries. After these experiences, he transitioned into the U.S. Army as a member of the West Point Band.
Bill Owens (trumpet) free-lanced throughout southern California for many years, playing with the Los Angeles Philharmonic, and the San Diego and Santa Barbara Symphonies. He now teaches at SUNY-Purchase in addition to playing with the West Point Band.
Oklahoman Drew Mangus (horn) learned his instrument from his father, a horn player and band director. Before joining the West Point Band in 2014, he played with the Oklahoma City Philharmonic and the Dallas Symphony.
As an undergraduate, Long Islander Alaina Alster (trombone) double-majored in trombone and euphonium. Prior to joining the West Point Band in 2013, she free-lanced in and around NYC, taught both privately and for the Phil Ramone Orchestra for Children, and now also plays with the PitchBlak Brass Band, a Brooklyn-based 10-piece hip-hop brass ensemble.
Educator Keith Kile (tuba) was born in Oak Ridge, TN and is the West Point Band's newest tubist. He is also on the New School faculty in NYC and free-lances actively. Prior to joining the West Point Band, he served in the 129th Army National Guard Band for 11 years and performed in a number of bands and regional orchestras throughout the midwest and southeast.
GraceMusic hosts Collective Brass on Sun Feb 18 at 4p at Grace Church, 130 First Ave in Nyack. Tickets are $20; seniors $15; students $5; children under 12 free. Handicap-accessible via First Avenue entrance. Visit GraceMusicNyack.com or call 845-358-1297 x16 for more information.