This year's flu season is the most serious in more than a decade. On Tues Feb 6, Nyack Hospital hosts a free flu clinic at the Nyack Center from 10a-12n and at the Waldron Terrace Community Room from 1-2:30p . These clinics are open to all residents of Rockland County, age 9 and older.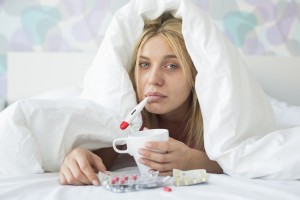 According to CBS News, this winter's flu epidemic is surging, with 42 states now reporting high levels of activity. Over 50 children have died as a result of this year's strain.
The Tuesday clinic is sponsored by Nyack Mayor Don Hammond, NYS Senator David Carlucci, and NYS Assembly members Ellen Jaffee and Ken Zebrowski. The Nyack Center is at the corner of Depew and S Broadway. The Waldron Terrace Community Room is located at 15 Highview Court in Nyack.
Why is this year's flu season worse than usual? "Of the viruses we hate, we hate H3N2 more than the other ones," CDC flu expert Daniel Jernigan told the Washington Post. "This strain, which has been around for 50 years, is able to change more quickly to get around the human body's immune system than the other viruses targeted in this year's seasonal flu vaccine," he said.
Maybe you're thinking you are young and healthy and you never get sick. Or you've lived a long life and take the NYC City every week and have been exposed to so many germs that you have a immune system better than this year's bug. If that's what you think, then think again. Everyone is getting the flu. And it's not just all about you: even if you can shake off a mild case, you could be a carrier for neighbors, family and friends who are most vulnerable. According to Dr. Asma Khan, MD a physican at HRHCare Urgent Care in Nyack, flu and its complications are a higher risk for:
Individuals over 65
Babies and young children
Pregnant women
Individuals with a chronic lung condition, like asthma or bronchitis
Have heart or kidney disease
Have diabetes
Have severe anemia
Have a weakened immune system from a disease or its treatment
Living in a nursing or long-term residential home
"Though the single best way to prevent getting the flu is to get the flu vaccine each year, washing your hands often will help protect you from getting and spreading germs, and can cut your flu risk in half," said Rockland County Health Commissioner Dr. Patricia Schnabel Ruppert. In case you missed it, the first week of December — at the start of this year's flu season — was National Handwashing Awareness Week. Rockland County issued a press release last year detailing best practices for when and how to wash your hands to prevent catching and spreading the virus. Based on this year's results, people have not been heading Dr. Rupert's — and their mother's — advice.