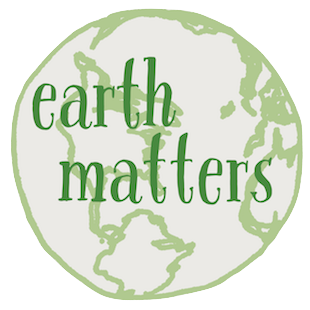 Earth Matters focuses on conservation, sustainability, recycling and healthy living. This weekly series is brought to you by Maria Luisa Boutique,  Strawtown Studio's Winter Break Mini-Camp and Summer Play Camp at Blue Rock School. 
If Earth Matters to you, sign up for our mailing list and get the next installment delivered right to your inbox.
by Susan Hellauer
Endless arctic cold snap? No worries. You did everything right: thermostat in the mid 60s, leaky windows covered, draft blockers at door bottoms, interior doors closed, water heater temp turned down, a low-flow shower head and energy star appliances . . .  Then you waited smugly for that next gas bill, confident that your sustainable good deeds defeated the fossil fuel industry's latest shakedown attempt.
Then the bill arrived . . . and the wailing on Facebook began.
What made that January utility bill so insane, even for dedicated conservers in tiny houses? To break the bad news into bite-sized chunks, Earth Matters called on Mike Donovan, spokesman for Orange and Rockland Utilities (O&R), which supplies 85,000 gas customers in Rockland County, to explain those painful gas bills for you. Spoiler alert: The pain is not over yet.
Cold snaps and natural gas prices – a little history
In the early 1990s, the federal government began deregulating natural gas prices. No longer stabilized by law, gas commodity prices can now fluctuate widely and quickly for many reasons, including regional demand spikes, distribution chokepoints, or even production and pipeline shutdowns thousands of miles away.
Utility companies bill you for bringing the heating gas to your home—the "delivery charges"—and pass along the cost of the the gas itself—the "gas supply charge." The recent 26-day East Coast deep freeze—longer and colder than anyone predicted—caused a regional demand spike that put a ton of pressure on the gas distribution system. A simultaneous cold snap in the Midwest only added to the misery.
That means, according to O&R's Mike Donavan, that no matter how diligently you conserved, those regional demands made natural gas prices skyrocket as the thermometer plunged. "It's not just how much you used: it's what we had to pay for the gas," he said.
The gas bill blues
So, how does O&R billing handle these crazy price swings? The gas price on your December bill, for example, is a best-guess forecasted price set in advance. The actual price that O&R pays is posted on the utility's website, Donovan said, and then the there's an adjustment, or "true up"  folded into the next month's gas supply charge.
The deep freeze, which hung around from Christmas until January 18—punctuated by a "bomb cyclone" on January 4—led to a doozy of a January bill, with its "trued-up" gas supply charges. Even with a steady thermostat at a reasonable 68 degrees or less, the profound cold had furnaces running constantly for about a month, and that drove up electricity prices too.
O&R warns that February's bill won't be pretty either. To cushion the blow, the utility says it will spread out the big hurt all the way through August. The gas supply charge on your bill will be raised by a monthly amount aimed to dilute the cold snap "true-up." You can find that amount on the O&R New York Rates and Tariffs page (see image and link) in field number 7, "Interim surcharge."
How to tame natural gas prices
One way to avoid the monthly roller coaster ride is to spread out your energy billing evenly over 12 months with "budget billing," according to O&R. At the end of the year there's a reconciliation, and either O&R will settle up with you, or you'll write them a check. It doesn't reduce your energy cost, but can help with planning expenses.
Another way to curb natural gas prices is by purchasing from a third-party supplier, or ESCO (Energy Service Company). Scads of these outfits sprang up after deregulation, and plenty of them were rip-offs, with pushy sales spiels and phony promises. But, if you're the meticulous type who will stay strictly on top of expiration dates, and avoid killer cancellation fees, then you could save some money. Go to NYS Power to Choose (and not one of many similarly-named websites) to find reputable companies in your area that can lock you into a reasonable long-term rate. Have your last few gas bills on hand, to make sure you're getting a good deal.
Maybe those energy-saving efforts didn't save you from whopping winter gas bills, but don't give up on conservation. (And that goes for you condo and apartment dwellers, too.) About two-thirds of your winter energy bill is for heating and hot water, so that's where you want to focus. O&R offers rebates on energy-star gas appliances. You should have a programmable thermostat by now. Think about a home energy audit. And if O&R's rate hike request goes through for next January, a conservation push could help soften the blow a bit.
A natural gas-free future?
Natural gas—and lots of it—is used to heat homes, but it's also burned in power plants to create electricity. To keep the gas flowing, and prices down, energy companies could build out lots more gas pipelines to free up distribution from fracking fields. But if you're not nuts about that idea, how can you help shape an energy-secure future?
Replace some natural gas-produced electricity on the grid by going solar, or committing to a local community solar program. And keep an eye on geothermal heating and cooling for new builds or renovations—residential, business or municipal. With federal and state subsidies, and an ambitious new program from a Google subsidiary in New York, costs are coming down for this clean energy solution that can have us saying bye-bye to fossil fuel heating sooner than anyone thought possible.
And you can support your local Climate Smart Communities programs, which seek large-scale ways to conserve and to support clean, renewable energy. Check with your own village or town, or with the Rockland Sierra Club.
Learn more:
Email Earth Matters
Read Earth Matters every Wednesday on Nyack News And Views, or sign up for the
Earth Matters mailing list.
Earth Matters  focuses on conservation, sustainability, recycling and healthy living. This weekly series is brought to you by Maria Luisa Boutique, Strawtown Studio's Winter Break Mini-Camp and Summer Play Camp at Blue Rock School.