by Jene Nickford
There's an old jetty, silhouetted along the Hudson River, with sail boats on the horizon faintly discerned in front of the pale pink sky. The quiet occasionally punctuated by some gulls as they flap and fly overhead. I'm happy and content. The water is still.  The jetty perfectly reflected, And there is me with my camera.
Do I imagine it? Is there really the sea just beyond? That salty smell of water mixed with fish, horseshoe crabs and shells. It brings memories of other beaches. I'm drifting off to sleep.
I live in the hamlet of Tappan, New York in a  bungalow style house built in the 1920s  It's been modernized with new windows, a new heating system is well insulated – though the wooden clapboarding is a bit rough to the touch.
I've experienced mostly happy times here. My children grew up here. But my husband, who had Parkinson's disease, passed away here. We didn't quite make 50 years of marriage.
My name is Jene Nickford. My parents came from a shtetl in Russia. I was a New York City art teacher for over 25 years.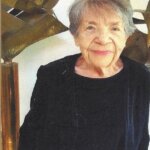 Jene Nickford is a student at the Learning Collaborative
Words & Images is a column that features the work of students from Bill Batson's sketch logging class at the Learning Collaborative.  
Thanks to Bonnie Timm editorial assistance.