This is the weekend for music, theater and wine. Experience folk royalty as Rockland Center for the Arts presents "Music Sessions in the Gallery" with Sarah Lee Guthrie. There's also a concert band performance and flamenco music.  Theater lovers get two play openings to choose from. Poetry, an art exhibition opening, and relaxation round out the offerings.  The kids get some fresh air while learning how to track animals.
Friday
Described as the funniest farce ever written, Noises Off is a play within a play about an ambitious director and his troupe of mediocre actors. Fri at 8p, Sat at 3p, Sun at 2p, Antrim Playhouse, 15 Spook Rock Rd, Wesley Hills. Runs through February 4.
Children´s Shakespeare Theatre proudly presents Antony & Cleopatra where two superpowers clash in a struggle for world domination and at the center of it all, a pair of lovers whose personal struggles can tip the balance at any moment. Fri at 8p, Sat at 7p, The Tappan Manse Barn, 32 Old Tappan Rd, Tappan.
Saturday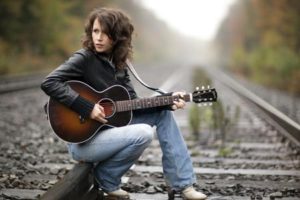 Born from American folk royalty, the daughter of Arlo Guthrie and granddaughter of Woody Guthrie, Sarah Lee Guthrie has a clarity and soul behind her voice that's all her own. There is a gentle urgency to her interpretations of the songs she sings and the classic music of her heritage. This is rare opportunity to witness the growth of one of America's finest young folk singers in an intimate setting as she performs the songs that have guided her. Tickets are $15 and are available online or at the door. 7:30p, Rockland Center for the Arts, 27 S Greenbush Rd, West Nyack.
Dress warm and head outside for the Kids' Animal Tracking Hike. Learn the basics of animal tracking on a two mile easy hike lasting about 1.5 hours. Children must be accompanied by an adult. 11a, State Line Lookout, Exit 3 of northbound Palisades Interstate Parkway, Alpine, NJ.
How about some live music, paired with a good wine? Visit Torne Valley Vineyards and taste a full compliment of eight wines. There are also specialty beers and some of New York State's finest distilled spirits to go with tasty lunch specials in the cafe. Sat & Sun 11a-5:30p, Torne Valley Road, Hillburn
The Ida y Vuelta Flamenco Ensemble blends traditional Spanish flamenco dance with tango, jazz and world music for an unforgettable experience. 3p, Rockland Music Conservatory, 45 S Main St, Pearl River.
Sunday
 The SOUK is an indoor epicurean market where 16 vendors offer selected local farm produce and prepared small craft foods. 11a-3p at the Outside In, 249 Ferndon Ave, Piermont.
Local authors, Rebecca Watkins and A. Anupama, present their recently released poetry collections at the Nyack Library. 2p, 59 S Broadway, Nyack.
Start the new week totally relaxed with a Sound Healing Workshop. Dalien, aka 13Hands, will take you on a 2 hour, sound meditation/journey with an assortment of bowls, gongs, hang drum, native flutes, ambient percussion, and acoustic guitar and other ethereal surprises. 3-6p, Little Waters Wellness, 66 N Broadway, #9, Nyack.
The Edward Hopper House Annual Members Exhibition has moved to an exciting new location. Celebrate the works of the artist members of Edward Hopper House with a free public reception at the Union Arts Center. 4-6p, 2 Union Ave, Sparkill. Exhibit runs through March 11. Regular hours: Wed-Sun 12-4p.
The Restorative Center along with the Rockland Prison Justice Project and the Nyack Center's Family Connections is holding a community building Restorative Justice Circle. Come talk, listen, and solve problems. Please RSVP to jen.mancuso@nyackcenter.org. 6:30p, Nyack Center, 58 Depew Ave, Nyack.
Next Week
Wednesday
Rivertown Film screens Loving Vincent an animated film entirely composed of oil paintings in the style of Vincent van Gogh that tells the story of his life. Barely known during his lifetime, he is now perhaps the most famous of all artists, and his paintings are some of the most recognized in the world. Join a discussion after the film with 19th Century European art historian and curator, and author of two books on Vincent van Gogh, Richard Kendall. 8p, Nyack Center, 58 Depew Ave, Nyack.
Orphan Train: 75,000 Irish children rode trains out of New York across America from 1854 through 1929. Some found good homes, others found slavery. Trains stopped in Congers where children were taken in by farmers. The Piermont Historical Society hosts author Tom Riley at 7:30p, Piermont Village Hall, 478 Piermont Ave.
Looking Ahead … Saturday, January 27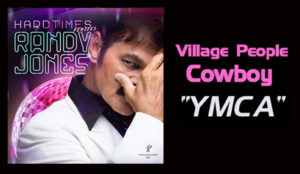 Come in your best 70's threads –or come as you are– and dance all night at a Disco Party with Randy Jones of the Village People. The original cowboy from the Village People gets the disco party started and will answer audience questions, perform hits including "YMCA," and kick off a dance party with a dj spinning nostalgic favorites and the best new tunes. All seats are general admission and include one beverage (wine, beer, or two gourmet soft drinks). Advance tickets $48, are available online until 4pm the day of the performance or $60 at the door. Doors open at 8p with wine and beer available, show begins at 9p, Union Arts Center, 2 Union Ave, Sparkill.
To get the Nyack Weekender delivered to your mailbox auto-magically every Friday morning, add your name to our mail list. Visit our
online sign-up sheet
to subscribe.