This week in the villages: Happy Martin Luther King Jr. Day! The influential civil rights leader's birthday marks a federal and state holiday, meaning closings of government and state offices, banks, post offices, and public schools. Also, TZx and Transport of Rockland (TOR) buses will operate on a regular weekday schedule, but Metro-North will operate an enhanced Saturday schedule. And in Nyack, today marks the start of the Nyack Record Shop Project, an effort to collect oral histories of African Americans in the village. And construction of the Mario M. Cuomo Bridge continues with a lane closure on River Road and overnight re-striping of the westbound lanes on Friday.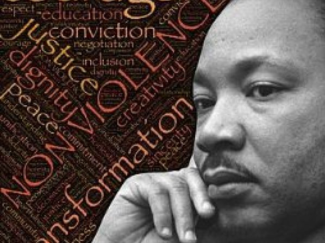 Here is a list of Martin Luther King Jr. Observances across Rockland County:
The Nyack Branch of the NAACP will commemorate the legacy and dream of the late Dr. Martin Luther King Jr. at an annual interfaith service at 2p. Hosted by Reverend Willie L. Hairston, pastor with a message by Pastor Paul Jones of First Church in Nyack. Pilgrim Baptist Church, 80 N Franklin St, Nyack. For more information, call 845-358-1497.
The Nyack Record Shop Project (NRSP), an intensive effort to collect oral histories documenting the rich experiences and inspiring personal stories of African Americans living in the Nyack community, will begin after the service at 4p at Grace Episcopal Church (130 First Ave, across Franklin Street from Pilgrim Baptist Church). Oral history interviews will be conducted by volunteers recruited by NRSP Director Bill Batson, and will continue during the week from Jan 16 to Jan 20 at Kiam Record Shop (95 Main St, Nyack). Residents are invited to contribute, and to bring an object, photo or publication of historic interest to augment their stories. To register for an interview time, interested participants can go to www.edwardhopperhouse.org/nyackrecordshop.html. Oral histories will be transcribed and archived by the Historical Society of the Nyacks and made available to the public. The project is an initiative of the Edward Hopper House and the Historical Society of the Nyacks, supported by the Historical Society of Rockland County, the Nyack Center, Kiam Records, Rand Realty, Alex Cabraie of Planet Wings, Clare and Bill Sheridan and South Mountain Studio. Read Nyack Sketch Log: A New Way to Commemorate Rev. Dr. Martin Luther King, Jr. for more information about this project.
East Ramapo Central School District and the Martin Luther King Multi-Purpose Center will sponsor a unity celebration honoring the life and legacy of Dr. Martin Luther King Jr. The theme of the event is "Our Community, United in Love, Peace and Justice". The showcase features poetry, dance, drama, music, vendors and entertainment by various local artists at 3p. All at Ramapo High School (400 Viola Rd, Spring Valley). For more information, contact Marc Pessin (845-558-8355 or progressive9@aol.com).
Village of Nyack
Martin Luther King Jr. Observance Closures
In addition to the village hall office, the Department of Public Works will be closed on Monday, January 15, 2018 in observance of Martin Luther King Jr. Day. Trash will be picked up on Tuesday, January 16, 2018. Parking fees will be suspended in observance of the holiday.
Christmas Tree Disposal
Please leave Christmas trees at the curb with all ornaments and lighting removed. DPW will be picking up trees during the work week and the trees will be recycled for mulch. Please dispose of wreaths and roping with the regular trash.
Village of Upper Nyack
March 20, 2018 Village Election
There are two trustee (two years) offices which will be vacant at the end of the current official year. They are to be filled at the village election on Tuesday, March 20, 2018.
Town of Orangetown
Christmas Tree Pickup
The Orangetown Highway Department is picking up Christmas trees through Jan 31. For further information, Orangetown residents may contact the Orangetown Highway Department (845-359-6500 or highwaydept@orangetown.com).
Tappan Zee Bridge News
Weather permitting, Tappan Zee Constructors (TZC) will continue steel girder installation at the second span's Rockland approach next week.
TZC is scheduled to temporarily close the southbound lane on River Road in South Nyack/Grand View to facilitate a concrete pour for the second span's Rockland abutment on Friday, Jan 19, between 6a and 6p, weather permitting. TZC will provide flagging support to provide access in both directions. School buses will be given priority throughout the closure period.
TZC is preparing to re-stripe the westbound lanes near the new bridge next week, weather permitting. The operation is tentatively scheduled for the overnight of Friday, Jan 19, requiring the closure of up to three westbound lanes on the new bridge.
And In Washington…
Congresswoman Nita Lowey and Congressman Peter King announced legislation to restore the state and local tax (SALT) deduction, which was significantly curtailed by the federal tax overhaul signed into law last month.
According to a Jan 9 statement from Lowey: "Millions of taxpayers in high-taxed states like New York depend on the state and local tax deduction to help pay their expenses and care for their families. By effectively eliminating this deduction, the new federal tax law unfairly punishes families living in states that send more money to the federal government than we get back in federal investments. This is unacceptable, and our bill is a necessary step to providing tax relief—not more burdens—for New York families. The legislation restores the state and local income tax deduction in its entirety, setting aside partisan politics to find a real solution on tax fairness for our constituents."
---
Here are the municipal events in Upper, South and the Village of Nyack for the week of 1/15.
Village of Nyack
Tue 1/16, 5p: Justice Court
7p: Nyack Art Collective
7p: Architectural Review Board
Thurs 1/18, 9:30a: Justice Court
Nyack Village Hall is located at 9 N. Broadway.
Village of South Nyack
Thurs 1/18, 7:30p: Planning Board Meeting
South Nyack Village Hall is located at 282 S Broadway.
Village of Upper Nyack
Wed 1/17, 7:30p: Planning Board Meeting
Thurs 1/18, 7p: Board of Trustees Regular Meeting
Upper Nyack Village Hall is located at 328 N Broadway.