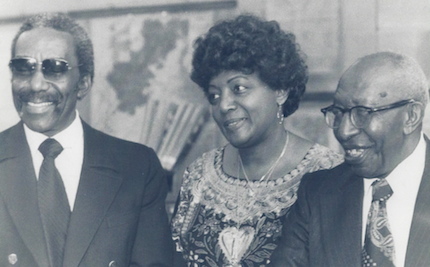 In Nyack, this Martin Luther King Jr. Day marks not just a remembrance of America's foremost Civil Rights leader, but the beginning of a collection of new African American remembrances. That's because this Monday, Nyack News & Views's Bill Batson has spearheaded the Nyack Record Shop Project. The project, which will be hosted by Kiam Record Shop, aims to gather local black oral histories through one-on-one interviews.  As Batson wrote in Monday's Nyack Sketch Log, the project aims to "elevate the practice of recording the personal history of our elders to the status of an essential and routine civic undertaking here in Nyack and other places."
In honor and anticipation of the Nyack Record Store Project, we are publishing an excerpt from one such oral history.  In the following interview, from 1994, the late Hezekiah Easter tells former Village of Nyack historian Jean Pardo about coming to Nyack in the 1920s. Listen to the full interview here.
Jean Pardo: Were you born in Nyack, or how old were you when you came here, did your family come here —

Hezekiah Easter
: I was not born in Nyack. I was born in the city of Suffolk, VA. At my last information, Suffolk is one of the largest area cities in Virginia. It's about 20 miles from Norfolk which is more popularly known. My father came to Nyack — my father, Hezekiah Easter, came to Nyack in 1927. He came to Nyack for economic reasons. He had been working in Virginia many, many years. He took a leave and went to Johnson City, PA and worked in the steel mills for a short period of time. He came back home and in 1927 he and a neighbor came to Nyack for economic reasons.
JP:
How had he heard of Nyack, down in Virginia?
HE:
There were some people who he knew who had come to Nyack and were working here, I think in the brickyard up in Haverstraw, which was a very popular industry at that time. After discussing the economics of leaving the area, my father decided to come and try his efforts here.
It's quite interesting that the fellow who came with him was a neighbor who lived across the street from me — his name was James McCleese. McCleese, you will find later, owned some property up on 9W in Congers. He was perhaps the African American to own property up theres off 9W. I believe that the gymnasium he started up there is still there. Of course, he's passed on and I don't think his wife even lives in that area any more.
JP:
Did the two men come together just by themselves?
HE:
Yes, they came to get established without their families at first. My father came to Nyack in 1927, on a Saturday. He got a room in a boarding house up on Main St. right across the street from the Pilgrim Baptist Church. The lady's name that he lived with was Dolly Bowman. My father tells us the story that after he got his things down, he decided to take a walk downtown to see what the village was like. So he talked down Main St. and he came to Broadway, and he noticed there was some construction going on down Broadway so he took a stroll over there, two blocks away. That's where they were building the YMCA — 1927. He noted that a John Rooney was the contractor. So he looked around the area.
That following Monday morning he decided that in order to get a End of Page 1 job he had to get up early and be there, so he was on that job site that following Monday morning, before work started of course. Mr. Rooney saw him standing around and asked him if he was looking for a job, and he said "Yes," and that's when he went to work. Early bird gets the worm!
So he started working for John Rooney as a laborer, and he worked for him for a while. Later on he got involved in construction, so he worked in a number of construction jobs for John Rooney. Then, later on, two years — he used to send money home to us every month to take care of his family, my mother and three sons. He used to come back at least once a year and visit back home. That was in '27, '28. And in '29, he decided it was time for us to come to Nyack. So, he had rented a building on 70 Depew Ave. That place where Depew Manor now is — 70 Depew Ave. So, June of 1929, we arrived in Nyack.
JP:
Do you remember travelling up here?
HE:
Oh, we came up on the train. We crossed the Chesapeake Bay on a ferry, we got a ride from Suffolk to Norfolk in a car, then we got on a ferry and crossed Chesapeake Bay. and that's where we got on a train to Pennsylvania Station. We got the bus up to Nyack. We thought that riding up Broadway [in South Nyack] was the most beautiful area. The trees were like bowed over Broadway — just gorgeous. June was just a gorgeous month. So we got off at the corner where the Presbyterian Church is, that's now the Nyack Center. We walked maybe a block up the street and then we were home — directly across the street from the famous Liberty Street School. Looking back on reflection, that was just a gorgeous time.
The weeklong Nyack Record Project begins Monday at 4p at Grace Episcopal Church (130 First Ave., Nyack). Also, go to Kiam Record Shop (95 Main St., Nyack) between 12p and 7p on Tuesday, Wednesday and Thursday, or between 10a and 10p on Friday or Saturday.