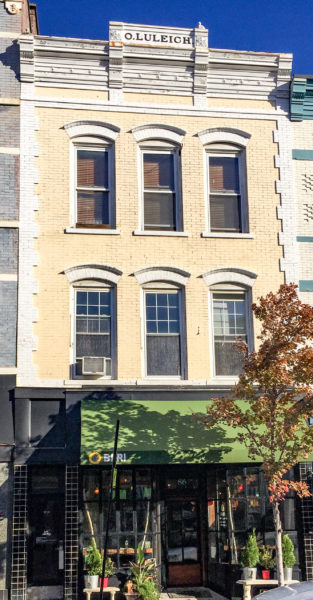 The three-story brick building at 86 Main Street in downtown Nyack has a long history of family-run businesses: the Luleich Bakery, from 1896 to 1972; the Nyack Village Deli (also known by other names), from 1973-2001; The Optical Shop of Nyack (now located across the street in the Rockland Trust Building) between 2002-2017; and, since last year, Bari, a smoothie and juice bar owned by Daniel and Shirley Kramer, the owners of Art Café.

Luleich Bakery (1896-1972)
"The smell of baked goods was wonderful when you stepped in the shop," remembered Bob Dillon, a long-tim

e Nyack resident. Dillon went every Saturday with his father, who had a law office upstairs, to buy his favorite pastry, the crème-filled doughnuts. According to Dillon, the bakery was strictly take-out, offering bread, cakes, doughnuts, and pastries. He remembers that Mrs. Luleich was always behind the front counter. Jim Leiner, local historian, fondly remembers the crumb buns.
A decorative medallion atop the third-floor cornice at 86 Main reads, "O. Luleich." Oscar Luleich emigrated from Germany when he was 17 with a total of 7 cents in his pocket. He slept in a field his first night in America, and then got a job building the West Shore Railroad. He learned the baking trade from an uncle and in 1893 he purchased the St. Nicholas Bakery that was located at 85 Main Street.
Luleich bought land across the street, then occupied by a 2 1/2-story wood house. Main Street was just beginning to change from residential to business. 86 Main Street, like most new buildings of the time, had a store on the first floor with apartments above. The front of the building remains today much as it was originally designed, showing distinctive arched windows with projecting lintels and classical brick quoins on the corners. The cornice design is similar to its neighbor at 84 Main Street, which housed Schmitt's ice cream parlor but a little less ornate than its other neighbor, the earlier four-story building at 88 Main Street with a butcher shop on the first floor. In 1893, Luleich opened his bakery.
Oscar built a huge oven in the basement, fueled by a ton of coal each week (the bricked over coal chutes are still visible in the basement). The oven was large enough to hold 125 loves of bread yet shallow enough to brown the loaves evenly. A recipe might call for a half a barrel of flour and two pounds of yeast. For many years the dough was kneaded by hand in a massive dough box. Bakers started work at 4p and worked all night. The store was open from 7a to 9p, six days a week. During the nearby Rockland Theater's run, the shop remained open later on Saturday nights, keeping the lights on until the second show was out.
Deliveries began at 4:00a. Two horses, named "Chubby" and "Prince," were stabled behind the shop and pulled the delivery cart. Orders were left on the front porch or steps. On a second daily run, the driver would ring a hand bell to announce his coming.
Oscar's son Ernest, born at 86 Main Street in 1897, took over the business after his father, and he ran it for 45 years. His wife, Dorothy, managed the bakery and also a branch store in Haverstraw from 1936-1946. They were known for employing students from Nyack College. Their son, Ernest, served in the army in WWII, and became a village trustee of Upper Nyack.
The bakery closed abruptly in 1972 due to changing times. The cryptic but meaningful message posted on the front door on closing read, "Sorry. July 1
st
is our last day here. Due to taxes. Diets. Lack of Parking Facilities."
Bari
Bari is a Hebrew word that means healthy. The menu is based on the way Daniel wants his family to eat, focusing on juices, smoothies, falafel and build-your-own breakfast oatmeal.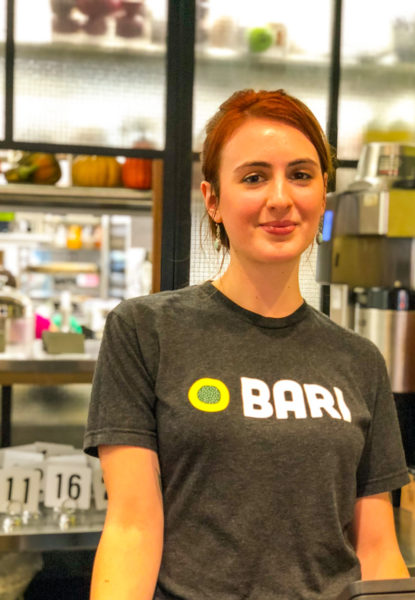 Nutrition is the watchword. For example, they have replaced agave syrup that is usually used by juice bars with dates to add fiber and minimize the delayed sugar spike from agave. A Grab-and-Go cooler section has a wide assortment of foods, including salads, chia puddings and anti-inflammatory turmeric & ginger shots. Juices and smoothies are made to order. Baking is done on the premises, and baked goods are of the Paleo Banana Nut Bread sort (translation: healthy). Bari sources organic produce locally as much as possible.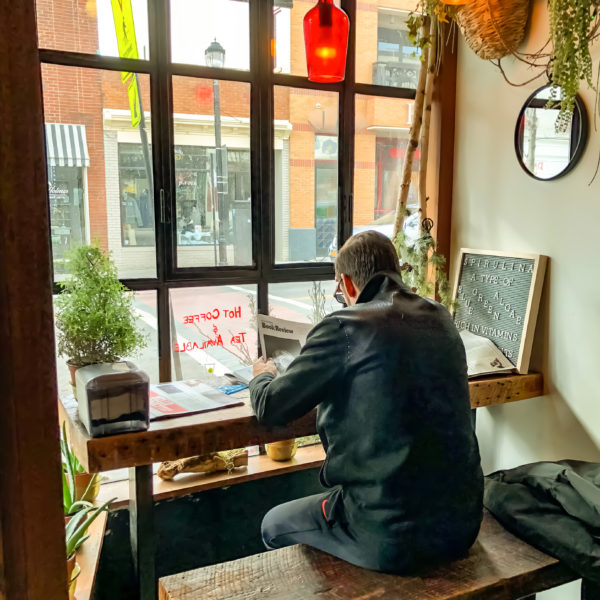 Although Bari was conceived as an 8a to 8p take-out joint, the large, warm interior space offers ample seating. Customers can sit in front of the Belgian-style industrial windows, or at rustic wood tables. Rope-hung lanterns and wall art complement the rustic tables. Local architect Bob Silarski, with S&Co.|Architecture+Design designed Bari. He added a street-side green awning in the style of the ones that adorned Nyack in the days when storefronts usually had awnings.
As residents of Nyack, the Kramers are conscious of the village's history. Daniel proudly displays a large, heavy iron pulley that was used by the Luleich bakery for 80 years to move sacks of flour down to the basement and finished goods upstairs.
Photo Credits: Mike Hays
Michael Hays is a 30-year resident of the Nyacks. He grew up the son of a professor and nurse in Champaign, Illinois. He has recently retired from a long career in educational publishing with Prentice-Hall and McGraw-Hill.
He is an avid cyclist, amateur historian and photographer, gardener, and dog walker. He has enjoyed more years than he cares to count with his beautiful companion, Bernie Richey. You can follow him on Instagram as UpperNyackMike.

Nyack People & Places features photos and profiles of citizens and scenes near Nyack, NY. Sponsored by Weld Realty.