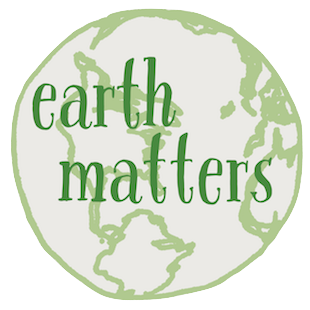 Earth Matters focuses on conservation, sustainability, recycling and healthy living. This weekly series is brought to you by Maria Luisa Boutique and Strawtown Studio.
If Earth Matters to you, sign up for our mailing list and get the next installment delivered right to your inbox.
by Susan Hellauer
From his toasty Palm Beach golf retreat, President Trump (who has spared no effort to obliterate the Obama Administration's environmental agenda) empathized with the Northeast and Mid-Atlantic states locked in a grinding cold spell by tweeting on December 28 that they "could use a little bit of that good old Global Warming."
Climate scientists were quick to point out that climate and weather should not be confused with each other, and that the earth's rapid warming from a human-induced increase in atmospheric greenhouse gases is happening, regardless of today's temperature in Baltimore or New York.
One of the scientists who balked at Trump's tweet was Lamont-Doherty Earth Observatory (LDEO) postdoctoral fellow Dr. Deepti Singh. She was the lead author, with her former colleagues at Stanford University, of a groundbreaking 2016 article explaining the science behind the increasingly extreme winter temperature variations in North America. Earth Matters spoke to Singh by phone last week to learn more about our cold weather and our warming earth.
Earth Matters: First, what do you and other climate scientists do

?
Deepti Singh: Researchers at Lamont study all aspects of the Earth System. Some researchers collect data from around the world, including the Arctic and the Antarctic, to provide information about how the climate has changed over decades and millennia. Others study the present and future impacts of climate change on our society.
The Ocean and Climate Physics group that I am part of studies present and future climate. My own work tries to understand what causes extreme events, like this cold snap, or intense rainfall in other parts of the world, and how human activity could influence these events. For that we use publicly available observational datasets and run models to try to address questions about why certain patterns or extreme events occur. We then use models to simulate the future climate in different scenarios of economic development.
Mostly you'll find us working at a computer, but lately I've been going out to interview farmers in India. I spent a few weeks this past summer going from village to village, talking to farmers and setting up detailed surveys to see how they cope with extreme rainfall events, and what capacity there is to cope with future extremes. So my work is a combination of going out and talking to people who are most affected by climate change, and sitting at the computer and analyzing a lot of data to provide information that could be useful for adaptation of these communities.
This is the first time I've heard about a "bomb cyclone" or "bombogenesis." Have these terms been around long? They sure make eye-catching headlines.
The terms "bomb cyclone" and "bombogenesis" were actually introduced in a paper by meteorologists Frederick Sanders and John R. Gyakum in 1980, so they've been around in the meteorology community, like the "polar vortex" that became popular two years ago. "Bomb cyclone" was probably tweeted by a meteorologist or climate scientist and gained attention of the popular press. I think it's becoming more common for climate scientists and meteorologists to communicate directly with the public, and this is just an outcome of that. It got picked up by the media, because of its impending widespread impact on the east coast and because of the existing extremely cold conditions.
As long as it's not just inducing fear, but is making people pay attention to meteorologists and officials telling them to take precautions, and creating interest in climate and weather, I think that's a good thing.
Anyone who has taken a coast-to-coast flight knows about the jet stream that makes the

 

flight home from the west coast shorter than the flight out. I saw a picture of the jet stream just before the bomb cyclone hit and it did not look normal. Why this craziness, and could climate change be a factor?
Climate scientists say that the jet stream is becoming more "wavy"—reaching abnormally far north in the western U.S., and abnormally far south in the eastern U.S. There are some studies that show that human-caused climate change may have contributed to this more meandering path, but just how this happens is still an active area of research. We know that the arctic has warmed much more rapidly that in the rest of the world, and there are studies that link the "wavy" jet stream to this rapid warming. Other studies suggest that it is arctic sea ice loss—at its lowest on record right now—that is causing certain patterns that make these extreme weather conditions more common.
I got an email from someone who said that she "can't believe how cold it is here in North Carolina!" A TV meteorologist blamed it on this wavy jet stream phenomenon and called it "the dipole." Can you explain this?
You can think of the dipole as anything where there is an occurrence of opposite conditions, either in the atmosphere or at the surface. In this context, the dipole refers to an amplification of the normal wintertime climate conditions over the U.S..
In a paper that I wrote with some of my colleagues at Stanford last year, we coined the term "North American winter temperature dipole." This refers to the condition that we are experiencing right now: abnormally warm surface conditions in the western U.S., and the abnormally cold surface conditions in the eastern U.S. This pattern is associated with an atmospheric "ridge," or region of anomalously high atmospheric pressure over the western U.S, which pushes the jet stream farther north than its normal position; and a subsequent abnormally southward "trough," or region of anomalously low-pressure over the eastern U.S., which creates a pathway for cold air from the Arctic to be drawn southward into the eastern U.S.
We've been having winters with some really cold, snowy spells. This has made some living in the East wonder about global warming.
When we look at the temperature record, we don't really see a very strong warming trend in the eastern U.S. We've seen warming pretty much everywhere else in the world, but the eastern U.S. for some reason has not warmed as much. But this does not mean that global warming isn't happening. From what we know, these cold conditions are an impact of climate change. It is also worth noting that the eastern U.S. is one of the only regions to experience cool temperatures whereas the rest of the world is warming.
But if the rest of the world is warming and the arctic is warming so much that its sea ice is melting, will things start changing here?
Our research shows that while this kind of extreme cold has become more frequent in the last 40 years, it's not going to continue into the mid-to-late 21st century. Starting between now and the next 10 to 15 years, you are going to see this trend reverse. By the end of the 21st century, even though you could have occasional extreme cold spells in the Northeastern U.S. because of the natural variability in the weather, it's not going to be the norm. The cold air comes from the Arctic, and the Arctic is warming. The Northeast will start to warm rapidly at the rate that the Western U.S. has been warming, because of the increase in greenhouse gases.
So, is there anything that humankind can do to put the brakes on climate change? I just signed up with a local c

ommunity solar

plan; I keep my

thermostat turned down;

 and my next car will be

electric

, for sure. But I'm just one little person among billions.
The most impactful change will probably happen with state and national governments and at the international level. The Paris Climate Agreement was a very optimistic changing point, because almost every single country in the world agreed to reduce their emissions. Such U.N agreements also make richer countries, which have historically contributed [more] to emissions, help out developing countries to reduce their emissions as they grow.
I also think it is really important for people do as much as they can to reduce their carbon footprint, and to raise awareness about climate change. It's an issue that people can deal with, because they can vote for people who understand the problem, value the science, and take it seriously. In my research in India on how farmers respond to climate change, there is not a debate at all. Everyone agrees that the climate is changing, and that human actions are causing it. And we can all just get to work.
Learn more:
"Climate Extremes in a Warming World"

(Dr. Deepti Singh's website)

"Extreme-weather winters are becoming more common in U.S., Stanford research shows"

(Stanford News, 9/1/16)

"Ice Loss and the Polar Vortex: How a Warming Arctic Fuels Cold Snaps"

(Inside Climate News, 9/28/17)

"New insights into the Ridiculously Resilient Ridge & North American Winter Dipole"

(Daniel Swain in California Weather Blog, 12/4/17)

"Climate scientist calls Trump's global warming tweet an 'often debunked assertion'"

(CBS News, 12/29/17)

"A 'Perfect Storm': Extreme Winter Weather, Bitter Cold, and Climate Change"

(Climate Reality Project, 1/4/18)

"Debunking Climate Change Myths: A Holiday Conversation Guide"

(Inside Climate News, 11/22/17)
From pulling the U.S. out of the Paris Climate Agreement, to expunging "climate change" from federal website pages, the Trump Administration has declared war on the war on climate change. Keep up with the latest attacks on National Geographic's

Running List of How Trump Is Changing the Environment




---
Email Earth Matters 
Read Earth Matters every Saturday on Nyack News And Views, or sign up for the Earth Matters mailing list.
Earth Matters, a weekly feature that focuses on conservation, sustainability, recycling and healthy living, is sponsored by Maria Luisa Boutique and Strawtown Studio.