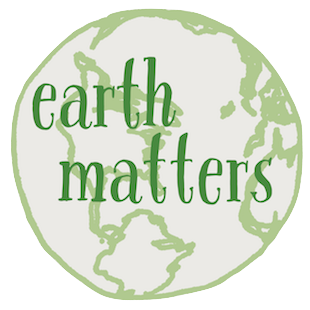 Earth Matters focuses on conservation, sustainability, recycling and healthy living. This weekly series is brought to you by Maria Luisa Boutique,  Strawtown Studio, and Blue Rock School, who invites parents and students to an Information Session and Campus Tour on Sat Jan 20. 
If Earth Matters to you, sign up for our mailing list and get the next installment delivered right to your inbox.
by Susan Hellauer
A surprise announcement last week from New York City has climate activists rejoicing. On January 10, second (and final) term mayor Bill de Blasio said that the city is taking two major steps to combat the fossil fuel industry: It will rid its pension funds of fossil fuel investments (as it has already done with coal); and it has just filed suit against the five biggest investor-owned fossil-fuel companies to recoup expenses related to carbon-induced climate change.
"New York City is standing up for future generations by becoming the first major US city to divest our pension funds from fossil fuels," said Mayor de Blasio. "At the same time, we're bringing the fight against climate change straight to the fossil fuel companies that knew about its effects and intentionally misled the public to protect their profits. As climate change continues to worsen, it's up to the fossil fuel companies whose greed put us in this position to shoulder the cost of making New York safer and more resilient."
In the wake of 2012's Superstorm Sandy, the city had to deal with about $19 billion in damage to infrastructure and private property. After watching the harbor rush into subways and traffic tunnels, and whole blocks of homes wash away, it was clear that it would take many more dollars to make still-needed repairs and build resilience in a warming world. The fossil-fuel lawsuits demand that ExxonMobil, Chevron, BP, Royal Dutch Shell, and ConocoPhillips pay those bills.
For a city that still relies chiefly on petroleum to keep it warm, lit, and moving, these are pretty bold plans. Can they speed New York to a clean energy future?
Anything you can do, I can do greener
The divestment part of de Blasio's announcement didn't come entirely out of the blue. On December 19, a preview of N.Y. State Gov. Andrew Cuomo's 2018 State of the State address announced that he and State Comptroller Tom DiNapoli would be looking into ways to "de-carbonize" the state's $200 billion Common Pension Fund—a happy surprise for divestment fans. Not to be outdone, within an hour NYC comptroller Scott Stringer tweeted that the trustees of the NYC pension funds (also totaling about $200 billion) would get a proposal in the new year to begin working on fossil fuel divestment.
If the operatic feud between Cuomo and de Blasio results in some green one-upsmanship, well, that's just ducky with fossil-fuel opponents like Fossil Free/DivestNY. The project is part of the environmental nonprofit 350.org. It was founded by climate uber-activist Bill McKibben in November 2012, right after Superstorm Sandy hit New York. Fossil Free set its sights first on getting big private and government funds divested of fossil-fuel holdings worldwide and, in just five years' time, funds with a value of $6 trillion have divested.
But the folks at DivestNY know that it will take some work to seal the deal on these two big funds. And there's plenty more to do on the local level—even right here in Rockland County—to push the tally of institutional and personal divestment even higher.
Divestment challenges
The NJ-Rockland chapter of 350.org, which partners with the Rockland Sierra Club on a number of issues, is part of the Fossil Free/DivestNY movement. Earth Matters spoke with Rockland Divestment Committee Chair, Jordan Dale, after de Blasio's announcement. Dale sees divestment as both an economic and moral imperative: "Every country in the world (except for the United States) has agreed that burning fossil fuels is causing global warming, and has pledged to make an effort to transition from fossil fuels to renewable energy sources," Dale said. "It is absolutely inevitable that, with the whole world going in this direction, the value of fossil fuel companies must come down. You don't even have to believe in climate change to understand that investing in fossil fuel companies is not a good idea right now."
But even among the climate change-enlightened, there's opposition to fossil-fuel divestment. Pension fund trustees, like NY State Comptroller Tom DiNapoli, are charged with just one task: to safeguard and grow their investments for current and future retirees. Anything that might raise risk or reduce return even a little bit is just not on the table. DiNapoli and other pension fund trustees also contend that divestment means losing "shareholder leverage" and a seat at the Big Oil table.
At last spring's ExxonMobil annual meeting, shareholders passed a resolution demanding additional reporting about climate change. "There's no doubt that Tom DiNapoli's shares and leadership helped to make that happen," said Jordan Dale. But it also emboldened the comptroller to stick with a position that, Dale says, is a losing proposition. "It's critically important that we debunk the myth of shareholder leverage," he said, "because there's no way that shareholder action can get fossil fuel companies to abandon their basic mission of taking fossil fuels out of the ground and bringing them to market so they can be burned."
Taking a leaf from the tobacco fight
Mayor de Blasio's climate change civil action came as a big surprise, but New York is not the first city to file suit against the fossil fuel giants. San Francisco and six other California municipalities have already launched cases. They're modeled on the 1990s lawsuits that accused Big Tobacco of hiding results of their own research about the harmful effects of smoking. A "Master Settlement" in 1998 forced tobacco companies to pay states for medical expenses, and more. Recently revealed internal memos show that ExxonMobil suppressed or minimized its own findings about the harmful, climate-warming effects of burning fossil-fuels as early at the 1970s.
The petroleum companies are pushing back hard. In a California court filing last week, ExxonMobil said that they were being targeted by "a collection of special interests and opportunistic politicians [who] are abusing law enforcement authority and legal process to impose their viewpoint on climate change." The fight is on, and won't end before it puts a thousand lawyers' kids through college.
Local actions for fossil fuel divestment
The big pension funds are elsewhere, but the Rockland Divestment Committee is also targeting the county's four colleges, as well as Ramapo College in Mahwah, NJ, about divesting their endowments and scholarship funds. They're also approaching faculty and staff "to explain how they can galvanize their collective clout with [academic investment manager] TIAA, which in turn can have an impact on the companies in TIAA's portfolio," said Jordan Dale.
New York City will work out its own path to divestment, and prosecute its own lawsuit. But the NY State Common Fund divestment is far from a done deal. Dale suggests three actions for divestment supporters:
Write or call Gov. Cuomo

to thank him for taking the divestment position, and encourage him to continue.

Call and email Comptroller Tom DiNapoli, urging him to follow his fellow NY State progressive leaders and divest the Common Pension Fund.
Rockland County State Senator David Carlucci told Earth Matters that he hopes that the divestment initiative can be made part of the budget-making process this spring.

On a personal note . . .
Although it mainly targets big funds and endowments, Fossil Free/DivestNY also encourages individuals and families to de-carbonize their own investments. It's not quick or easy, but there are tools to help, and people with experience and knowledge to share.
A Rockland Divestment Committee member has developed a new blog, Shades of Green, aimed at the individual investor looking for a personal path to fossil-fuel divestment. "It's got great blog entries, and links to helpful resources," said Jordan Dale. "It's a terrific place to start for those interested in greening their own portfolio."
And, yes, we are still relying on fossil fuels to fry our eggs, fly to Florida and freeze our ice cream—and will for some while to come. But can Big Divestment (and a wave of lawsuits) make Big Oil (and the rest of us) rev up the switch to renewable energy? It looks like we are about to find out.
Learn more:
"The Divestment Debate" (Nyack News and Views, 5/27/17)
"Divest NY – Fueling the Change" (Nyack News and Views, 9/9/17)

"Cuomo says he'll work with DiNapoli on pension fund divestment from fossil fuels"

(Albany Times-Union, 12/20/17)
Op Ed:

"Bill de Blasio: This is why New York is suing and divesting from Big Oil"

(Washington Post, 1/12/18)

"To Fight Climate Change, New York City Takes On Oil Companies"

(New York Times, 1/10/18)
Op-ed:

"Applaud Mayor de Blasio and NYC for climate courage: Righteous pension divestment, legal fight against fossil-fuel companies"

(by Bill McKibben, New York Daily News, 1/10/18)
For more information about fossil fuel divestment in Rockland County, visit the Rockland Sierra Club page.
Email Earth Matters 
Read Earth Matters every Saturday on Nyack News And Views, or sign up for the Earth Matters mailing list.
Earth Matters  focuses on conservation, sustainability, recycling and healthy living. This weekly series is brought to you by Maria Luisa Boutique, Strawtown Studio and Blue Rock School, who invites parents and students to an Information Session and Campus Tour on Sat Jan 20.