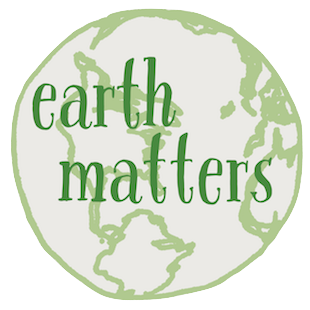 Earth Matters focuses on conservation, sustainability, recycling and healthy living. This weekly series is brought to you by Maria Luisa Boutique and Strawtown Studio.
If Earth Matters to you, sign up for our mailing list and get the next installment delivered right to your inbox.
by Susan Hellauer
Before bagels, pizza or pushcart hotdogs, New York City was the oyster capital of the world. An estimated 220,000 acres of oyster beds edged the expansive harbor, with shell-reefs hugging Great Oyster (Liberty) and Little Oyster (Ellis) Islands. This natural bounty supplied the city's many oyster cellars, and made New York a 19th-century foodie-tourist destination. And never mind those half-dozen dainty bivalves that will empty your wallet. New York oysters could grow to almost a foot long. They sustained New York's poor huddled masses as well as its gourmets, just as they had amply fed the native Lenape people.
The New York oyster finally fell victim to its own fame and the city's success. Overharvesting was flagged as a problem by the Dutch as early as 1658. Through the years, oyster shells were burned or buried instead of being returned to the water, where they could shelter the next generation of oyster larvae. Harbor dredging didn't help, either. By the late 19th century, sewage pollution from a bustling metropolis dealt the final blow, and New York's last oyster beds were closed by law in 1927.
But there's a dedicated group of citizen-scientists, armed with deep knowledge of oyster ways. They've pledged to return the legacy mollusc to its rightful place in the world's most famous harbor—but not to your plate, alas. (It's beyond even the oyster's impressive natural filtering ability to dispatch PCBs, heavy metals and Gotham-sized post-rainstorm sewage overflows).
The Billion Oyster Project
Since its kickoff in 2014, the Billion Oyster Project (BOP) has been working to return oysters and reefs to the New York City harbor and estuary. This, over time, will help restore the local marine ecosystem's natural mechanisms for maintaining itself, resulting in cleaner water, greater biodiversity, and more storm-protected shorelines. And BOP is headed upriver to the Tappan Zee area, where it will begin restoring oyster colonies this year. Earth Matters spoke to Pete Malinowski, BOP's Executive Director, about BOP, oysters, and the new colonies coming up the Hudson.
Earth Matters: What brought you and New York's oysters together in the first place?
Pete Malinowski: I actually learned about oyster aquaculture growing up on my parents' oyster farm on Fishers Island, off Orient Point on the North Fork of Long Island. I was working as a substitute teacher in 2009, teaching oyster aquaculture at Brooklyn's Harbor School [a specialized public high school] when we started growing oysters on Governor's Island—about 100,000 of them off a dock as a way to test their ability to survive in NY Harbor, now that sewage is no longer consistently dumped in the harbor. The school finally moved to Governor's Island in 2010, and I became the regular aquaculture teacher there. At the same time, Harbor School also hired ocean engineering, marine biology, vessel operations and scuba diving teachers.
So, how did an educational aquaculture project morph into this ambitious project to restore New York's oysters?
As we grew more oysters and got grants to do restoration work, it became clear that we needed boat drivers, scuba divers, scientists, and engineers. It just happened that these Career and Technical Education (CTE) programs at the Harbor School developed at the same time. We started talking about unifying all of our aquaculture and oyster programs at the Harbor School in the 2012-13 school year. In 2014 we launched publicly as the nonprofit Billion Oyster Project, and we work with the Harbor School as well as with schools and citizens across metro New York to restore and monitor oyster habitats.

I've read that oyster reefs, like wetlands, are a natural way to help lessen the force of storm surge. Was Superstorm Sandy (10/29/2012) an inspiration for you to ramp up your program?
The storm definitely had a big impact on our work, because there was a new focus in the city on resiliency and storm preparedness. This led us to grow more oysters and to do more work that we wanted to do anyway, and created a focus on that one aspect of oystery—shoreline protection. It has led to more projects coming our way.
Has NYC begun to work with BOP?
We have a couple of city contracts, but they're not directly focused on storm preparedness. We have a project in Jamaica Bay,* undertaken by the New York City Department of Environmental Protection, where we grow oysters to improve water quality and advance research around habitat restoration.

In addition to the New York Harbor School, we work with 75 other schools—mainly middle schools—in all five boroughs. Most of our resiliency work is funded by the Governor's Office of Storm Recovery, which was created post-Sandy to rebuild areas affected by the storm. We get half our funding from government contracts—agreements with either the state or city and, on the federal level, from the National Science Foundation which supports specific activities. The other half of our funding is from foundation grants and individual donations.
* officially: "The NYC Department of Environmental Protection's Jamaica Bay Oyster Restoration Pilot Project."
Are there any data to show that your oyster project is making a difference?
If you're right next to a restored reef, you can monitor the local improvement. The biggest impact is the increase in local biodiversity and bio-productivity. In a matter of weeks, a new reef will be colonized with thousands of animals of various kinds. That's the biggest immediate impact, and that will just continue as long as the reef is there. We also see local improvements in water quality near the oyster reefs, but that's different from measuring water quality generally in the whole harbor. Like many coastal cities, New York City has a combined sewer system and during heavy rain events this system can overflow into local waters. This is a threat for the oysters and affects water beyond the reefs.
We have more than ten oyster reef sites across the city, many of which are still young. As the reefs advance they can protect the shore from waves. For example, we are working on Living Breakwaters, an ecological and social resiliency project located off of the South Shore of Staten Island, building a reef with the explicit purpose of helping to protect Southern Staten Island from storms and large waves.

And we do think that social resilience is a real thing, and that a community that knows more about waves, tides and currents in the harbor, and the animals that live there, is more likely to be better prepared in the event of storms. We're developing a curriculum about climate change and storms that will be used in all of our middle schools. That's a component of resiliency that doesn't directly protect shorelines, but will work toward a more resilient city.
What's planned for restoring the oyster colonies in the Hudson River at the Mario M. Cuomo Bridge?
The Governor Mario M. Cuomo (formerly Tappan Zee) Bridge location is on track to become one of our largest projects. Billion Oyster Project was selected by the NYS Thruway Authority to construct over 400 reef habitat structures, which will be installed in a portion of the Hudson River near the new bridge. Dredging activities associated with bridge construction displaced some living oysters. The new reef structures will provide habitat to help enhance the resident oyster population.
There are three things that support oyster abundance: (1) good water quality, (2) adequate larvae in the water, and (3) adequate substrate for the larvae to attach to (empty shells are ideal). The limiting factor at the bridge right now is adequate substrate, so we've just finished a NYS Thruway Authority-funded research project to understand what structures we should build and put there.
The bulk of the work is happening on Governor's Island, where we're building the steel structures and filling them with shells, to put near the bridge. (Since there's a naturally-occurring wild oyster population there that's self seeding, we don't have to put oyster larvae down.) This phase will be done by the summer of 2018.
If you keep things up at your current pace, when will you plant your billionth oyster?
We've restored 25 million oysters. At the current rate that would take us another 150 years or so. But our strategic plan calls for increased rates of planting oysters every year, and we plan to reach our goal of one billion by 2035. We don't count the oysters that reproduce in the water  — just the ones that we plant.
How can people in Nyack get involved with your project (besides making donations)?
We host volunteer days on Governor's Island, and we'll be doing some volunteer work in connection with the Governor Mario M. Cuomo Bridge project. We encourage area teachers and students to get their schools involved. Check our website for volunteer opportunities, and sign up for our newsletter mailing list to receive updates and opportunities to join in our work.

Learn more:
Email Earth Matters 
Read Earth Matters every Saturday on Nyack News And Views, or sign up for the Earth Matters mailing list.
Earth Matters, a weekly feature that focuses on conservation, sustainability, recycling and healthy living, is sponsored by Maria Luisa Boutique and Strawtown Studio.