by Carol Baretz
Breathless, I arrived at the top of the elevated train station in Williamsburg to wait for the first of two trains that would take us to Coney Island.  After a two hour ride we exited at the last stop,  the  cavernous   Stillwell Avenue Station.  We, along with hundreds of others, were going to spend a Sunday at Brooklyn's  fabled Coney Island.
In the 1940s, when I was ten years old, my single mother would pack lunch and a blanket and take my older sister and me to Bay 16, a block wide expanse of beach that was the gathering place for everyone we knew who lived in Williamsburg.  Our neighborhood had been transplanted those Sundays to the shores of the Atlantic Ocean.
My sister and I preferred hanging out at the beach.  We swam in the salty waters of the Atlantic and loved running into the oncoming waves.  The sun and the sea air would  dry our bodies and  we  then would proceed to play with our friends.  In our  teens  more time was spent socializing and flirting with the Williamsburg boys. The beach was always crowded and it seemed that we knew everyone at  Bay 16.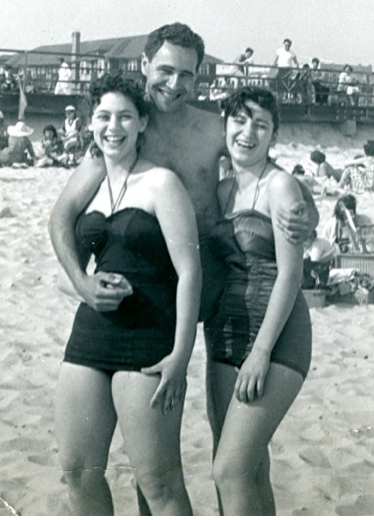 Across the   boardwalk  was  the entrance  to "Washington Baths" one of several bathhouses in Coney Island.  It was where my mother met her European friends.  The most popular place for them to gather was the steam room or as they called it "The Shvitz".  When I would cross the boardwalk to find my mother, there she was sitting on a slab with the women she knew, all of them with no clothes on,  sharing  their stories in Yiddish.  The temperature was about 95 degrees but they seemed not to notice.   It was as if they were back in the motherland.
And this was theirs and our commonality.  My parents were immigrants from Eastern Europe and we their children were the first born in this country.   Bay 16 was populated by mostly Jewish and Italian families who lived in Williamsburg and it was our destination when we went to Coney Island. Looking back we one of the many generations of immigrants and working class  families  who made the summer trek to what was known as "the peoples playground" .
Our red shoulders reminding  us we had stayed in the sun too long and it was time to go home. The train ride seemed longer perhaps because I had sand in my shoes and smelled of  salt water. For ten cents a ride on the Coney Island Express,  a glorious day was had by all at Brooklyn's famous seaside resort, Coney Island.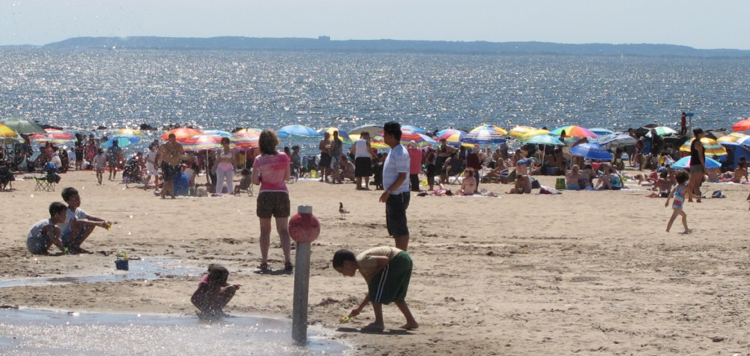 Nostalgia called me back to Coney Island and in the summer of 2015 my family and friends, piled into a SUV and headed to Brooklyn. Driving down Neptune Avenue   we could see crowds of sunbathers leaving the Stilwell Avenue station, just as we had done many years ago, only now they emerged from one newly built and now were a more diverse crowd of different colors and nationalities.
Headed towards the beach each family staked out its territory by planting a colorful umbrella and blanket on  the wide expanse of sand. Then their day began…..music,  dancing, singing, frolicking in the sand and swimming in the Atlantic. Flying kites, riding bikes on the boardwalk, boom boxes blaring loudly with Caribbean drummers playing to the crowd, many who sang and danced along taking up the width of the boardwalk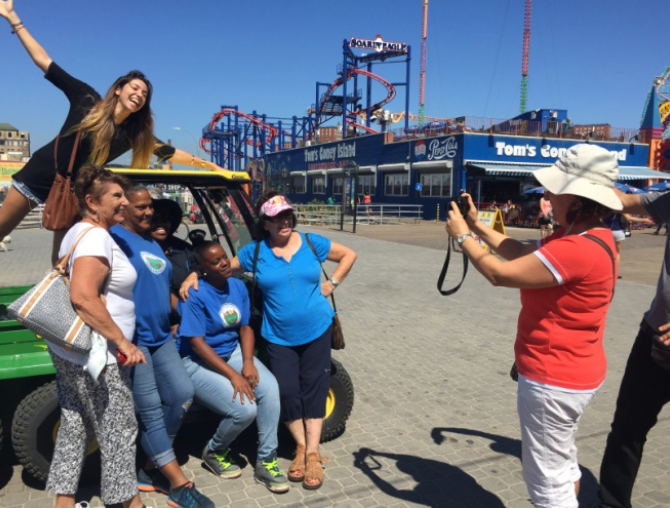 How different  we  were, our Williamsburg  crowd of the fifties; low keyed, similarly dressed and mostly white skinned. Beach chairs and umbrellas were of nondescript colors. Portable radios, barely  audible supplied music. No loud celebrations but always having  good times going blanket to blanket  socializing with our friends.
In contrast, the 2015 beach  goers wore  colorful  clothing of their countries of origin, were uninhibited. loud and  having fun. They were from all parts of the world, the Caribbean, South and Central America, the Muslim countries and Africa. The predominant language was Spanish and salsa dancing took place along the boardwalk. Before me on this vast expanse of sand and ocean I was witnessing another generation of immigrants, those who had come generations after me and discovered the joys of spending  a Sunday at Coney Island.
The excitement and joy were contagious for us, three  generations of our  family, who had come back to spend the day at the fabled Coney Island.  We took photos to record  this wonderful day and all that was happening  around us. We stopped a police patrol in their mini automobile to tell them our story and celebrate happily along with them.
Carol Baretz had lived and have worked in Nyack, first running a gallery and then designing a line of silver jewelry.  She loves gardening and living close to the Hudson River.
Words & Images is a column that features the work of students from Bill Batson's Sketch Logging class at the Learning Collaborative, a lifelong learning program that meets at the New City Jewish Center.
Thanks to Bonnie Timm for editorial assistance.