by Arlene Leventhal
Do you know what a "real" palm tree looks like? Living in a manicured golf course in Palm Desert, California with low mounds of hills and valleys and palm trees with sculptured trunks and green crowns of swaying fronds was NOT a true example of desert living.
With a plein aire group, I discovered one of my favorite places, The Preserve, an oasis of greenery, palms, streams and rocks in the midst of a real desert. At first it was a shock to see the huge palm trees "au natural". The trees had large, hanging, dried, straw-like layers of old leaves, reaching to the ground, hiding the trunks rough bark underneath.
The long leaves were all untrimmed, in different stages of dying, all crumpled and crisp-like.  Tops were bright green young fronds waving in the breeze, looking nothing like the slim young palms we see in California, Florida and Caribbean locales.

The Preserve was dense, overgrown with lots of underbrush having a damp, close, almost rotting smell. You could hear the rustle of the dried leaves, the branches clanking together, breaking off to the earth. There are usually desert winds, some soft and some wild, like a sandstorm.
There is a boardwalk path that runs above the San Andreas fault, so looking down, you can see rocks and openings, deep cracks in the earth.
Our plein aire groups picks the most exquisite places to paint since we all have strong powers of observation and appreciate the uniqueness of each site.
The oasis is breathtaking, seeing nature in its natural state without manicuring and rearranging! It's a wonderful place to paint!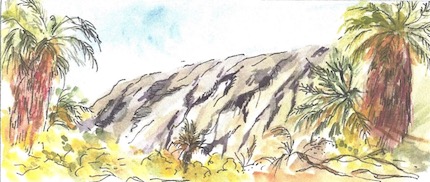 Arlene is a writer and watercolorist who enjoys travel.
Words and Images is a column that features the work of students from Bill Batson's sketch logging class at the Learning Collaborative.  
Thanks to Editorial Assistance Bonnie Timm.