'Twas three days before Christmas and all weekend long,
Shops were all open; singers celebrated in song.
With blues and rock. And a laugh or two.
Accompanied by family art and skating you could do.
Friday
Amazing gold and platinum recording artist Joe Delia is returning after tours in France and Memphis, with very talented musician/singers Gregg D. Hollister, Bosco Michne, and James Benard, to bring some blues and rock to The Turning Point. 8:30p, 468 Piermont Ave, Piermont
Saturday
There's still time to find a gift for the art lover at the Surrender to Small: Juried Small Works Art Show. Ninety artists working in various mediums from collage to fiber to photography to watercolor were challenged to create works no larger than 12?? in any direction. Their smallness demands the viewer's close inspection and attention and gives art enthusiasts the ability to acquire original, affordable, small works of art. Sat & Sun, 11a-2p, Bell-ans Center for Creative Art, 103 S Greenbush Rd, Orangeburg. The exhibit runs through January 5, 2018.
Fill a gap in your child's arts education and get a deeper insight into the current exhibitions at the Hop Into Art Weekend Family Workshops at the Edward Hopper House. For December, cut out holiday cards inspired by the hand-made holiday cards Edward Hopper shared with friends and family. This is not a drop-off event, child must be accompanied by a guardian. Every Sat & Sun, 1-3p, 82 N Broadway, Nyack.
Visit the Historical Society of the Nyacks' exhibit Marydell – Over Ninety Years – Serving – Mentoring – Caring!, a nostalgic glimpse of timeless moments in the lives of the Sisters of Our Lady of Christian Doctrine from 1924 to now. 1-4p, Depew House, 50 Piermont Ave, Nyack. Exhibit is open every Sat from 1-4p through February 24, 2018.
It's a Wonderful Life at Tarrytown Music Hall. A holiday family classic that needs no introduction. The heartwarming story of how George Bailey finds the true Christmas spirit with the help of another friendly spirit. 6p, 13 Main St, Tarrytown.
Enjoy holiday music with pianist David Budway and Lizzy Kates and featuring Cameron Brown and Mike Camacho. 8 & 9:30p, Maureen's Jazz Cellar, 2 N Broadway, Nyack.
Sunday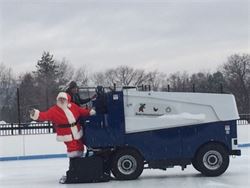 Tire those kids out at the Bear Mountain Ice Rink. Skate with the backdrop of beautiful Bear Mountain. Sessions at 10:30a, 12 & 2p, Bear Mountain State Park, Rt 9W North, Bear Mountain.
Next Week
Thursday
Holidays got you stressed out? Need a laugh? Head to Levity Live for Slaughter Stand-Up Comedy featuring Anthony DeVito with Josh Hyman, Eric Albert, Monty Mason and Jimmy McDonald. 8p, 4210 Palisades Center Dr A – 401, West Nyack.
To get the Nyack Weekender delivered to your mailbox auto-magically every Friday morning, add your name to our mail list. Visit our
online sign-up sheet
to subscribe.