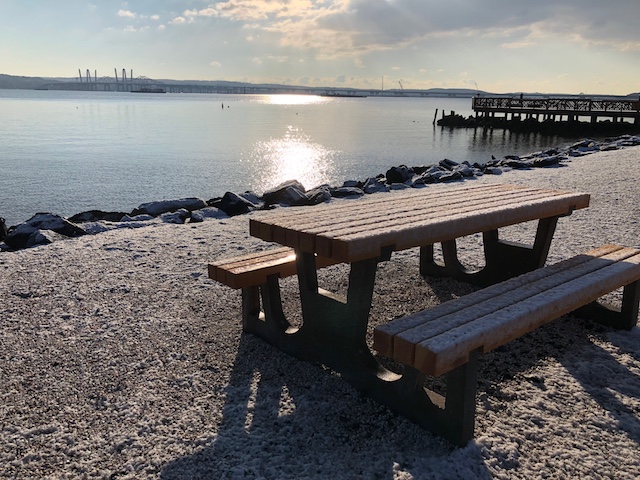 This week in the villages: It's Christmas in the villages. Besides village hall closures and changes to the trash and recycling pick-up schedule, area drivers will get the gift of suspended road construction over the holiday weekend. Also, new Nyack mayor Don Hammond shares his thoughts for 2018 and beyond.
Village of Nyack
There will be no trash collection on Monday, Dec 25 and Tuesday, Dec 26, 2017. Trash will be collected on Wednesday, Dec 27 and Thursday, Dec 28, 2017. Wednesday recycling schedule is unchanged for the holiday season.
In case you missed it, new mayor, Don Hammond, was sworn in on Thursday, Dec 21.  The following is Don's vision for Nyack for 2018 and beyond, in his own words:
"I am excited to begin my tenure as the Mayor of Nyack.  We are on the verge of exciting opportunities—ones that will require constant vigilance to ensure equity throughout our community and communication with the entire Village.
Some of the opportunities revolve around the continued effort to celebrate our waterfront.  New ideas to enhance water-related activities are on the agenda for next season: boat charters, kayak lessons and rentals, a boat launch, a new splash pad and other improvements to Memorial Park.
I'm also excited about the opportunity to work with our School District to make Nyack a leader in early childhood literacy and enhance current programs offered by our amazing Nyack Center staff and YMCA.  I'm also looking forward to working with SUNY Rockland, who just approved a concept to move their Culinary School to the Village.
2018 will also give us the opportunity to bring health and wellness activities into our community.  The Village Housing Authority and Nyack Hospital are developing plans to offer health screenings to uninsured and underinsured individuals in our Village; the hospital is also creating new and more LGBT-friendly policies to serve teens, adults and families in our Village.
I'm anxious to continue moving critical infrastructure activities, from finishing the drainage and paving of Midland Avenue to starting the enhancements to South Broadway and Franklin related to the Transportation Alternatives Project.  New street lighting, bike paths, sidewalks and landscaping will help beautify our downtown business district, and the Bike and Walk Nyack grant will help us create a 21st-Century regional transportation plan that will make our village and neighboring areas more accessible to bikers and pedestrians alike.
I'm looking forward to strengthening partnerships with the Chamber, ACADA, Visit Nyack, communities of faith and the other groups working to enhance our village's business climate, community activities and quality of life.
We will also be welcoming new residents into our community as housing projects are built on formerly blighted properties around the Village.  We will have the opportunity to explore Historic Preservation and develop design guidelines to enhance efforts to keep Nyack, well Nyack…
Our themes at the Village will be to Focus and Finish.  And of course listen and communicate to our many different publics and constituencies.
All exciting and challenging opportunities for us as we change, grow and maintain our character that makes Nyack the place we call home." – Don Hammond
Village of South Nyack
Winter Snow Removal
So that roadways can be plowed, all vehicles, by law, must be off the street within 2 hours after a snow storm has started. (If snow is predicted, the police will not grant permission for over-night street parking.)
Homeowners are required to have all sidewalks abutting their property cleared within 24 hours of the end of the snowfall.
Please note that the full width of the sidewalk is required to be cleared of snow and ice. (Article VII/Chapter 93-15 of the Village Code – revision adopted on November 28, 2017)
Snow cannot be plowed, shoveled or blown into the street. Property owners must inform the person who plows or shovels for them. It is the property owner's responsibility and non-compliance can result in a fine.
If possible, wait to clear snow after the storm has ended. It is the policy of the DPW to plow curb-to-curb. This clean-up takes a few hours after the snow has stopped.
When clearing your driveway, pile the snow to the right of the direction of traffic flow so that the mound does not get pushed back into your driveway by the Village plow.
Help your neighbors and the Fire Department by clearing the snow from around any fire hydrant near your home.
Village of Upper Nyack
There will be no recycling pick-up on Monday, Dec 25. There will be a special pick-up on Saturday, Dec 30. Please place your items curbside the night before as pick up may be early in the morning.
The village is still collecting items to be donated to the People to People Food Pantry and the Hi Tor Animal Care Center Monday through Friday, from 9a -12n, until Jan 5. For a wish list of items needed visit www.UpperNyack-NY.us
Tappan Zee Bridge News
Tappan Zee Constructors (TZC) has completed the installation of the new bridge's last four precast concrete pier caps near the Westchester shoreline.
The New York State Thruway Authority and TZC will suspend roadway construction during peak holiday travel times over the next two weekends to provide easier travel for residents and visitors as part of Governor Cuomo's Drivers First program. All work behind temporary lane closures will cease from 6a Friday, Dec 22, until 6a Tuesday, Dec 26. Some construction work behind permanent barriers or for emergency repairs may be done. Road construction will also be suspended from 6a Friday, Dec 29, through 6a Tuesday, Jan 2.
The New York State Thruway Authority will also continue its 47-year tradition of offering free coffee and hot tea to travelers at all 27 travel plazas along the Thruway from 11p New Year's Eve through 7a New Year's morning to promote safe and alert driving.
State officials also remind us that there are 64 text stops across the state, and New York's "Move Over" law requires drivers to use due care, slow down and safely move over when they see flashing lights on the side of the road. This protects emergency responders, tow truck operators, police and firefighters as they work to help motorists along New York's roadways.
TZC is scheduled to continue girder installation on the second span next week. TZC will utilize mobile cranes to raise and place the girder assemblies at the Rockland and Westchester approaches. TZC is also scheduled to pour concrete at the Westchester landing on Wednesday, Dec 27 between 9a and 3p. TZC flaggers will direct traffic at the intersection of Broadway and Van Wart Avenue in Tarrytown to facilitate the transportation of materials during the operation.
---
Here are the municipal events and holiday closures in Upper, South and the Village of Nyack for the week of 12/25.
Village of Nyack
Mon 12/25 & Tue 12/26 – Village Hall CLOSED
7p: Nyack NAACP Meeting
7p: Parks Commission
9:30a: Justice Court
6:30p: Village Board Pre-Meeting Workshop – CANCELLED
7:30p: Village Board Meeting – CANCELLED
Nyack Village Hall is located at 9 N. Broadway.
Village of South Nyack
Mon 12/25, Village Hall CLOSED
Fri 12/29, Village Hall closing at 1p
South Nyack Village Hall is located at 282 S Broadway.
Village of Upper Nyack
Mon 12/25, Village Hall CLOSED
Upper Nyack Village Hall is located at 328 N Broadway.