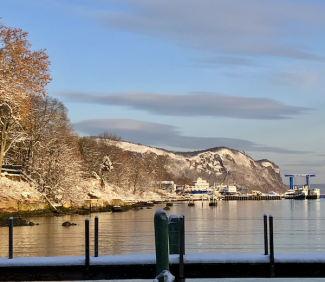 This week in the villages: Nyack gets festive and bright this week. The Nyack Holiday Window Project kicks off, the town menorah will be lit and there will be a winter wonderland to enjoy. Plus, the gift that keeps on giving: Installation of bright, energy-efficient LED lights begins in Orangetown.
Village of Nyack
Filming – December 13
NBC Law & Order SVU will be filming on Haven Court on Wednesday December 13 from 7a – 6p. Residents in the area of the filming have been notified. Parking will be reserved for film crews from Midland Ave to Duryea Place on Haven Court. Alternate side of the street parking on Sickles Ave has been suspended for the day to accommodate parking. Orangetown Police Department will be on site to assist with logistics.
Electronic Waste Guidelines
Waste haulers are banned from collecting your TVs, VCRs, Computers, Monitors, Tablets, Printers & Printer Cartridges, Cell Phones, Fax & Copy Machines, Radios, Scanners & Beepers according to NYS Law. Residents may see the orange sticker on items left at the curb that cannot be removed by the DPW. Waste electronics can be brought to the Household Hazardous Waste Facility in Pomona or participating retailers. For more information please call 845-753-2200.
Nyack Holiday Window Project 2017
The third annual Nyack Holiday Window Project kicks off on Wednesday night (12/13),  filling storefront windows with local artist's creative take on New York City's holiday windows. Running through January, the project is a creative collaboration between the Village of Nyack, business owners and community artists. Each display is hidden from view until The Big Reveal on Wed night. Meetup at 7p at Casa del Sol, 104 Main St, for a walk through downtown to see the first time each exhibit is displayed to the public.
Village of South Nyack
Loose Leaf Collection
South Nyack's loose leaf collection will ends on Fri Dec 15. Please put your leaves out by the end of the day on Thursday. Homeowners are responsible to inform their landscapers. After loose leaf season, you can still put your leaves out for collection, but they will have to be bagged for pickup.
Village of Upper Nyack
The Village of Upper Nyack will be collecting items to be donated to the People to People Food Pantry and the Hi Tor Animal Care Center Monday through Friday from 9a -12n until Jan 5. For a wish list of items needed visit www.UpperNyack-NY.us
Town of Orangetown
LED Street Light Conversion
Here's a bright idea that will save taxpayer money, too. Orangetown is installing 2,300 new LED fixtures. All Bright Electric, the town's streetlight installation contractor, will take four months to complete this work.
The new LED lights will save the town an estimated $400,000 per year in energy and maintenance costs. It will also help reduce greenhouse gas production by 690 tons/year–the equivalent of removing more than 130 cars from the road. The total project cost is $2.3 million, an investment that will save millions in energy costs over the 20-year life expectancy of the LED fixtures.
This month installation begins in Palisades, Sparkill and portions of Tappan (see sections 1 and 2 on the Sector Map) .
Town of Clarkstown
On Thurs December 14 at 6p, there will be a tree lighting at the grand opening of the first Winter Wonderland at Congers Lake Memorial Park. There will also be a visit from Santa, horse drawn wagon rides, preschoolers caroling, s'mores making, and a musical performance by the popular children's singer Matty Roxx. Come see the new LED light displays along the walking trail surrounding the Congers Community Center at located at 6 Gilchrest Road.
The Winter Wonderland light display will be open daily from December 14th to January 1st, from 5p to 9:45p. Also, throughout the month the town will be collecting scarves, gloves, and mittens for families in need. Residents are encouraged to donate winter accessories inside the community center, upstairs auditorium.
Residents are also encouraged to register for some of the new festive programs being held at the Congers Community Center. Some of the programs include cookie decorating, various holiday concerts, creating holiday flower arrangements, wreath making, magic tricks, knitting without needles, holiday craft events, gingerbread making, creating winter lego scenes, and more.
Tappan Zee Bridge News
This week Tappan Zee Constructors (TZC) is scheduled to continue concrete pier construction near the Westchester shoreline following the removal of the old bridge's roadway in the area. Work includes stripping pier column forms, placing precast pier caps and installing bearings atop the caps.
Southern span girder assembly installation continues using mobile cranes to raise and place the girder assemblies at the Rockland approach.
---
Here are the municipal events in Upper, South and the Village of Nyack and the Nyack Public School Meetings for the week of 12/11.
Village of Nyack
5p: Justice Court
5:30p: Public Menorah Lighting – Veterans Park, Main and Cedar Sts
Wed 12/13, 7p: Nyack Window Project Kick Off – Casa del Sol, 104 Main St
9:30a: Justice Court
4:30p: Board of Water Commissioners
6:30p: Village Board Pre-meeting Workshop
7:30p: Village Board Meeting
Nyack Village Hall is located at 9 N. Broadway.
Village of South Nyack
Mon 12/11, 5:30p: Justice Court
Tue 12/12, 7:30p: Board of Trustees Regular Meeting
South Nyack Village Hall is located at 282 S Broadway.
Village of Upper Nyack
Mon 12/11, 6p: Architectural Review Board
Thurs 12/14, 7p: Village Board Meeting
Upper Nyack Village Hall is located at 328 N Broadway.
Nyack Public Schools
Tue 12/12, 7:30p: School Board Meeting
The Nyack School Board Meeting will be held at Upper Nyack Elementary School, 336 N Broadway, Nyack.