by Mike Hays
Christmas 100 years ago was a bittersweet time. America entered WWI in April. Many Nyack fathers, brothers, and sons were absent during the holiday season. Some were already in Europe; some were in training camps in America.

The Mazeppa Fire Company held its annual Christmas celebration but this year it was subdued. There were no presents under the tree this year, although the company enjoyed cigars, punch, and singing. Money usually spent for the party went instead to buying gifts for 15 members of their company who were already in service, three of which including Butch Logue already were in Europe. Richard Rossiter had just returned to town having received the croix de guerre of France for heroism as a volunteer ambulance driver.
Louis Stickney, stationed at Camp Wadsworth in Spartanburg N.C. was home for the holidays with his parents on Highland Avenue. Private Frederick Leiner, Jr. (grandfather of local historian Jim Leiner) who enlisted on November 29 was stationed at Fort Sam Houston in San Antonio. Reverend Wright just arrived in Jacksonville, Florida for training. Captain & Dr. S.W.S. Toms with the American Ambulance Service was home for the holidays in Nyack.
In the village, coal, electricity, Christmas trees, and many foodstuffs were rationed or scarce due to freight problems. It was one of the coldest holiday seasons ever. It snowed the week before Christmas and six teams of shovelers were needed to clear Broadway. Churches closed due to the cold.
Coal bins were nearly empty, and villagers were asked to share with those who were suffering. Residents were urged to get a supply of wood just in case. The Reformed Church donated half of its coal to the village fund.
Nyack rallied to the Red Cross during the Christmas season. Red Cross signs with the slogan "Somewhere in Nyack," appeared in stores, in factories and in offices. New Red Cross members were solicited everywhere, usually for a dollar. A large majority of new members came from the working class. It was thought that the more well-to-do were already members. Every church was encouraged to have their own Red Cross chapter.
Fire ladders rescued apartment residents above a fruit company on Main Street next to the Bona Vista Hotel and Hager's Café when a basement fire traveled up a dumbwaiter and cut their escape off. The late night fire threatened the entire business district.
Christmas Shopping in Nyack 
Christmas trees were scare this year due to freight being used more for military purposes. However, Nyack retailers still offered an array of gifts. Harrison & Dalley, Nyack's largest department store, was open in the evenings and had a full list of last minute gifts including a Woodrow Wilson bust for dad, chemical and erector outfits, machine guns, and sewing companions for boys and girls, new novels for sister, and vacuum sweepers for mom. I. Neisner & Brother, Clothiers and Furnishers, were offering men's suits from $14 to $30.
The Tire Service Station on Main Street offered a mirrorscope and a Lehman car heater while the Nyack Garage suggested buying radiator covers.
Shea's Drugs had razors, trench mirrors, camp pillows and military kits for sale. John D. Blauvelt Drug Company on Main Street offered perfumes. The Gomersall nursery in Grand View was selling Christmas peppers, poinsettias and narcissus along with baby Christmas trees. V. Ackermans & Co. Jewelers at 6 South Broadway had presents of cut glass and Athenic bronze.
The Nyack Evening Journal collected donations for a tobacco fund for soldiers since they had everything else and "there is nothing else you can think of that will give more solace and comfort to those men than tobacco." A 25-cent contribution funded a package of cigarettes, pipe tobacco, or chewing tobacco.
The Post Office was not as busy as in previous years. Fewer Christmas cards were sent, supposedly due to the rise in the price of stamps.
Christmas Day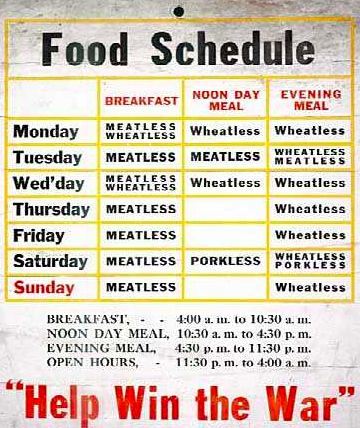 The day started balmy in the 40s but showers turned to flurries in the afternoon and by dark the temperature was 24 degrees.
Christmas fell on meatless Tuesday. The government recommended an old-fashioned dinner with turkey, goose, and cranberries. The government distributed a recipe for war plum pudding with corn syrup rather than sugar.
At the Broadway Theater, there was a vaudeville show on Christmas Eve and a matinee on Christmas day showing Charlie Chaplin in
The Adventure
along with five vaudeville Christmas carol acts.
The big social event of the day was the annual lighting of the Christmas Tree of Light hosted by The Nyack Club. . Members dressed in old English school costumes. Festivities kicked off at the Reformed Church on South Broadway. Club members and school children sang Christmas carols.
At dusk, the singers marched to a large fir tree set up on the "government plot", an empty space on South Broadway where the post office was built some eight years later. The tree was topped with a white star and multi-colored lights blazed from the branches. After a dedication speech, an Army band from nearby Camp Merritt (in Bergen County) accompanied the singers.
The singers and band repaired to the Nyack Club home on Piermont Avenue in South Nyack. The "clubhouse" was a large building that had once been the home of the Rockland Female Institute and the Tappan Zee Hotel. The army band played
Over There
and other patriotic songs accompanied by much handclapping and applause. Dancing and socializing ensued bringing much needed warmth to villagers and gaiety to those who were missing loved ones in the service.
Photos of Captain Toms, the Home Guard, and Harrison & Dalley courtesy of The Nyack Library. Ads appeared in the Nyack Evening Journal.
Michael Hays is a 30-year resident of the Nyacks. He grew up the son of a professor and nurse in Champaign, Illinois. He has recently retired from a long career in educational publishing with Prentice-Hall and McGraw-Hill. He is an avid cyclist, amateur historian and photographer, gardener, and dog walker. He has enjoyed more years than he cares to count with his beautiful companion, Bernie Richey. You can follow him on Instagram as UpperNyackMike.

Nyack People & Places features photos and profiles of citizens and scenes near Nyack, NY. Sponsored by Weld Realty
.