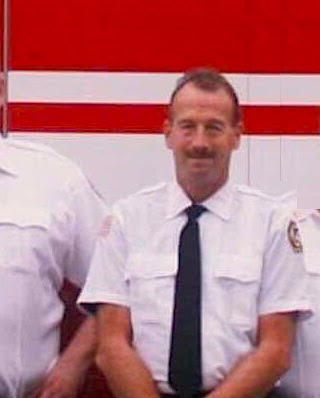 Nyack, Dec 21 — Nyack Fire Department Firefighter David Jahnes died on Monday from cardiac failure after responding to a call at Chase Bank on North Broadway. Jahnes complained of shortness of breath and chest pains after exiting his truck.
The Nyack Community Ambulance Corps quickly transported Jahnes to Nyack Hospital. He was subsequently transferred to Good Samaritan Hospital in Suffern for further treatment, where he suffered cardiac failure and could not be revived. Jahnes was 58 years old.
Jahnes's colleagues described him as a generous man. "Dave always had a smile," remembered Fire Chief John Galietta. "He was the kind of person who would help you with anything you needed, and didn't look for credit for helping out. He'd help you however he could."

Jahnes served the Nyack Fire Patrol and Nyack Fire Department since 2001 and was Captain of Fire Patrol from from 2008 to 2011. At the time of his death, he was serving as the engineer of the rescue truck and the marine unit. Jahnes was also instrumental in designing a new fire boat (10-Marine) the department received in 2017 from Metalcraft Marine.
"We are deeply saddened by the passing of David Jahnes," said new Village of Nyack Mayor, Don Hammond. "He served our community as a proud member of the Nyack Fire Patrol for almost two decades. His death leaves us stunned but thankful for his amazing sacrifice and service. Our thoughts and prayers go out to his family and to the entire Nyack Fire Department."
Rockland County Executive Ed Day also expressed his sadness. "As a former first-responder I know that the work we do is inherently dangerous," said Day. "Even a seemingly routine call like the one that the Nyack Fire Patrol responded to on Monday poses dangers… Firefighters like David Jahnes understand these dangers and volunteer their time out of a selfless desire to protect their neighbors and their communities."
"Today, as well as the days, weeks, and months ahead please continue to remember Firefighter David Jahnes family, friends, and the Nyack Fire Department community in your thoughts and prayers," the Nyack Fire Department wrote on Facebook. "Let us always remember and honor the memory of this courageous firefighter."
The funeral service for Firefighter David Jahnes be held on Thurs Dec 28 at 6p at the Reformed Church of Nyack, 18 South Broadway.