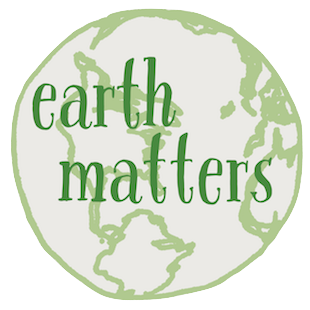 Earth Matters focuses on conservation, sustainability, recycling and healthy living. This weekly series is brought to you by Maria Luisa Boutique and Strawtown Studio.
If Earth Matters to you, sign up for our mailing list and get the next installment delivered right to your inbox.
by Susan Hellauer
by Susan Hellauer
By the summer of 1977, New York City's livability rating had pretty much flatlined. And then, on the evening of July 13th, most of the sweltering city lost power. In my upper west side neighborhood, mobs swarmed up to Broadway, where they smashed windows and picked stores clean. The aftermath epitomized that Son of Sam summer: one big dangerous mess.
What happened? Lightning strikes in Westchester County had knocked an Indian Point nuclear reactors offline, along with a crucial substation in Yonkers. Despite frantic efforts by Con Edison engineers to rebalance the grid, connections with upstate power lines began to fail, and a series of trips and overloads brought the city's complex and overtaxed system down. Power was not completely restored until the next night.
An investigation resulted in significant changes meant to prevent a recurrence. But in August, 2003, blacked-out New Yorkers were shocked to learn that this latest power outage, affecting 50 million people in the Northeast (as opposed to 9 million in 1977), was caused by problems in far-off Canada and Ohio. It became clear that, despite every kind of precaution, the larger the power grid grew, the more vulnerable it became. Bigger was not better.
Rx for new disasters: microgrids
Even in the 1977 blackout, hospitals stayed open on generator power. One campus, Pratt Institute in Brooklyn, was up and running on its own legacy power generator. Since then, the "MUSH" market (municipalities/military, universities, schools, hospitals) and many other businesses and private homes have been creating their own emergency "microgrids" with gas-fired generators that start up when the power goes out.
But there's a whole new kind of microgrid that's set to revolutionize the power distribution industry. It starts with the concept of self-sufficient, disaster-resilient local generation, incorporating renewable energy, like solar and wind. This new microgrid is hooked into the main power grid. If the larger grid fails, a microgrid can be disconnected, providing locally-generated power to its community–a medical campus, say, or a neighborhood, or town.
The microgrid is no tree hugger's daydream. Although still in its infancy, this baby is set for a growth spurt, with support from state governments, including New York. Even those who don't remember the 1977 or 2003 blackouts can't forget Superstorm Sandy, and how long it took to get power restored. Extreme weather, made more extreme by fossil fuel-engendered warming, takes power-grid vulnerability to a whole new level. Throw in cyber warfare, solar storms, and the potential threat of terror  attacks, and it's bye-bye big grid, and hello resilient microgrids.
Distributed generation: smaller is safer
The microgrid concept—a web of interlocking but separable islands of renewable energy generation—looks great on paper. But what does it look like in practice?
Earth Matters spoke with owner Nathan Rizzo and engineer Bryant Carlson of Solar Liberty, a Buffalo-based company that has designed and installed hundreds of municipal and private solar energy systems, some with storage batteries for "off the grid" capability. They won a contract to install a solar energy system at the Hudson Valley's SUNY-New Paltz College a couple of years ago, but were asked to create the state's first true microgrid system there instead (it's now scheduled to come online by February 2018). "Our contract was through New York Power Authority (NYPA) Research & Development, and they said they'd like to study a microgrid system—just the solar and battery storage piece," said Rizzo. "So the system size came down, and we settled on solar at two buildings, their library and gymnasium." The gym is also the emergency shelter for its school and community, so, in a disaster, its light, heat and refrigeration would be powered by the microgrid's solar panels and battery storage system.
NYPA has brought in other interested parties to study the microgrid, like the Electric Power Research Institute (EPRI), which seeks ways to modernize utility grids. "Everybody has an interest in this project because microgrids are so new," said Rizzo. "They'll be able to study it, and hopefully incorporate it into other projects throughout the state."
Solar Liberty engineer Bryant Carlson is fired up about the electrical grid interface: "Not only do we connect and sell the power back to the grid, but the microgrid acts to support and stabilize the entire local electrical grid. It can recognize voltage fluctuations and act to correct them." Carlson noted that these benefits have local utilities interested in modern microgrids. "That's why this project is so exciting: it has a lot of grid-supportive functionality; that makes it a local power plant, and not just a solar system."
NY PRIZE: the microgrids challenge
The New York State Energy Research and Development Authority (NYSERDA) is betting millions on these new resilient microgrids in community settings (not just isolated campuses), and they've got plenty of takers. Their NY PRIZE program, launched in 2015, has projects in various development stages, including dozens of stage-1 feasibility studies underway.
Solar Liberty's Nathan Rizzo pegs the new microgrid push to the growing number of extreme weather threats: "Governor Cuomo's goals for microgrids really came from Hurricane Sandy. Instead of having centralized power transmitted hundreds of miles to reach its destination, he started to look into the concept of microgrids to protect the larger population of the state. So, one storm or lightning strike or solar flare in one part of the state isn't going to impact others hundreds of miles away."
Recent advances in energy storage technologies are key to this development, Rizzo said. And so is saving money on utilities: "New York is looking to placing renewable-energy microgrids across the state, reducing the cost of utility upgrades for our aging infrastructure, and decreasing the risk of huge power outages based on weather or other events."
As the microgrid network grows, consumers will save money and be more secure. But how do utility companies feel about renewable energy-based microgrids encroaching on their territory? Orange & Rockland Utilities' spokesman Mike Donovan told EM that, although they don't have any communities that have progressed past NYSERDA's feasibility study stage, it's all good: "The community-style microgrid concept is being reviewed in New York by the NYSERDA NY Prize competition, and O&R is actively supporting those efforts."
Microgrids near you?
Whatever keeps you up at night—rising costs, fossil fuel pollution, the effects of climate change, or post-apocalyptic power-grid collapse—renewable energy microgrids can present a real solution. "It's not that there aren't already shelters or facilities that run on natural gas," says Nathan Rizzo, "but with solar and battery storage alone, we can run something for many, many years without a fossil fuel source coming from offsite in a catastrophic event."
And, in addition to economic and safety benefits, there's one more that Rizzo wants you to consider. It's right in line with New York State's "Reforming the Energy Vision" goal of getting 50% of its energy from renewable sources by 2030: "In my opinion, and many people's opinion, climate change is real, so we have to find clean, renewable energy sources for power production. Everybody has to be accountable."
Learn more:
Email Earth Matters 
Read Earth Matters every Saturday on Nyack News And Views, or sign up for the Earth Matters mailing list.
Earth Matters, a weekly feature that focuses on conservation, sustainability, recycling and healthy living, is sponsored by Maria Luisa Boutique and Strawtown Studio.