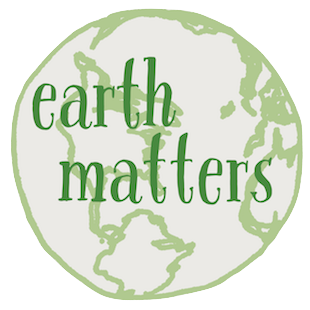 Earth Matters focuses on conservation, sustainability, recycling and healthy living. This weekly series is brought to you by Maria Luisa Boutique and Strawtown Studio.
If Earth Matters to you, sign up for our mailing list and get the next installment delivered right to your inbox.
by Susan Hellauer
'Tis the season . . . of overflowing trash cans loaded with discarded dinner and rejected fruitcake, topped off by garbage bags jammed with boxes, bows and wrapping paper. In between, sidewalks are littered with big old TVs and other "e-waste."
Americans make about 1 million extra tons of trash per week between Thanksgiving and New Year's Day, according to the U.S. EPA. To find out how to make a dent in that big number, Earth Matters spoke with the Rockland County Solid Waste Management Authority's (RCSWMA) own doyennes of detritus, Executive Director Anna Roppolo and Public Information Specialist Jackie Dodrill. They came armed with plenty of tips and how-to's for reducing the holiday garbage glut
Holiday recycling won't save us
If you think the answer to the post-holiday trash tsunami is "Tell everybody to recycle!", you're only partly right. The municipal recycling outlook is changing, thanks to new Chinese rules about accepting contaminated scrap material from overseas.
"We have very clean recycling because of our dual stream, and residents do a very good job, but now there's a glut in the market because China is currently banning imports of recyclables," said Executive Director Roppolo. "We don't yet have a problem with selling our commodities, but the price has declined."

Clearly, It's time to start paying more attention to the "Reduce" and Reuse" components of that familiar trinity of sustainability.
1. Reduce it: Don't make the trash
It all starts with mindful shopping. Plan carefully and do all of your shopping months ahead of time, so that you're not pressured into bringing home stacks of plastic garbage-to-be.
Yeah, right. Who does that? But the RCSWMA crew noted that even the frantic last-minute gift buyer—everyone, that is—can help keep trash at bay.
Give experiences. That nine year-old boy will shriek with joy when he opens a gift of tickets to see the 2018 Bronx Bombers play at the zero-waste house that Jeter built. Grownups love experiences too—like a meal at a favorite restaurant, a massage, movie coupons, or even one of those DNA ancestry kits.
Give some of your time. You could offer some free babysitting for harried parents, or snow shoveling for your friend with a bad back.
Give hand-made or one-of-a-kind gifts that won't land in the donation bin. How about a treasured family or "best-friends" snapshot, restored and framed.
Give consumables. Food and drink can be tricky in our paleo/gluten-free world. But other consumable indulgences, like chemical-free "gourmet" soap, will get used without ruining anyone's diet-du-jour.
Give eco-friendly gifts. RCSWMA's Jackie Dodrill splurged on a high-end water reusable bottle for her boyfriend last year. "He was drinking so much water, and I was always buying water bottles. But this reusable one keeps his water really cold all day, and he's set." Dodrill noted that her friend still uses the bottle every day, which keeps "innumerable" plastic water bottles out of the environment.
Give a tree to the person who has everything else. For $100, the Nyack Tree Committee will plant a tree in your recipient's name, and notify him or her with a vintage-Nyack photo card. The Arbor Day Foundation will plant a tree in one of America's forests-in-need for every attractive, recycled greeting card you buy for just $5.95.
Give less, or nothing. Make no-gift or secret Santa pacts with your family or friends. Gift-free holidays for the grownups can be a huge relief—to them and to our landfills. And the kids can survive, even thrive, on just a couple of truly thoughtful gifts.
You can also reduce your energy consumption with LED decorative lights, which, Dodrill points out, use 1/50th the power of regular holiday lights. And they can last for decades. Pick them up at post-holiday sales. And remember to include rechargeable batteries (and a charger) for heavy-use items, like game controllers or remote control toys.
2. Reuse it: Keep the landfill at bay
When it comes to sustainable gift-giving, our friends at RCSWMA are hands-on experts.
"If you end up with some of that metallic, plastic-based wrapping paper, try to re-use it, because it can't be recycled," says Jackie Dodrill. "And keep and re-use those bows and ribbons," which have probably taken a long trip on a big ship from a faraway country. She encourages people to think outside the box for gift wrapping as well. "Wrap presents in some of the attractive re-usable shopping bags you can find at clothing stores for a dollar or so."
And all those shipping boxes from the big online retailers? "Just reuse them as gift boxes," she said. Dodrill goes the extra step of putting notes inside her gifts, asking recipients to reuse or recycle all the wrapping material.
Anna Roppolo saves the prettiest holiday cards she gets and uses the front pages as a gift tags the following year. "And we put a lot of craft ideas on our Twitter feed (@GreenUpRockland), with ways to use up some of those Christmas morning gift-unwrapping leftovers. "It's a way to extend the family fun after ripping open presents," said Roppolo. She also suggests that, instead of wrapping gifts, parents can hide them around the house, sending the kids on a scavenger hunt, and saving loads of paper and ribbon.
Besides their Twitter feed, Roppolo and Dodrill both suggest earth911 for more sustainable holiday craft ideas.
If every family reused just two feet of holiday ribbon, the 38,000 miles of ribbon saved could tie a bow around the entire planet.
 (Stanford University Recycling)
3. Recycle it: (Almost) everything else
You've diligently reduced and reused, squirreling away those bows, ribbons and pretty cards. Now it's time for some holiday recycling:
Gift bags, tissue and wrapping paper (except for the metallic or plastic non-paper kind)

Greeting cards

Paper boxes

Plastic bags and deflated bubble wrap (put them into the receptacle at your supermarket or big box store, not into curbside recycling.)

Your live Christmas tree. Leave it at the curb, and it will be brought to the West Nyack yard waste facility to be chipped and added to the compost pile there.
Bring e-waste, including broken holiday lights, to the Household Hazardous Waste (HHW) facility in Pomona. "We're fortunate to have this facility. It's one of just a handful in New York State," said Roppolo. 
P.S.: Don't waste food
Year-round, discarded food is the single biggest waste stream in America. And a shocking 40% of the nation's food supply is never eaten. At holiday time, with parties, dinners, and unwanted edible gifts, that number undoubtedly goes up by at least 25%, along with the general trash count as estimated by the U.S. EPA.
If you're entertaining, the National Resources Defense Council (NRDC) has a new dinner-party food "Guest-imator," which makes it easier to shop for just the right amount of food. Preparing food with less waste—the "root to stem" approach—is the "hot" food topic for 2018, according to Whole Foods. And local organizations, like RCSWMA and the Cornell Cooperative Extension in Pomona, will help you get started with food-scrap composting, to divert wasted food from our overwhelmed landfills and produce rich garden soil for you.
While you're thinking about food, think about Rockland's hungry people—this holiday and every day—and about donating food, money or your time to the hardworking local organizations that feed them.
Learn more:
Featured image courtesy RCSWMA via Twitter @GreenUpRockland
Email Earth Matters 
Read Earth Matters every Saturday on Nyack News And Views, or sign up for the Earth Matters mailing list.
Earth Matters, a weekly feature that focuses on conservation, sustainability, recycling and healthy living, is sponsored by Maria Luisa Boutique and Strawtown Studio.