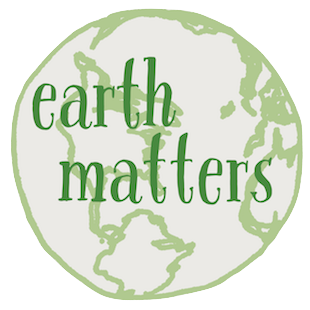 Earth Matters focuses on conservation, sustainability, recycling and healthy living. This weekly series is brought to you by Maria Luisa Boutique and Strawtown Studio.
If Earth Matters to you, sign up for our mailing list and get the next installment delivered right to your inbox.
by Susan Hellauer
Up until now, New Yorkers who wanted clean-energy electric power had few options.
For building owners with a sunny roof at just the right angle, solar panels are the solution; they even have no-up-front-cost options for tight budgets. For the rest, lacking sun, a good angle, or a roof of their own, an energy supply company can cover their Orange & Rockland Utilities electric bill with Renewable Energy Certificates or Credits (RECs), purchased from wind or solar projects across the country. Customers then pay the supply company for the credits, usually at a higher rate than they pay for fossil fuel-generated electricity. (Some of these suppliers, like Clearview Energy and Green Mountain Energy, also sell fossil fuels or are owned by fossil fuel companies.)
Another option for electric customers is the Sierra Club's partner Arcadia Power. It provides RECs to cover your electric bill, and is not fossil-fuel affiliated. But its power sources are nowhere near New York, and don't contribute to the state's ambitious clean energy goal of 50% renewable power sources by 2030.
There are customers who willingly pay a premium to support clean power with suppliers like these. But the head-scratching calculations of Renewable Energy Credits, non-local sourcing, higher locked-in or unpredictable variable rates, along with monthly charges and cancellation fees, have scared off many renewable energy fans for whom solar is not an option.
But there's a whole new sustainable choice on its way to Rockland County.
A new choice: Community Solar
You don't need a house or a roof or any extra money to benefit from community solar. If you pay for electricity, you can participate. Community solar supports New York State's Reforming the Energy Vision (REV) initiative, and will, in fact, reduce your electric bill without any scary contract clauses or equipment to install. The local community solar "farm," however, has just so much green energy to go around. So if you want in, you'll want to join soon.
Solarize Hudson Valley Presents Community Solar from Nexamp
Here's a way you can be green while leaving a little bit more green in your wallet. Nexamp, a Massachusetts based alternative energy supplier, is guaranteeing a 10% discount for 20 years from a new solar farm they are building in Orange County, NY. They are NYSERDA certified and bring extensive experience to NY State, running 22 community solar farms in Massachusetts.
There is no sign-up fee, no income requirement, no credit check, no "escalator." Consumers can leave the program after providing a three month notice to the supplier.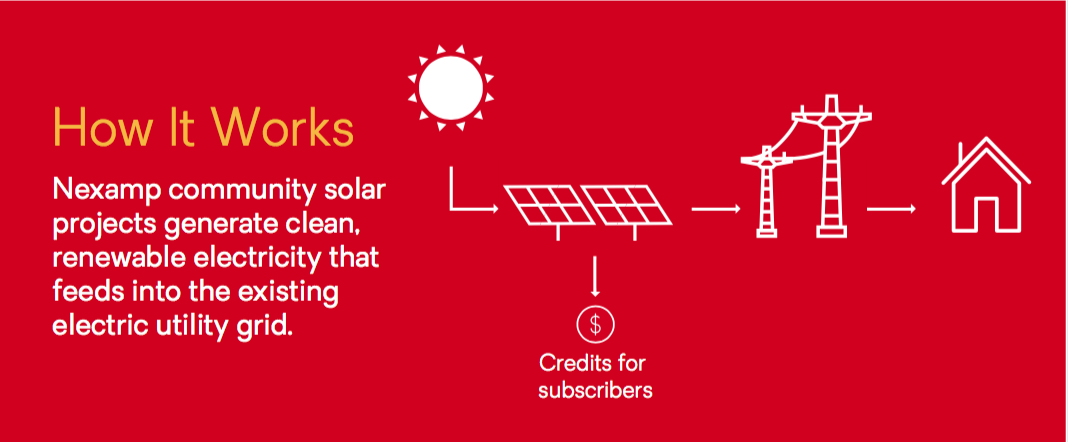 Solarize Hudson Valley is facilitating consumers' switch to Nexamp through Jan 15, 2018. There are a limited number of slots available, offered on a a first come, first serve basis until this solar farm is "fully subscribed."
Have a copy of your current utility bill handy when you visit Solarize-HudsonValley.org to subscribe.

When the solar array in the Orange County Town of Wawayanda comes online in the summer of 2018, it will feed 1 megawatt of electricity into Orange & Rockland Utilities' (O&R) power grid. Depending on how much electricity each residential, business  and nonprofit customer uses, it's expected that 200-300 of them will be able to directly support local clean energy while saving money. Customers receive credits from the solar farm to offset their electricity charges, and pay for these credits at a 10% discount, guaranteed for 25 years.
Locally-produced community solar power (also called "community distributed generation," or "CDG") is an option for renters, condo dwellers, or anyone for whom rooftop solar is not an option. It's designed to be transparent, with a guaranteed discount, regardless of other energy-related variables. Customers can get their annual electricity costs paid in full (including fees) by local solar energy credits, and they pay for the community solar credits at the 10% discount.
This is a winner for trees and for solar. We can have big beautiful trees shading our roofs all summer, and still rack up our solar credits for winter. — Marcy Denker, Nyack Climate Smart Communities Coordinator & Tree Committee Chair
Community Solar Q&A
The Wawayanda installation will be built and run by Nexamp, a Massachusetts-based company selected by Solarize-Hudson Valley as developer partner for its current community solar outreach and education campaign. Answers to basic questions about Nexamp's project can be found on their Community Solar/Solarize My Bill and Frequently Asked Questions pages. But, for a deeper dive, Earth Matters grilled Nexamp Community Solar Manager Julie Arnold and Community Solar Project Manager Eric Misbach. Both were so amped and informed about this project that they kept finishing each other's sentences. We've combined their answers.
Earth Matters: Will the customers who sign up actually be co-owners of the Wawayanda solar installation?
Nexamp: It's a subscription model, and not an ownership model, for participants, or "members." Depending on how much electricity each participant uses, the overall number will be between 200 and 300.
How do you make money? Are you a nonprofit?
Nexamp is a privately held for-profit corporation. We are able to benefit from a federal tax credit. That tax credit, plus a NYSERDA program and other incentives from New York State, are what allow us to build these projects and share them with individual participants. We can even afford to give a discount and still recoup our upfront investment in the project over time.
But, whoa, what if a certain fossil fuel-friendly presidential administration decides to whack those clean-energy federal tax credits? What happens to my discount then?
The federal tax credit on today's investment is locked in under today's rules, and stays locked in by law for the 25-year life of this project. That's how we can pass on the savings. The monthly income from our customers pays for the energy credits. It's not easy to give back a 10% discount, but we have some very skilled people here who can make that work, and satisfay our own investors at the same time.
Our standard contract has a 20-year commitment to a 10% discount for participants. We expect to extend that to the whole 25 years for which this project is approved and regulated.
Is there "room" on the O&R electricity grid for all this new solar? Was O&R receptive to the idea?
In any New York State project we build, we have to work with the local utility, as well as the Public Service Commission (PSC) and the New York State Energy Research and Development Authority (NYSERDA) to determine the best locations for the project. The local utility benefits by having more clean energy on their grid. O&R approved the project, and understands that they will benefit from it. And maybe the location in Wawayanda makes up a little for the fracked-gas plant that is being built there. Their fuel is coming in from out of state. Our fuel is free and renewable, and supports energy independence in New York.
Because there is obviously less solar energy available during the winter than the summer, how will my bill reflect that, month to month? Does Nexamp "average it out" for customers, or will my bill go up and down accordingly?
Customers will earn more credits in higher sun months of May through October. They create a credit bank during summer months, and draw on those credits as needed. The credits pay your bill for you like a solar gift card. The production of  credits in our area is independent from a customer's actual electricity usage. But we do size your share to your actual usage, in order to maximize your savings.
What if I move, or get my own solar installation, or just want to stop?
You can opt out for any reason with three months' notice. It takes about that much time to get someone signed up off our waiting list, and to get the customer information successfully changed in O&R's system. There is no fee to sign up, and there is no penalty to stop.
What kinds of sites do you use for community solar projects?
It's a rigorous process to determine the appropriate site. We look for unused land that is already cleared. Often it's farmland that can't be used to grow crops any more because it would require too much fertilizer (which would pollute local waterways). Sometimes we'll use a brownfield, or other abandoned industrial property, like a gravel pit. And the panels need to be sited near three-phase commercial power lines for electricity distribution into the grid.
Can people visit their community solar farm in Wawayanda?
Of course! We love our customers, and encourage them to take a look after construction begins. Before then, we want to respect the landowner's privacy.
The Wawayanda project will break ground this winter, and will probably be up and running in the summer of 2018. We know that the enrollment now seems like a "hurry up and wait" scenario, but we want to get all those spots filled before we flip the switch. 
Do you have any projects nearby that have been running for a while? Can we read about them?
We built our first community solar project at the Jiminy Peak Mountain Resort in Hancock, Mass., near the N.Y. border. It's been up and running since December 2015. That resort runs on almost 100% renewable energy, and many of its neighbors are saving big on electricity, too. The project got lots of press. We've got information and press articles on many of our other projects in Massachusetts too, including 22 shared solar farms similar to the upcoming project in Wawayanda.
We were thrilled to partner with Nexamp to add solar energy into the mix in such a way that the neighboring community can benefit from the facility, too.

Tyler Fairbank, CEO Jiminy Peak Mountain Resort
You started in Massachusetts, and now you're moving into New York State. How do you decide which states will support your projects?
Community solar is really driven by policy. We keep an eye on every state in the U.S. and track where the policy is. New York has a very strong community solar policy and it's where we are focused now. Many other states—14 to date—are following suit.
Do you have plans for more community solar in our area?
We do have another project in the works in O&R territory, but the timing is less certain. We are working toward a project in the Town of Wappinger with Central Hudson to serve Dutchess and Ulster Counties, and another with New York State Electric and Gas (NYSEG) in the Southern Tier. These two are on a schedule similar to the Wawayanda/O&R project. More will be coming down the road.
Anything else you want to tell people who are nervous about taking the plunge?
We always say that we designed our community solar program to be available to literally anyone who pays an electric bill—residential homeowners and renters, small business, non-profits. It's available to all income levels, there are no upfront costs, no credit check, and you can opt out with 90 days' notice. We've done everything we can to eliminate risk and make it available to anyone who is interested.
O&R has supported the state's release of the Community Solar Program (CDG) since its inception in October 2015.

Under this program, customers will have the opportunity to go green without having to install a rooftop or ground-mounted solar system on their own. This is an ideal opportunity for customers who rent, live in apartments/condos or who are not comfortable with installing a system on their roof.

O&R supports Governor Cuomo's goal of 50% renewables by 2030 and Community Solar Projects are one of multiple ways to diversify how the grid is maintained and enhanced as part of Reforming the Energy Vision (REV).

     Mike Donovan, Orange and Rockland Utilities spokesman 
Learn more:
Email Earth Matters 
Read Earth Matters every Saturday on Nyack News And Views, or sign up for the Earth Matters mailing list.
Earth Matters, a weekly feature that focuses on conservation, sustainability, recycling and healthy living, is sponsored by Maria Luisa Boutique and Strawtown Studio.