Jen Laird White retires from public office this month after serving eight years on the Nyack Village Board. A lot has changed in her six years as mayor and two years as trustee. Over the next few days, we'll recap some of the accomplishments during her time in office. When you see her around the village (and you will !) make sure to give her a smile and a thank you! — Mayor Don Hammond
For any village, parking regulations represent an opportunity to both generate municipal revenue and determine the flow of traffic around commercial parts of town. Former Mayor Jen Laird White introduced a number of changes to Nyack's parking code, attempting to balance the village's fiscal priorities with the concerns of local business owners and residents.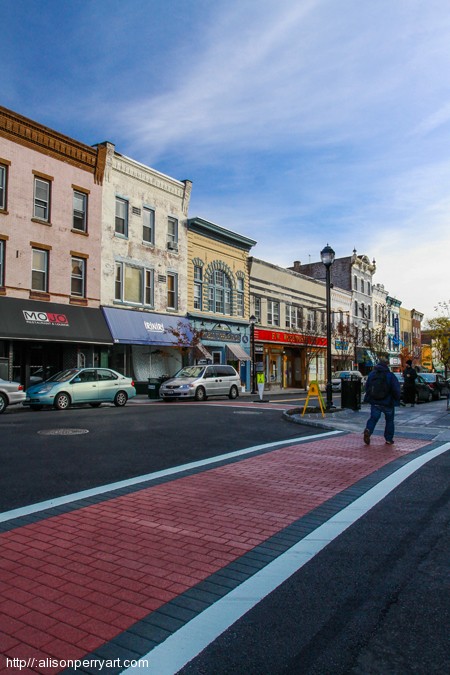 In May 2012, the village instituted a three-month test run of the "11 to 6" rule, enforcing metered parking seven days a week, from 11a to 6p and 11p to 6a. The rule was crafted with the intention of providing a five-hour window (from 6 to 11p) for people to dine downtown without having to feed the meter. The change was also aimed at shifting expenses from the dinner crowd to those visiting bars later at night, and its success has made it a permanent fixture of Nyack's parking code for metered spots.
"Up until [the 11 to 6 rule] was established, the only people paying for the cost of late-night revelry were those visiting daytime businesses," Laird White said. "Those expenses include clean up, court costs, nighttime code enforcement, legal fees and other costs.  Very few of those taxpayer expenses are generated during daytime hours."

Prior to making the changes, the village consulted urban planner Georges Jacquemart, who specializes in parking and transportation. In the time since, added revenue from the 11 to 6 rule has
helped facilitate the return of street-sweeping
, which the Department of Public Works had previously halted as a cost-saving measure.
"The 11 to 6 rule made those staying in the village past 11p have to pay for their parking, so it evened out the 'paying' field," Paulette Ross, owner of P.Ross Boutique on Main Street, said. At the same time, Ross acknowledged that restaurants benefit more than retailers from the free five-hour window after 6p, a sentiment echoed by Jennifer O'Connor, co-owner of Kiam Record Shop on Main Street.
"That nighttime perk mostly benefited the restaurants and bars, as the retail shops downtown are mostly closed by then," O'Connor said.
Both Ross and O'Connor also praised the village's "
Free Fifteen
" rule. Instituted in February of 2016, the regulation allows visitors to park for 15 minutes without having to feed the meter.
"It helps locals with those quick stops to get something they need, and it is a pleasant surprise for out-of-towners," Laird White said. "It has reduced, to some degree, the complaints that people got a ticket when they had just run into a store to do a quick errand and didn't have a quarter on them."
Laird White and local business owners to agree that the village parking code should continue to evolve. The outgoing mayor highlighted late-night enforcement and more obvious parking signs as areas for possible improvement.
"If I were to change anything about the Free Fifteen, it would be to improve signage," she said. "However, my experience as mayor tells me that people really do not bother to read signs."
Chris Stanton is a recent graduate of Cornell University. 
Photo credit: ©2013 alison perry