Jen Laird White retires from public office at the end of this month after serving eight years on the Nyack Village Board. A lot has changed in her six years as mayor and two years as trustee. Over the next few days, we'll recap some of the accomplishments during her time in office. When you see her around the village (and you will !) make sure to give her a smile and a thank you! — Nyack Mayor Don Hammond
Nyack's Parks
by Ken Sharp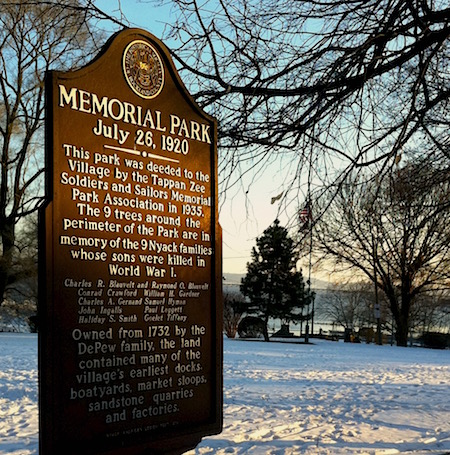 Before her election as mayor and before she served as a village trustee, Jen Laird White was one of the founders of the Nyack Park Conservancy. Since it's creation in 2004, the conservancy has raised over $500,000 for village projects. The list of projects that has benefited includes the Park Summer Kids program, the South Nyack Elizabeth Street dog run, and underwriting maintenance in Memorial Park. The Nyack Park Conservancy, working with Scenic Hudson, was also responsible for spearheading and funding a large portion of the waterfront master plan redesign.
The last eight years have seen a transformation of Nyack Memorial Park, due to in large part to the mayor's leadership. New basketball courts, a completely refurbished children's playground and an incredible skatepark make this park a welcome destination for BMXers and boarders, as well as hoopsters and jungle gym acrobats.
Mayor White helped to provide the eco-dock for small rowing vessels to the north, and a new viewing platform that replaced a crumbling fishing pier to the south. Add to that the new gazebo, the butterfly garden, new hardscaping and benches all along the water's edge, and an upcoming new splashpad and inlet bridge and you see the effect of having hardworking, passionate, amazing people like Mayor Jen at the helm.
Did she do all of this alone? Hardly. It truly does take a village to do all that has been done in Memorial Park over the last decade. But I sincerely doubt that any of it could have been done, or done nearly as well, without her.
8 Years of Nyack series on Nyack News And Views