Children in 800 low-income families in Rockland County will benefit from People to People's Project Joy, helped by St. Thomas Aquinas College students. STAC Communication Arts students will dress in holiday-themed costumes at a #GivingTuesday Santa Fest on Tues Nov 28 to raise awareness and donations for the P2P initiative.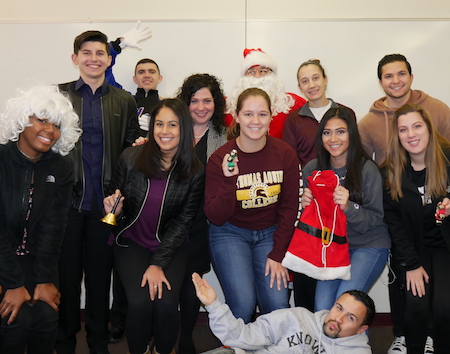 The day of giving will begin with the "#Giving Tuesday Santa Fest" at St. Thomas Aquinas College from 1:30-4p and conclude with the "#GivingTuesday Santa Fest After Party" from 5-7p at Growler & Gill Gastropub in Nanuet, NY.
"I am thrilled to partner with STAC students and join the #GivingTuesday movement," says Diane Serratore, Executive Director of People to People. "Project Joy isn't just about toys during the holidays, it's an opportunity to raise awareness of hunger in Rockland." People to People is Rockland's largest food pantry and provides food assistance to nearly 1,500 Rockland households every month—that's about 4,000 people and 51% of them are children. "This lighthearted holiday event will call attention to a heartbreaking issue that affects about 30% of Rockland residents: hunger. Nobody should go hungry during the holidays or any day."
People to People, Rockland's largest food pantry, provides more than 1,400 families with groceries, produce, dairy and meat or poultry products every month. In addition, People to People works to help struggling Rocklanders through difficult times with dignity by providing clothing, school supplies, refurbished computers and other support.
Giving Tuesday is a global day of giving that harnesses the collective power of individuals, communities and organizations to encourage philanthropy and to celebrate generosity worldwide. It is held annually on the Tuesday after Thanksgiving (in the U.S.) and the widely recognized shopping events Black Friday and Cyber Monday to kick-off the holiday giving season and inspire people to collaborate in improving their local communities and to give back in impactful ways to the charities and causes they support.
The Santa Fest will feature a festival gathering of Santa-clad students posing for pictures, taking challenges, and enjoying games, activities, and raffles in the Romano Activity Student Center on the STAC campus in Sparkill. "My students are participating in an inspiring service learning project, while honing their event planning, public relations, and social media content development skills," says Communication Arts Professor Elaine Winship.
STAC students have been working for People to People since September in an effort to learn and apply public relations, event planning, and promotion skills, bridging the gap between the classroom and the real world. "I have enjoyed working with People to People because it is such a worthy cause that helps so many people in Rockland during the holidays and everyday. Plus, now I have real world PR experience to add to my resume!" states Communication Arts student Jan Tapia.