by Mike Hays
Over the past 10 years, Nyack News and Views has profiled dozens of Nyack's stores and shops, getting the backstory on their businesses and employees. Nyack's friendly merchants, many of whom have been on Main Street and Broadway for decades, are a big part of what makes shopping in the village a special holiday experience.
Today we feature Turiello's Italian Restaurant, one of the 40 stories on local businesses that we're sharing for the holidays.
Strategically located at the corner of Main and Broadway in downtown Nyack, Turiello's Italian Restaurant has been in the village since 1980 under the ownership of Girolamo (Nino) Turiello. When asked where he lives, he says in the store, although his real home is in Brooklyn.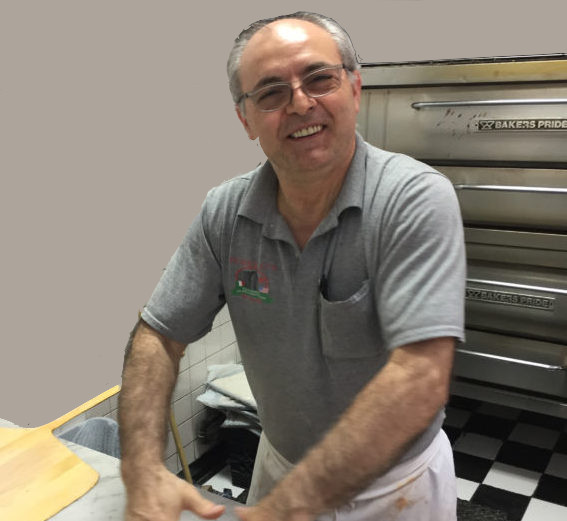 Nino came to America in 1972 from Bari, Puglia in Italy. In Bari they made focaccia (grandma pizza) instead of Neapolitan-style pizza. Two days after arriving in America he went to enroll in school with his passport and green card. The Brooklyn principal asked if he had a utility bill. Since he lived at his grandmother's home he could not prove residency. He was told to come back when he could.


In 1974, he began working at Lenny's Pizza (of Lenny's Clam Bar and Italian Restaurant fame) on Nostrand Avenue in Brooklyn as a dishwasher. He learned English there and quickly moved up to making dough, sauce, spaghetti, and then working the front of the store.
Turiello's on Broadway
In 1979 he heard about a pizza store for sale in Nyack at 3 North Broadway whose owner was returning to Italy to help his family after an earthquake. He took over the business and made it a village institution. In 1993, he moved to its current location at 76 Main Street taking over from the owner who had run Horse Feathers and also rented to a number of antiques dealers. Sew What's New was renting the space in the basement (where Maureen's Jazz club is now located.)

The dough, sauce, and toppings Nino uses are made daily from the same supplier he has used for 43 years. When asked if he eats pizza, he says every day. He tastes a slice to make sure it is still of high quality (no topping on his pizza by the way). Sometimes, he has a second slice because he loves his pizza.
His sons, Umberto, Nicola, and Nino Jr., work with him in the store. They have just about every Italian dish you can imagine including gelato.
76 Main Street: A long history of Nyack shops
The current 2-½ floor white brick structure with ornaments on the second floor was built in 1913 as the first home of E. W. Woolworth & Co 5 and 10 Cent Store. Sometime after Woolworth moved up the street, the Blue Bird Shop moved in and then Mae-Moon, both selling women's apparel. In the 70s, the store became Horse Feathers followed by other small shops. It became a part of the movement to making Nyack downtown a center for antiques in the 70s and 80s. Before 1913, a wood multi-floor building (circa 1870) was on the corner, housing the Nyack Shoe Shine Parlor and the Rockland Express on the Broadway side owned by Orlando Humphrey, an early Nyack Postmaster.
A Short History of 3 S. Broadway Street
After Turiello moved his store to its current location, 3 S. Broadway became Lanterna's Restaurant and then, currently, Broadway Bistro. Moeller's Block, S. Broadway between Main and Burd) was built in 1874. 3 South Broadway's first tenant was a pharmacy with a famous soda fountain that cost $2,000, a fortune at the time.
Photo Credit: Mike Hays
This story was originally published on 6/17/2017 as part of Nyack People & Places.