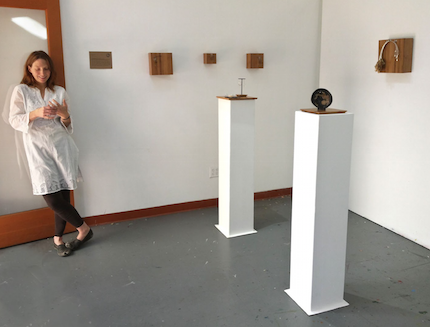 For over a century, our region has been home to extraordinary artists. Meet Elena McCabe.
How Did You Become An Artist?
I think being an artist is the end result of how one embodies their narrative and values. Through the creation of physical forms, I articulate my ideas surrounding sustainability and social ideals. It has been an evolution of priorities reflecting my life and my artistic path.  The impulse to create is sometime very direct and literal – now I have created something new to offer to the world.  Sometimes my creativity is redirected, merely reorganizing the talents of artists who I have the honor to represent.

What Kind Of Art Do You Make?
I had been working collaboratively with natural objects and metal. Using silversmithing techniques, the metals and natural "gems" create sculptures that questions the permanence of man and the fragility of nature. I have since starting a line of wearable jewelry using nature as my point of inspiration.
The main division between my sculptural and my wearable art forms is that I am now casting natural objects in sterling silver and then working with their form and texture to create unique statement jewelry.
I have also been working very closely with Union Arts Center in Sparkill New York, curating visual arts of other artists.  There I have the pleasure of working with  local and regional artists. Highlighting the talents, interests, and diversity of our community becomes another forum of creative.
What's Your Muse?
Walking through our environment I feel compelled give a voice to the beauty of the world we live in.  My environment can be the rail trail connecting Nyack to Sparkill; a mountainous trail in the Adirondacks; or walking down the sidewalk hearing any number the many languages that come together to call Rockland County home: They intermingle becoming part of what and why I create.
What's Next?
I am currently working on my second winter season of jewelry inspired by a pine bough I collected in Sparkill.  Hopefully it will be ready for release during the Holiday Market at Bethlel Wood's Dec 2-3.
Visit ElenaMcCabe.com to see some my work and find a list of places it's available for sale at local businesses.
I am also co-ordinating Union Arts Center's first craft fair, ARTS and Drafts.  This day long event set for November 12 is great twist on a craft fair. The artists and artisans are top notch so the only thing crafty about this fair is the great craft beer by Defiant Brewing.  For more information, visit UACny.com.
I am also reworking the shopping bonanza with a holiday invitational titled Patron of the Arts Sunday.  There will be local and regional artists gathered together to give patrons a deal that's #betterthanblackfriday.