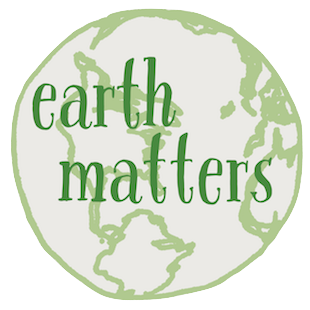 Earth Matters focuses on conservation, sustainability, recycling and healthy living. This weekly series is brought to you by Maria Luisa Boutique and Strawtown Studio.
If Earth Matters to you, sign up for our mailing list and get the next installment delivered right to your inbox.
by Susan Hellauer
What does "clean energy" conjure in your mind's eye?  Windmills and solar panels, right? But there's an extreme-green method of heating and cooling hiding in plain sight, and it can help slash greenhouse gas emissions.
The modern era of geothermal heating and cooling—using solar heat retained underground to regulate indoor temperature—dates back to the 1980s. Now, millions of civic, business and residential buildings around the world (about a million of them in the U.S.) use geothermal this way, with almost no carbon emissions. Growth in New York State has leveled off at about 1,000 installations a year since Obama-era federal tax breaks ended a year ago. But the geothermal heat pump industry is grateful to Governor Cuomo for instituting a rebate program that has picked up some of the slack.  NY-GEO, the industry trade association, is also working with the New York State Energy Research and Development Authority (NYSERDA) and several utilities on initiatives to rev up the market.
So where can you experience clean geothermal HVAC (heating, ventilation, and air conditioning)? Recent high-visibility projects in our region include the new Cornell University Tech Campus on Roosevelt Island, the Bronx Zoo, the Statue of Liberty, St. Patrick's Cathedral and—wait for it—even The Nyack Library expansion.
How it works
Geothermal heating and cooling takes advantage of the solar energy trapped just a few feet underground, which maintains a near constant temperature of around 55 degrees (F) year round.  Think of the earth as a solar battery for geothermal heating and cooling systems.  In winter, pipes in an underground "earth loop" absorb stored heat from the ground and move it into the building. There, the heat is concentrated by the heat pump to a comfortable temperature and circulated throughout the building. On a hot summer day, heat is extracted from indoor air and either moved back into the earth loop, or used to heat the water in your hot water tank.
Current geothermal heat pump technology was developed out in the Great Plains of Oklahoma and Indiana, where summers are blazing and winters are arctic. (Installers of geothermal systems are still trained in accordance with standards set by the Oklahoma State University School of Engineering.) This technology works anywhere, but shows the greatest cost savings where summer and winter temps vary widely (like right here in New York State).
The initial outlay for a geothermal HVAC system is higher than a traditional fossil fuel system. But with Mother Nature providing the "fuel" gratis and a maintenance free future (except for air filter replacement and annual water pressure checks), large scale civic and commercial developers—and even home builders—are lured by the small carbon footprint and long-term big dollar savings. With the major chunk of a monthly energy bill going to heating, cooling and hot water, installers routinely promise, and deliver, up to a 70% savings, and sometimes more.
Home, geo home
When Paul Nagin and his wife Rabia were planning construction of their Pomona home in 2006, Nagin knew that he wanted the tiniest carbon footprint possible, within financial reason. Nagin nixed rooftop solar as too costly back then (and incompatible with his woodsy Rockland County setting in any case). Likewise, the location was just not right for wind power. But, digging deeper, he discovered that by digging deeper, he could heat and cool his home, and provide hot water. He'd use a geothermal HVAC system.
The initial cost was worth a good gulp: "Completely installed, geothermal was about $45,000. By comparison, we were told that the cost of a conventional HVAC system for our house would be about $25,000." But Nagin focused  on that moment when his investment would begin to pay off. "We installed the system before the Obama tax incentives were in place. Had we gotten those, the payoff would have been about 1-2 years. Without that, it was about 5-6 years.
Are the Nagins jumping for joy about their nest? "Absolutely! No issues at all in 11 years," Nagin said.
And, as long as the earth stays put, geothermal will keep their bills modest: "We have a large volume house (about 40,000 cubic feet) and keep the house at 73. Our bill averages about $120 a month," Nagin said. "And we love the feeling of being heated/cooled by the earth. Nice not to have any carbon footprint (other than the green electricity we pay for)."
Geo boosters on the road
Without a visual identity like solar and wind, geothermal boosters have to work extra hard to raise awareness. Right now, certified geothermal designer and consultant Jay Egg is touring the state under the auspices of the four-year-old geothermal trade association, New York Geothermal Energy Organization (NY-GEO). EM spoke with Egg and NY-GEO's executive director Bill Nowak by phone as they drove to Rochester, NY for one of six statewide presentations aimed at industry professionals—and everyone else. "The basic idea is to insert geothermal heating and cooling into the marketplace in a stronger way," said Nowak.
So, what kinds of geothermal heating and cooling projects are in the news? Jay Egg had a list at his fingertips: "Schools and universities by the hundreds are employing it nationwide. The electric and natural gas utility National Grid is looking at geothermal in place of residential natural gas in parts of Long Island.
NY-GEO's Nowak added that the Lockport, NY Housing Authority was so pleased with geothermal in their administration building that they have since converted a 72-unit low-income housing project, slashing costs and providing air conditioning for many tenants for the first time.
Future of geothermal heating/cooling
You can expect to hear more very soon about geothermal systems in New York State. NYSERDA's statewide rebate program for geothermal heating and cooling (which they call Ground Source Heat Pump (GSHP) technology) is sailing along. And a statewide consumer discount and support program along the lines of the "Solarize" initiative has just been announced.
And expect to see lots of clean-energy activists and geothermal fans making their voices heard. For starters, they'll be gathered at a December 6 rally in the Albany capitol building to support a six point platform that has been developed by the newly formed Renewable Heat Now Coalition.
The rally will also focus on a proposed fracked gas-fired plant to heat and cool the Empire State Plaza in downtown Albany. Jay Egg and others are urging the state to take a step back and consider a geothermal system to get the job done, and help the state meet its ambitious goal of a 40% reduction in greenhouse gas emissions by 2030.
Will the geo team prevail? Keep your ear to the ground.
Learn more:
Featured image: Geothermally heated/cooled house with vertical earth loops. Image courtesy Egg Geothermal
Email Earth Matters 
Read Earth Matters every Saturday on Nyack News And Views, or sign up for the Earth Matters mailing list.
Earth Matters, a weekly feature that focuses on conservation, sustainability, recycling and healthy living, is sponsored by Maria Luisa Boutique and Strawtown Studio.