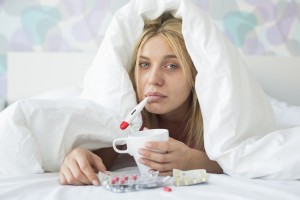 by Asma Khan, MD, HRHCare Urgent Care, Nyack
If you've been laid low by the flu, you'll want something that will give you immediate relief. However, if you ask your doctor for antibiotics, you may be surprised by the answer you get. The flu is a viral infection as opposed to a bacterial one, so antibiotics won't help. Long term, they could do more harm than good.
It is possible to get serious secondary bacterial infections from the flu, some of which do require antibiotics. So how do you know when you need them?
To take, or not to take?
If you take antibiotics when you don't have to, they become less effective over time. This means that when you have an illness caused by bacteria and really do need antibiotics in the future, they may not work.
The reason has to do with the bacteria themselves. When bacteria repeatedly come into contact with antibiotics unnecessarily, they start to adapt and become resistant. This means that when you do get a bacterial infection, your doctor may have to prescribe several types of antibiotics until he or she finds one that works. The longer it takes to find the right antibiotic, the sicker you may become.
Flu risk factors
If you're a healthy young adult, you'll more than likely be able to shake off the flu quickly and without any serious health concerns. However, the flu and its complications are a higher risk for:
Individuals over 65
Babies and young children
Pregnant women
Individuals with a chronic lung condition, like asthma or bronchitis
Have heart or kidney disease
Have diabetes
Have severe anemia
Have a weakened immune system from a disease or its treatment
Living in a nursing or long-term residential home
If you are suffering from a severely sore throat or think you may have bronchitis or pneumonia, contact your doctor immediately. In this case, he or she may prescribe antibiotics.
Antibiotics: What you need to know
It is always important to listen to your doctor when taking antibiotics. He or she will let you know if you're illness is caused by a virus or bacteria, and will prescribe antibiotics only if you need them.
Follow all the instructions carefully, and finish all the medicine your doctor has prescribed on schedule. Never give antibiotics to anyone else, and don't take someone else's as it probably isn't the same. When you need antibiotics, it's important that you take the right one for your condition.
Stay warm this season, and remember it's not too late to get your flu shot!

Asma Khan, MD, is the Clinical Director at HRHCare Urgent Care, 84 N Highland Ave between High Street and Sickles Ave in Nyack. Along with offices in Haverstraw and Spring Valley, the facility is part of the 28 health center HRHCare network in the Hudson Valley and Long Island providing comprehensive primary care.
See also: