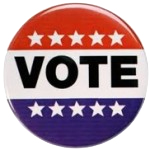 Registered voters will go to the polls on Tuesday, November 7, 2017 to select either incumbent Republican Ed Day or his Democratic challenger Maureen Porette as Rockland County Executive. Polling places will be open from 6a-9p.
Visit the Rockland County Board of Elections
to find out where you should vote
.
Here are closing arguments from each candidate.
I came to this, my first full time political position, after having served in many roles that well prepared me for the challenges of running County Government. My vocational background included 22 years in law enforcement, with 16 years as a supervisor, commander and executive, both as a Commander of Detectives for the New York City Police Department as well as serving as Chief of Detectives for the City of Baltimore, MD. I also have executive experience in the private security industry as well. My civic involvement really began with the many years I spent coaching youth athletics, PTA, as well as my time spent as a civic association President. The final piece that rounded out my qualifications were the eight years I spent as a County Legislator, a part-time elected position.


When I was first elected, I inherited a county government that was near bankruptcy and on the verge of insolvency. My platform at that time revolved around three main areas of focus, each with ten sub-points that I sought to accomplish. I called this the three-legged stool.
The first leg of the stool was to stabilize Rockland's Finances. We did that by cutting Rockland's deficit by nearly 90%. We reduced the County Budget by 9% (lowest since 2008), saving taxpayers $67 million. We have received five consecutive bond rating upgrades from a near junk rating to an A category rating. Finally we reduced size of county government by 22%, making it smaller, smarter and stronger.
The second part of the stool is to revitalize Rockland's Economy. We now are among the counties with the lowest unemployment rate in New York State. We have worked to attract and expand several businesses – Par Pharmaceuticals; Streit's Matzos; Celtic Sheet Metal; and IRG Pfizer campus redevelopment. We created strong partnerships with key agencies such as the REDC, RBA, and IDC. We also led the initiative with RCC and Rockland BOCES to launch the Rockland Career Center.
The third part of the stool I will discuss is to preserve Rockland's Future. We have actively worked on this by waging war on developers who ignore laws and greedy landlords. We launched Rockland Codes Initiative – a sweeping effort to combat unsafe and illegal housing. We launched a countywide Rental Certification and Registry, and we have aggressively targeted fraud, waste, and abuse of public benefits programs.
I am pleased to be able to state not only did we accomplish each of these goals, we have done so much more with county government. We have stabilized Rockland's finances and improved the economic outlook for our future.
Despite all the things we have accomplished to date, my administration is far from done. I ask for the voters to return me to office for another term so that I may continue along the path we have journeyed upon. The era of renewal for Rockland will continue if I am re-elected. We already have proposed a budget for this year of $684 million dollars – well under the tax cap. This budget is $240 million less than the formal projections submitted to the NYS Comptroller in 2013, and that stopped your property taxes from being a whopping 35% HIGHER than they are today. That is government hard at work for YOU, the people of Rockland.
We have many challenges that lie ahead of us. We have a new Tappan Zee Bridge that needs to be paid for. Our fear is that the tolls on the bridge will increase to the level of those for crossings into NYC. The tolls must remain economically feasible and more in tune with the other Rockland-Westchester crossing – the Bear Mountain Bridge. So we will continue to fight hard to keep the toll reasonable, as well as continue to strive to improve the mass transit solutions both in the county as well as those that take our commuters to work outside the county.
We must continue to find ways to work to keep our taxes from continuing to rise. County government will continue to do its part, and we will work with local governments to find additional ways to save money. We have already held discussions on a shared services initiative that will look to find ways that the county, town and villages can work together to lower the cost of government. If we can do this, and at the same time continue our progress in the areas of economic development, we will go a long way towards the goal of keeping the tax burden down for the average citizen.
These are just some of the many reasons I urge the voters to return me to office on November 7th. My opponent has no governmental experience, no supervisory experience and by her own admission has not really paid attention to what has been happening in this county for the past 27 years. It defies logic to replace an effective leader with one with no leadership experience.

My name is Maureen Porette, and I'm the Democratic, Working Families, and Women's Equality line candidate for Rockland County Executive. So why should any of that matter to you? Because for too long Rockland's families have been struggling without the support they deserve, while overdevelopment and corruption in local government have run rampant.


That's why I want the citizens of Rockland County to understand that they don't have to settle for corruption, or my opponent's empty rhetoric. They have another choice. If elected, I pledge to create a property tax and over-development task force to ensure the full weight of state and local government is used to protect the welfare and dignity of every citizen in this county, regardless of their race, religion, gender, or sexual identity. I'm confident that my 31 years of legal, financial, and administrative experience leave me equipped to handle the problems of over-development, financial irresponsibility, and more, and I'm ready to fight for a better future for Rockland's families.
That's why I want to address the elephant in the room in Rockland politics — the ominous 'bloc vote.' When Mr. Day was asked at our recent debate about what he thought of the "bloc" he had the gall to act as though he did not know what the term meant. As I said that evening, his response came as a surprise to those who have watched him blame everything from his failure to sell the Sain building, to the county's worsening financial situation, on the 'Ramapo 5.' Let's be clear: this is nothing but a code word for the power of the 'bloc.' Now I may be a first-time candidate, but I know a thing or two about straight-talk, and it's exactly this sort of double-speak that makes people despise politics.
Mr. Day continues to tarnish all of his critics as enablers of rampant overdevelopment, and his supporters make this clear when they launch attacks against his opponents, as they've done to me on numerous occasions, using terms like "bloc puppet" with his tacit approval. That they do this without an ounce of evidence seems not to bother Mr.Day. Why? The indecency and vitriol of these statements is born from the implicit choice Mr. Day has offered this county for 4 years: you are either with him, or you are for corruption and over-development. Well, I want to tell you that is a false-choice.
That's why I pledged at the beginning of this campaign not to take any meetings or money from corporations or groups seeking favors from county government, and my campaign filings make this crystal clear. Meanwhile, Mr. Day's own filings show he has no issue taking part in the culture of "pay to play politics" that he rightly condemns others for perpetuating. This includes lavish donations from Westchester-based law firms like Wilson Elser and the recently indicted Richard Brega. He took $7500 from Mr. Brega (a man whose bus company Mr. Day was supposed to supervise) only days after Inauguration Day in 2013, when he falsely promised voters that his administration would prioritize fighting corruption. Are you satisfied with the public transportation options in this county? Well, if your answer is no then feel free to ask Mr.Day why he hasn't taken a tougher stance against the use of corrupt contractors for such vital public services. That hardly sounds like the "Era of Renewal" that Mr.Day's advertisements keep promoting.
Now we can all agree that rampant overdevelopment and corruption are serious problems, but the fundamental difference between my opponent and I is that I want to solve these problems, while he would prefer to manipulate people's anger for petty political purposes. How else do you explain his recent advertisements and mailers, both of which warn that "there's a storm brewing in Rockland?" This rhetoric is not only irresponsible, it's counter-productive! The reality of our situation is that legitimate concerns about overdevelopment can only be addressed legally, and through a comprehensive approach that involves our state, county, and town officials. But bipartisan reforms aren't in Mr.Day's interest, instead he'd prefer to keep voters constantly angry about over-development so as to feed his self-image as the man who's "tough" on Ramapo. That's why he's failed to pass any major legislation with our Democratic majority County Legislature, and that's why he continues to spout rhetoric about Ramapo developers even though his opponent is a proud resident of Stony Point. His baseless talking points are starting to catch up to him, and I'm not backing down.
If elected I'll be sure to get rid of corrupt contractors that do business with the county, and I'll pursue meaningful bipartisan reforms to address unsafe and unseemly over-development across this county. More importantly, I'll never put petty political concerns over the long-term health and vitality of this county. Mr.Day is hoping that he can motivate many people in Rockland to vote for him based on fear, but fear won't help us grow stronger as a county, and it's more likely to destroy our "way of life" than it is to "preserve it." Don't fall for his alternative facts. A vote for me this November 7th isn't just about electing a new county executive, it's about changing the way we do politics in this county. So join me in rejecting fear, embracing real change, and making this county a better place for everyone.

See also: