Want to know more about climate change and meet scientists on the front lines of Earth Science?  The Lamont-Doherty Earth Observatory annual Open House is Sat 10-4p. It's also a weekend of firsts and lasts. There's a First Friday arts and music event downtown; Sunday is the last Nyack Street Fair of the season; and Rivertown Film gets in the last word with a screening of Obit.
Friday
On the First Friday of each month, local businesses host art and music events.

Want to be famous? The Nyack Art Collective artists present "Fame." Join them for an evening of karaoke, art and poetry. 8p, Casa del Sol, 104 Main St, Nyack.

Reception for Tim Peterson, the First Friday Artist of the Month from 6-7p and 2017 Thomas Cole Fellows: Madeline Conley, Rowanne Dean, Adam Grimes and Michael Quituisaca give a perspective into Thomas Cole's Inner World from 7p-8p at Edward Hopper House Art Center, 82 N Broadway, Nyack.
The Richard Sussman Quartet featuring Jay Anderson, Jeff Hirshfield and Rich Perry bring their smooth jazz to Maureen's Jazz Cellar. 8 & 9:30p, 2 N Broadway, Nyack.
For a musical look at the deep roots of rock'n roll since the 1890's, head to The Turning Point where The Roues Brothers will take you through the history of blues to rock. 8:30p, 468 Piermont Ave, Piermont.
Saturday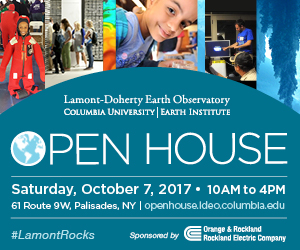 The Lamont-Doherty Earth Observatory Open House is the place to learn about climate science, Sat 10/7, 10a-4p. This year provides a unique opportunity to connect with leading experts on climate change and extreme weather. Whether you're an aspiring young scientist or a long-time science enthusiast, you can enjoy, explore and learn. Tour a lab, participate in hands-on earth science demonstrations, and learn from world-renowned researchers about their latest discoveries. The open house is free, but a $5 contribution is suggested. Park across the street at the HNA Palisades Conference Center (formerly IBM). Shuttle buses run all day. 10-4p, 334 Route 9W, Palisades.
Spend an Autumn Afternoon at Pretty Penny at a fundraiser for the John Green Preservation Coalition. There will be special guided tours of historic Pretty Penny (former home of Helen Hayes) by Nyack Village Historian John Patrick Schutz. $50 admission. 4-6p, 234 N Broadway, Nyack.
Don't miss the second annual Full Moon Party at Rockland Center for the Arts. Performance artist, Jaanika Peerna, will perform Glacial Elegy. Sam Waymon and his Magic Band and special guest, Jeff Doctorow, will perform live. Enjoy dinner, drinks and dancing under the stars. 4-8p, 27 S Greenbush Rd, West Nyack.
You are the judge at the Manhattan Short Film Festival featuring ten short films selected from nine countries. Film genres include comedy, drama, horror, sci-fi, animation and martial arts. Doors open 6:30p, Palisades Community Center, 675 Oak Tree Rd, Palisades.
Come hear the music of Great Women of Song, a tribute to Ella Fitzgerald, Janis Joplin, Maria Callas and more, featuring Alice Leon, Lorena Mann, Korliss Uecker and Shirley Crabbe. 8p, Rittenhausen Theater at BOCES, 131 N Midland Ave, Nyack.
Sunday
Kiss that kettle corn goodbye until 2018: It's the last outdoor Nyack Street Fair of the year. Browse the vendors, take the kids to the Kid's Zone, fill up on your favorite festival foods and take a break and listen to some music at the Gazebo. 10a-5p, Main St and Broadway, Nyack.
Join the Historical Society of the Nyacks for a Walking Tour of South Nyack. Visit the homes of Carson McCullers, Hudson River school painter Julian O. Davidson, versatile artist Mortimer Borne and others. 2p, SW corner of S Broadway and Cedar Hill Ave, Nyack.
Resurrect those One Hit Wonders by joining the Nyack Pop-Up Chorus for their monthly sing. No experience necessary, just come have fun. 6p, Casa del Sol, 104 Main St, Nyack.
Next Week
Wednesday
Call it a morbid fascination, but many people turn to the obituary page in the daily newspaper before reading anything else. OBIT, a film about New York Times writers who craft tributes to the recently deceased. Giving a whole new meaning to "deadlines." Discussion after the film with  Journal News reporter Peter Kramer. 8p, Rivertown Film at the Nyack Center, 58 Depew Ave, Nyack.
To get the Nyack Weekender delivered to your mailbox auto-magically every Friday morning, add your name to our mail list. Visit our
online sign-up sheet
to subscribe.